Are you still stuck with a usual vacuum that sucks in all of your energy instead of the dust around your house? Well, now is the right time to throw away your old vacuum and purchase an updated one that won't need any of your time and effort to clean.
Whether you plan on buying a vacuum that will clean all of the dust under your bed, or one that will help you maintain the house clean from pet hair – one of the 7 products from this review will definitely be suitable for your needs. Don't be fooled by the small size of these household appliances. Some of them are even more powerful and effective than the usual vacuums.
Shark Ion Robot Vacuum Cleaner Review – Top 7 Products
In this article, you will find information about the top 7 robot vacuums. Read these Shark Ion Robot Vacuum reviews to get a full description of each model that will help you choose the ideal one for your house.
Also Read: Best Stair Vacuums: Our Top Picks for 2023
1. Shark ION Robot Dual-Action RV720 – Best Shark Ion Robot Vacuum Cleaner for Floors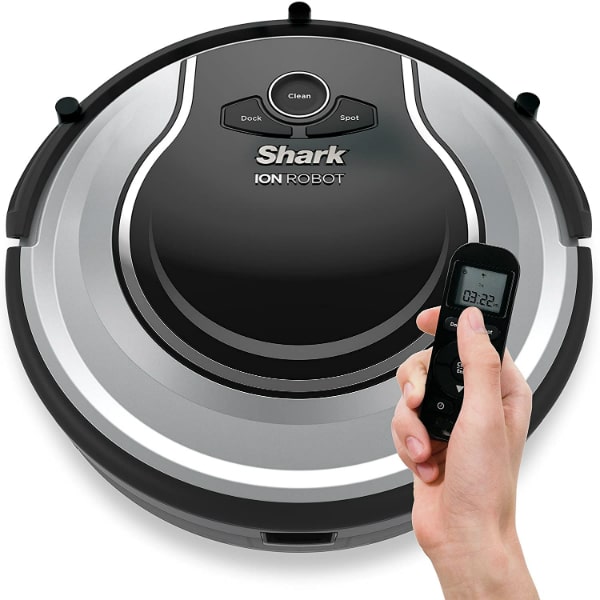 SharkNinja has been the number one brand in producing upright vacuums. Since technology is constantly evolving, this company began to manufacture cordless and robot vacuum cleaners. SharkNinja's main goal is the satisfaction of its customers. That's why the company sweats over details.
For over 20 years, they have been creating only high-quality technological miracles that have made our lives much easier and houses – cleaner. Even though the company has launched more than 150 vacuum cleaner models, the RV720 is definitely worth mentioning.
What I like the most about this model is that it comes with a lithium-ion battery. It is a great option if you want the battery to last longer. Also, the charging time isn't very long, only 3 hours. Moreover, when the battery runs low, the robot will go straight to the charging port by itself to recharge. The fewer carpets you have, the longer the battery will last.
Since this model isn't as pricey as the other ones, it has a very simple navigation system and no Wi-Fi connectivity. It means that you will not be able to operate the robot using your phone. However, there are buttons on top of the robot that serve a couple of controlling functions. Also, the robot comes out with remote control. It has several buttons and is very simple.
The robot is capable of cleaning over hardwood floors and even stone, as long as the stone is flat and is not very textured. It can also do a good job cleaning over thin carpets. But if your house has a very high pile of carpets, this vacuum robot will just get stuck on it.
And a fact about this robot cleaner that is definitely worth mentioning is the HEPA filter. If you are prone to allergies or want your house to be dust-free, this filter is an amazing feature for your vacuum to have. Such filters can trap the smallest dust particles and will make sure that all of the dust and microbes stay there, on the filter, and do not get back to your house.
Here is a list of the RV720 features:
Dual-brushes;
Astonishing design;
Remote scheduling;
Lithium-ion battery;
0.45 quarts of bin capacity;
Smart sensor operation;
Extra filter.
If your house has mainly hardwood floors and low carpets, then this robot might be a great choice. Moreover, if you do not want to spend a huge sum of cash on buying such a vacuum, and you still want it to have the feature of setting up future cleaning dates and times, I promise you, you won't be disappointed with this appliance. However, if you would like to connect and navigate your vacuuming miracle via Wi-Fi and want it to be voice-enabled, skip this one and have a look at other Shark models.
PROS:
Affordable
Easy to navigate
Has a cleaning scheduling feature
Reliable
CONS:
Not the best choice for high-pile carpets
No Wi-Fi connection
2. Shark ION R87 – Best Shark Ion Robot Vacuum Cleaner for Pet Lovers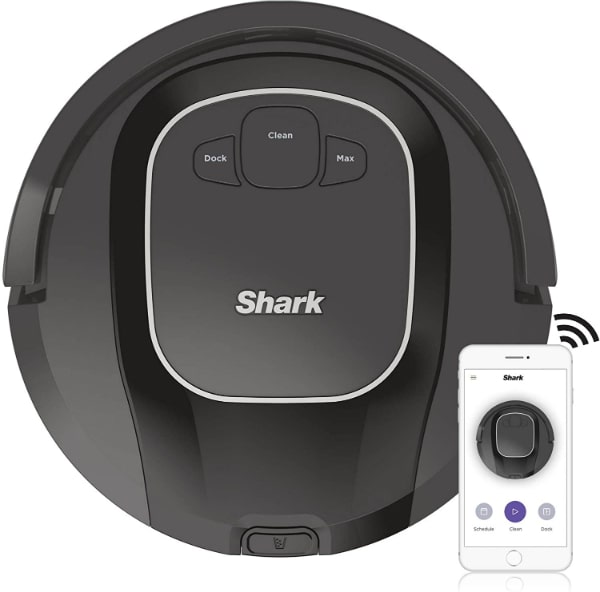 Nowadays, robot vacuums are getting insanely popular. Different manufacturers provide such products. However, not all of them do such a great job manufacturing robot vacuums, as Shark does. It is one of the brands of the worldwide famous SharkNinja LLC. Without any doubt, this company can be called a pioneer in manufacturing high-quality household appliances. It produces all kinds of vacuums, from old-fashioned upright vacuums to modern robot ones. The Shark ION R87 is one of its best robot creations. Read on to learn why.
The robot's design and control options are quite the same as in any other model. It is round and has three operation buttons on the lid. If you don't like the idea of touching the dusty buttons to control the appliance, it's okay. You can also access all the modes, functions, and features with the help of your phone, or even Amazon Alexa.
To take advantage of this amazing option, you have to download a free app – the Shark Clean. This application has a very simple user interface and navigation, so even your kid will be able to operate the robot and schedule a future cleaning without any problems. You can try out all of those ways to set a future cleaning date and time, and when that time comes, the robot will begin to work and suck in all the dust and debris that it finds on its path. Moreover, this household appliance has a feature called the SpotMode that is quite helpful when you need to clean a specific place in your house more thoroughly.
This vacuum robot is equipped with a unique brush roll. Thanks to it, the appliance is great for cleaning any surface, whether it is a hardwood floor or a rug.
However, if you have very thick carpets in your house, this robot won't be able to clean them as well as a usual upright vacuum would do. Yes, it does have a strong suction power. But this vacuum robot, just like any other model of similar vacuums, is not the best option when it comes to cleaning such surfaces.
If you have decided to purchase a robot vacuum for your parents, or friends, as a gift, this one might be a nice option. The main advantage of this robot is that it is very easy to use. It has a simple navigation system. Moreover, the app is very straightforward, and all of the needed features can be easily accessed through the application.
However, if you are seeking an extremely powerful vacuum, this might not be the one. It is pretty affordable, very easy to operate and navigate, and has enough suction power to clean floors, and thin carpets, but it is not the best option if your house has lots of thick carpets with a long pile.
Here is a list of some other features that come with this cleaning miracle:
Voice-enabled;
Multiple-surface brush roll;
Extra-large dust cup;
Wi-Fi;
Auto-sense navigation;
0,6 qtDual edge and side brushes.
I would recommend this technological wonder for those families that have pets, as it does a very good job of suctioning pet fur from floors. It is very easy to use, so even people that are not great with technological devices can operate it without any problems. But if your house is filled with thick long-pile carpets, this is not the best option.
PROS:
Extra-large dust bin
Affordable price
Easy to operate
Does a sufficient job of gathering pet fur
CONS:
Not suitable for thick long-pile carpets
3. Shark Robot Cleaning System S87 – Best Versatile Shark Ion Robot Vacuum Cleaner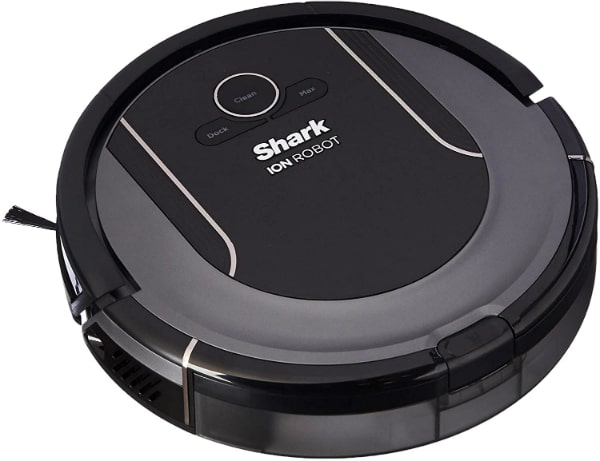 If your dream is to purchase a high-quality household vacuuming miracle and you want it to last as long as possible, then getting one from the Shark brand is your best option. As has been mentioned already, this brand is the leading one in manufacturing various vacuums, including robot ones. All of Shark's models are powerful, simple to use, and long-lasting. The Shark Robot S87 is not an exception. Continue reading to discover all the details about this device.
People use vacuums almost every day to clean all of the crumbles from the kitchen floor, or to clean out all the dust under their beds, but how to clean all other areas? This robot cleaner can clean all kinds of surfaces, even including curtains and your car! The main feature that makes this robot different from other ones is that it comes together with a handheld vacuum cleaner. Also, the automated cleaner itself is pretty small in size, which makes it great for cleaning under couches and other hard-to-reach places.
The design of the Shark Robot S87 is very simple and user-friendly. On the lid of the device, you can spot three buttons. Also, near the buttons, you can see lights that show whether the robot is connected to Wi-Fi and how much battery is left.
The handheld vacuum that you'll get together with the automated cleaning miracle is extremely simple to use as well. Besides, the appliance is pretty lightweight, so you won't get tired of using it. To empty this vacuum of dust and debris, all you need to do is to hold it over a garbage bag and press the button. Both of the vacuums share the same charging port.
Just like most of the Shark's vacuum devices, this model can be operated through the Shark ION application. It can be downloaded both on IOS and Android devices. Once you install it, you will see that it has an extremely simple interface. You can set the cleaning power of the robot by choosing the quiet, normal, or max option. Also, you can hit the pause button at any time. Using the app, you can schedule the next cleaning and select the desired date and time. The S87 has strong suction power. It does a great job of cleaning both hardwood floors and any type of carpet from debris, dust, and even pet hair. You can vacuum any type of surface using the normal mode, but for maximum results on thick high-pile carpets, it is best to select the maximum speed mode.
Even though this robot isn't equipped with a laser navigation sensor, it has no trouble going around the house. Just like any other robot, it can get stuck between some very tight spaces. But it doesn't mean that you will need to constantly keep an eye on your robot. As soon as it gets stuck somewhere, you will get an alert on your phone.
Here are the essential features of the robot cleaner:
Handheld vacuum;
Smart sensor operation;
Wi-Fi;
Extra-large dust bin;
Voice-enabled;
One charging dock;
Cleaning attachments;
High-speed mode.
I find this device to be a nice choice if you are searching for a versatile vacuum for various surfaces. It comes with cleaning brushes that can be changed on the surface type that you plan to clean. Not all similar robot vacuums have this type of feature. So, if you want the device to be universal, this one just might be your best choice.
PROS:
High-speed
Lightweight</li
Nice suction power
Versatile
CONS:
Sometimes gets stuck in tight spaces
4. SHARK ION Robot Vacuum R85 – Powerful Shark Ion Robot Vacuum Cleaner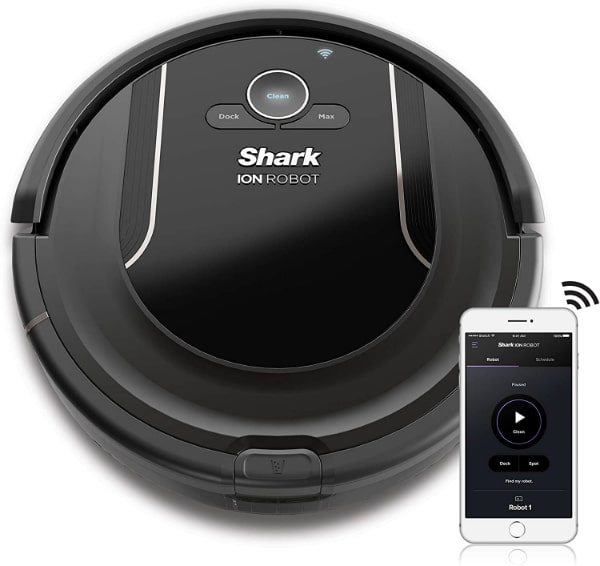 This robot cleaning appliance is another miracle device created by the world-famous Shark brand. Although it has a couple of disadvantages, it is still considered to be one of the best household devices manufactured by SharkNinja LLC. I will help you understand whether this exact model is the one that you are looking for.
The R85 model is capable of thoroughly cleaning any type of surface in your house. From the hardwood floor to carpets, this robot vacuum will leave no residue behind. It is smaller than other Shark models, but sometimes, not small enough. It may get stuck in tight spaces. However, if something like that happens, you will get an alert on your phone right away. The one thing that differentiates this robot from all other ones is its suction power. Some even claim this appliance to be one of the most effective and powerful vacuum cleaners.
The appliance is designed similarly to all of the other Shark models. It has three buttons on the lid. By clicking on those buttons, you can turn the robot on, set it to max mode, and many more. But a great percentage of this appliance users like to operate it with the help of the Shark's app which can be downloaded on any device, including Alexa.
This vacuum robot has a smaller battery than the previous model. However, if the battery runs low, and you forget about it, the robot will move to the charging station itself. For it to charge up to the full battery, you will need to wait around 3 hours. But, after it is charged, you will need to set it back to the cleaning mode and schedule the next cleaning.
Here is a list of this robot's features:
Smart sensor operation;
Extra-large dust bin;
3x suction;
Corner cleaning;
Wi-Fi;
Charging dock.
If you are planning to buy a modern vacuum that will be powerful enough to maintain your whole house clean and dust-free, then this one might be your perfect choice. Moreover, it has a built-in feature that gives you the ability to schedule future cleaning on the desired time and date. But, if your house has thick high-pile carpets, and if you want this device to be able to map the cleaning route of your house, it is better to look for another model.
PROS:
Easy to use
Does a great job of cleaning hair from any surface
Affordable
Great floor-to-carpet performance
CONS:
Doesn't fit under all couches
Not great for thick carpets
5. Shark ION RV750 – Best Shark Ion Robot Vacuum Cleaner for a Big House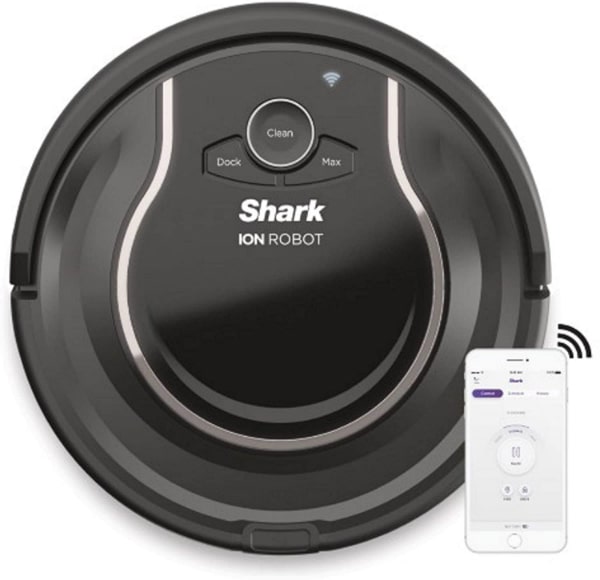 The great manufacturers of the Shark brand never stop to surprise their customers. Each of their vacuum models is extremely high-quality and powerful. The RV750 is also one of its miracle creations. Continue reading to find out what exactly makes this one so amazing.
This cleaning device can clean out all of the dirt that it finds on its path thanks to the high-tensile brush roll. Also, its manufacturer ensures that this technological miracle is capable of unraveling hair strands and pieces of thread that get tangled on the brush. Another great advantage of this appliance is that it is relatively short in height. It means that the appliance can easily reach places, which an upright vacuum would never reach.
The dual-action robot can easily navigate through any obstacles that stand in its way. You can even program it to clean only on the carpet, or only on hard floors, as it has several sensors that help the robot understand what kind of surface has to be cleaned. Also, you can direct it to the charging port by the remote control, so you don't need to stand up, pick up the robot vacuum and carry it to the station. Also, if you are prone to dust allergy, this model will be a good option, as its dust bin is very easy to empty, and it comes with a HEPA filter. This filter type is extremely effective, as it blocks all of the unwanted dust and dirt inside and makes sure that all of those particles won't reenter your house.
The vacuum is really simple to operate. There are only 3 buttons on its control panel. And all of these operations can also be accessed by a remote control that, aside from having the usual buttons` features, also provides you with the ability to schedule a future cleaning on the desired territory with the exact time and date. But be sure to charge the device the day before the scheduled cleanup.
So, the main characteristics of this household helper include:
Auto-sense operation;
Brush suitable for all types of surfaces;
Lithium-ion battery;
Wi-Fi connectivity;
Corner cleaning.
I recommend this little yet powerful model for people that always lack time and need a fast solution for making their house clean and dust-free. The device charges very fast, and the battery lasts longer than the ones in similar robot vacuums. It's a good option if you have a big house and need to clean large areas as fast as possible.
PROS:
Ideal height
Navigates seamlessly
Effectively removes debris
User-friendly
CONS:
Sometimes gets stuck in a pattern
6. Mochenli Replacement Accessories Kit for Shark ION Robot – Best Kit for Any Model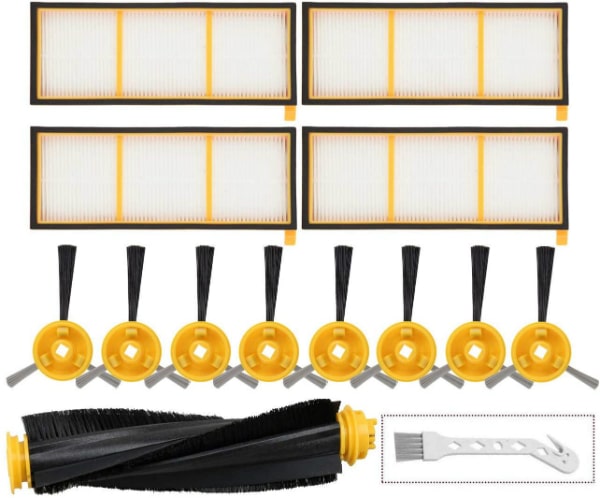 This is a great kit that contains all of the necessary parts that a Shark ION Robot may need. Thanks to this ki,t your vacuum cleaner will always be giving you a high-efficiency performance. These parts will keep the vacuum cleaner running the same as the original ones.
The replacement accessories are very easy to install. All you need to do is to snap them in the place of the old part. You do not need any other tools for this process.
The kit contains the following items:
Filters;
Brushes;
Main brush;
Cleaning brush.
If you are planning to buy a robot vacuum cleaner, getting this kit is a must. You will have all the needed replacement parts in one place, and whenever you need to replace, for example, the filter, you will do it in seconds.
PROS:
Has the necessary parts
Easy to install
CONS:
Some claim that the parts didn't fit
7. Engery Boundary Markers for Neato Botvac Series Neato and Shark ION Robot Vacuum – Best Effective Magnetic Tape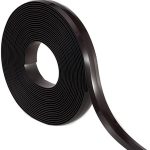 Magnetic boundary tape is a must for robot vacuum cleaner owners. It is compatible with the most popular Shark Ion robot models. By placing this strip on the floor, you will be sure that the vacuum cleans only the parts of your house you want it to clean.
This tape is high-quality and easy to cut and install. It fits perfectly in doorways and around pet bowls. It is a must to have if you live in a large house and don't need your vacuum to go everywhere.
PROS:
Easy to cut
Fits everywhere
Effective
CONS:
Some had problems with the installation
Which Robot Brand Is Better?
As technology is constantly evolving, our life is becoming easier thanks to those innovations. Those new products quickly get integrated into our daily routines. Robot vacuums are one of those modern miracles. A couple of years ago, people didn't even think that such vacuums could exist.
Nowadays, these household appliances are at the highest peak of their popularity. But it is not so easy to choose the right one. When searching for a robot vacuum cleaner, you will get amazed by how many brands are out there available on the market.
My personal favorite is the Shark brand. It has been on the market for ages. The company's main goal is to bring satisfaction to its numerous loyal customers. That's why all their products, including the robot vacuums, are high-quality, long-lasting, and packed with useful features. But it is not the only brand that manufactures those little household helpers. Let's compare Shark's robot vacuums with similar products of two well-known brands – Roomba and Samsung.
Shark Ion Robot Vacuum vs Roomba – Overall Characteristics
Both of the brands are highly established and popular. These brands provide effective and powerful dust-cleaning solutions. Their products include both entry-level, as well as more powerful robot vacuums. However, they do have differences in design, functionality, and some other aspects.
The Roomba brand was made by the iRobot company. They specialize in the manufacturing of cleaning automated products. Roomba deals with the production of only robot vacuums. If you choose to buy a robot vacuum manufactured by this brand, you will be able to find both pricey options and affordable ones.
Let's compare the designs of robot vacuums manufactured by these brands. The Shark models are shorter than the Roomba's, which means that they have more chances to get into hard-to-reach places. Also, the Roomba models are a bit heavier than the ones of other brands. As to the suction power, the Roomba vacuums are considered to be among the most powerful ones, but we can say that it is true only when it comes to expensive models. Speaking about the Shark's robot vacuums – they are equally powerful no matter the price.
The brush that comes with a Roomba vacuum is a bit better than the one in Shark's model, as it can get rid of dust and debris more effectively. But, Shark has equipped its vacuums with 2 side brushes, while its opponent has only one. Also, the battery life of the Roomba models exceeds the Shark's for about 15 minutes.
Shark Ion Robot Vacuum vs Samsung – Overall Characteristics
Both of the brands have created vacuum robots in different price ranges. You can find cleaners with all the bells and whistles, as well as entry-level ones produced by both of the brands. However, there are some distinctive differences between these brands.
First, they differ in their sizes. Most of the Shark's models are smaller and shorter than Samsung's ones. It means that Shark robot vacuums are more likely to get under low couches and beds. This spec is of utmost importance, as the main reason why people buy such a device is that they need it to clean hard-to-reach places.
Also, Shark makes its products easy to carry, while Samsung's robot vacuums are a bit more heavyweight.
The second difference is in the bin sizes. Shark tends to produce vacuum robots with larger bins than Samsung does. However, the Samsung brand also offers some models that exceed in size over Shark's devices.
Both of the brands provide models that include visual mapping and drop sensor features. Also, almost all of their vacuums come with a lithium-ion battery. It means that their vacuums run for about the same time.
Some of the brands' models include technology features, some don't. If we compare, for example, the Shark ION R85 and the Samsung POWERbot R7040, you'll see that the first one has voice control, and the other one doesn't have it. But on the other hand, Samsung's model is equipped with remote control, while the Shark`s vacuum doesn't have this feature.
It is almost impossible to determine which brand is better. Everything depends on the customer's preferences. But still, every vacuum brand has a large variety of models to choose from. That's why you should think thoroughly about what exactly you are looking for and what specs and features are important in your case.
The Bottom Line
With so many various brands and vacuum robot models on the market, it's not easy to make the right choice. Before buying a robot vacuum, it is best to think for a moment about what specs you want the device to have. Whether you need it for cleaning thick high-pile carpets or hardwood floors, consider the amount of money that you plan to spend on it and whether you need an entry-level model or a superior one. Decide upon your preferences and make your decision wisely.
Take into account everything that you have read in this shark ion robot vacuum cleaner review. I hope that the article was helpful and made your choice-making process much easier. What robot vacuums do you prefer? What is your favorite brand? Share your experience and opinion in the comments section. I will be happy to hear back from you!