Almost everyone has that desire of getting smart devices for their home. The motivations for this may vary. To some, they are fed up with paying for commercial carpets and floor cleaning. For others, the hassle of having to clean their floors manually and maintain their carpets in a spotless condition is just too much to sustain for a long. Therefore, at one time or another, you will find yourself shopping for a reliable robot vacuum to help you ease the burden of cleaning.
With these smart devices, you experience less noise in comparison to a regular one, produced by a common vacuum cleaner. Further, with a robot vacuum, you get the added advantage of convenience during cleaning. Scheduling is possible with these devices, meaning cleaning can happen at any time of your choice. Also, if you are not up to the task to control some of these devices manually, you can leave that up to voice assistants – some items are compatible with them.
Whether you are on the hunt for an Amarey robot vacuum, I am here to help you by providing my expert reviews. Also, if you are after information about the work of some specific robot vacuum cleaners, I recommend you to go through this guide to the very end and find your answer. I am a tech expert with several years of experience, so you can trust my reviews, as they are based on my personal acquaintance with these products, their ratings, and their recommendations.
In this post, I have observed ten robot vacuum cleaners that are not only reliable but can easily be found and bought from Amazon. For each product, I have provided a brief description of its features.
Top 10 Vacuum Cleaners on Amazon
Below is a review of reliable robot vacuums. You will also find a list of pros and cons for every item. I believe it will be useful in helping you to settle on a device that will meet your needs best and leave you satisfied.
1. Eufy BoostIQ RoboVac 11S – Best Robot Vacuum for Medium Pile Carpet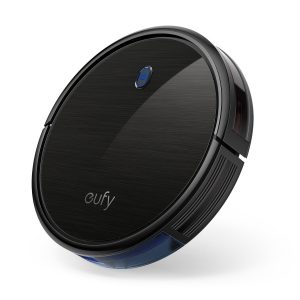 Eufy robot vacuum RoboVac 11 comes in a slimmer design than its previous version. At 2.85 inches tall, it fits in all spaces of your home, including those that give you a hard time trying to reach. For example, under low-hanging furniture. Its suction power of 1300Pa enhances its functionality.
Furthermore, you do not have to worry about additional vacuuming power with this one. It spontaneously surges within 1.5 seconds.
Another impressive feature about this Eufy robot vacuum cleaner is that once it is charged, you will have uninterrupted cleaning for 100 minutes. I have used the word continuous in this case because this vacuum cleaner can hold a lot of dirt in one cleaning session. Its dust box can hold up to 0.6 liters.
While other Eufy robot vacuum reviews claim that it has a quiet performance, it is worth noting it is not completely quiet but emits minimal noise. The noise is equivalent to that of an operating microwave. Concerning its other components, this product has a sleek look enhanced by its tempered glass cover, which is scratch-proof.
PROS:
Comes with a large dust box
Sleek and slim design
Impressive suction power
CONS:
Not compatible with virtual assistants like Amazon Alexa
2. Roborock S5 Robotic Vacuum and Mop Cleaner – Best Robot Vacuum for Carpet and Hardwood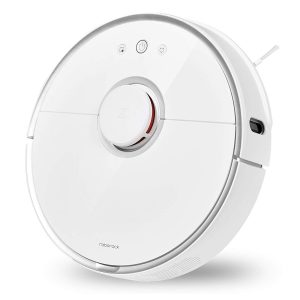 Also referred to as the Roborock s50 Smart Robot Vacuum Cleaner. It has both impressive suction power and durable battery life. The suction power of 2000Pa ensures that all the mess and crumbs are eliminated with ease. Besides, it is fitted with a multi-mode system, which makes it possible for the device to clean diverse floor types.
One of the main reasons why I love this vacuum is its versatility. It has been designed to include both a sweeper and a mop. While the sweeping system draws dust into the dust cup, the mop makes certain that no stains or water are left on your floor surfaces. The design of this cleaner also contains a precision laser that ensures smooth navigation around your house.
Also, its battery has a capacity of 5200mAh, which translates to 150 minutes of continuous functionality. Thus, it does not require your efforts to keep recharging. Furthermore, in the case when its battery starts running out, this vacuum cleaner recharges itself and resumes cleaning. Another thing I like about the product is its compatibility with virtual assistants, and this way, you can instruct it to begin a cleaning session at any time.
PROS:
Powerful suction
Compatible with virtual assistants
Contains a mopping system
CONS:
Unsuitable for cleaning under low-hanging furniture
3. iRobot Roomba 675 – Vacuum Robot for Carpet and Hardwood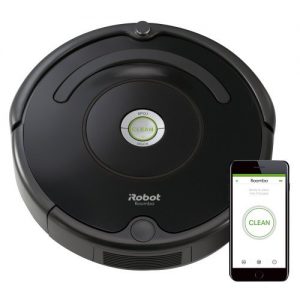 Searching for one of the best robot vacuums for hardwood and carpets? Consider this one from iRobot. Its design includes dual multi-surface brushes that work in sync to collect dirt and dust from your carpet and floor. Its system ensures that cleaning happens in three stages. The first is the loosening of the dirt, followed by lifting it, and finally suctioning it from the surface being cleaned.
Another feature that boosts the functionality of this robot cleaner is its dirt-detect sensors that ensure focus on dirty spots. If you are worried about eliminating rubbish from the edges of your house, you can relax with this cleaner as it is also fitted with a sweeping brush for this specific purpose.
iRobot roomba 675 also a smart cleaner. This means that it allows smart operations like a connection to WI-FI and voice commands. This way, you can link it to your smart devices or smart apps and schedule cleaning sessions at any time. These smart abilities also allow you to monitor its working from anywhere. With this cleaner, you do not have to fret about cleaning when you are away. It can run for up to 90 minutes and go into recharge mode when the battery dies.
PROS:
Can clean hard floors and carpets
Can be used with virtual assistants
Has a 3-stage cleaning system
CONS:
Not ideal for homes with pets
4. GOOVI 1600PA Robotic Vacuum Cleaner – Best Robot Vacuum for Pet Hair and Carpet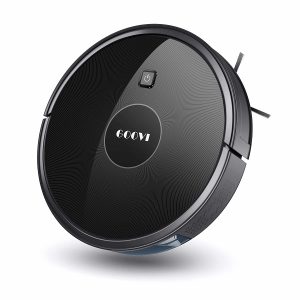 This is one of the most reliable robot cleaners for a house with pets. It not only eases your cleaning but also ensures that it is a stress-free process. Its design includes some wheels that make its navigation over carpets and door edges easy. Also, with this vacuum robot for carpet expect a thorough cleaning session. All this is due to the fact that it is only 2.83 inches high, thus reaching dirt from low spaces is an easy task.
Besides, this Goovi robot vacuum's suction power is 1600Pa. Thus, crumbs and other types of dirt are easily sucked off the floor or surface. Also, when using this vacuum cleaner, you get to enjoy 100 minutes of runtime after which it automatically recharges. It also has a sizeable dust cup than can hold up to 0.5 liters. So, emptying the dirt cup in between cleaning sessions is unnecessary. Furthermore, you can easily supervise its movement using a remote control.
Further, this robot vacuum is fitted with a smart movement system that is able to map out an optimal route to follow when cleaning. This way, it easily avoids hurdles that may be in its way. Fitted with drop sensors, this device will not keep falling off edges and stairs.
PROS:
Effortless cleaning underneath furniture
It has wheels for easier navigation across different surfaces
Powerful suction
5. ILIFE V3s Pro Robot Vacuum Cleaner – Best ILIFE Robot Vacuum
If you have a pet and own a low-pile carpet, this is the ideal robot vacuum for you. It is designed using tangle-free haircare technology. This feature makes it easy for the device to concentrate on the pieces of dirt on the floor and carpet. Another advantage of the product by ILIFE is that it is uncomplicated to use. To begin your session, press the mechanical button. Alternatively, if you do not wish to auto-clean, you can select a specific cleaning mode. Space and edge modes are also available.
This vacuum's functionality is further enhanced by its programmable schedule, which you should use when you wish it to work in your absence. With a runtime of between 90 and 100 minutes, cleaning will go on as scheduled and resume after self-recharge in case it powers down.
The ILIFE Robot Vacuum also boasts about 10 sets of infrared sensors on its front. They ensure that obstacles will not distract it as it sucks dirt from various spaces. In this ILIFE robot vacuum review, I provide a maintenance tip to replace the filter monthly.
PROS:
Has sensors for preventing collision
Programmable
Various modes for cleaning
6. Coredy Robot Vacuum Cleaner – Innovative Robot Vacuum Cleaner for Carpet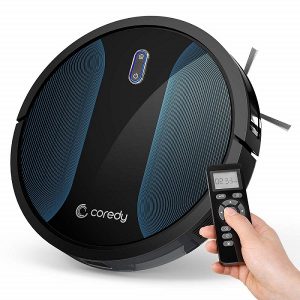 This Coredy robot vacuum cleaner is certainly among the best on the market owing to its array of impressive features that enhance its functionality. One is its size; it is a super-thin robot vacuum that is only 2.7 inches above the ground. Thus, it easily moves between and under spaces to eliminate any dirt. Besides, its design includes a 3-point system for cleaning thus ensuring that your things are dirt-free.
To match your further cleaning expectations, this Coredy robot vacuum cleaner has various modes which you can choose from, depending on what you want to clean. By simply setting your cleaning inclinations, you can devote your time to other things. Leave the product to work and be guaranteed of returning to a spotless home.
If you are one of those people who like to match their equipment with their home décor, then this vacuum cleaner will impress you. Its glossy design and tempered glass top cover will complement your interior finish. Its design also ensures that you will not panic about obstacles that it may encounter due to its anti-crash sensors and bumper, sensitive to pressure. These work to help it avoid the hurdles. I hope this Coredy robot vacuum cleaner review will be helpful when settling on this amazing product.
PROS:
Sleek design
Fitted with a mop
It has 5 modes for cleaning
7. PUCRC25 Automatic Robot Vacuum Cleaner – Pet-Friendly Best Robot Vacuum for Carpet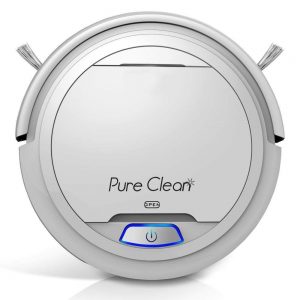 Pure Clean robot vacuum is among the most friendly to your pets. Its filter ensures air purity by confining dust particles within the dustpan. Besides, it has two detachable rotating brushes. They guarantee the suction wave does not bung up with pet hair in a similar way that a single rotating brush does.
It is evident from other pure clean smart robot vacuum cleaner reviews that this one comes in a small frame. Its thinness is equivalent to 2.9 inches, thereby allowing it to travel through various spaces and underneath the furniture. This pure clean robot vacuum review emphasizes its ability to self-program and navigate through its cleaning path with ease.
In addition, the sensors ensure that the device will not fall off a surface during a session. The examination of this vacuum also reveals a bumper aimed to ensure that it will look good even after hitting blockages.
PROS:
Pet-friendly
Effortless cleaning even underneath the furniture
Its sensors prevent falling
CONS:
Controlled with a single button only
8. ECOVACS DEEBOT N79S Robot Vacuum Cleaner – Robot Vacuum for High Pile Carpet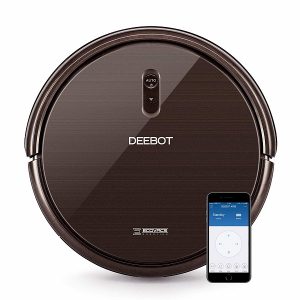 The ECOVACS DEEBOT N79S robot vacuum is an ideal choice for people with high-pile carpets. This vacuum from ECOVACS is equipped with three different modes, which you can choose from to handle the mess at hand. For example, the auto mode spreads its cleaning to an entire space. Conversely, you should select the spot mode when you wish that the minimal area be cleaned. The edge mode directs the cleaner to the edges only.
The maximum power mode is what makes this product the best robot vacuum for high-pile carpets. If you have encountered some gross mess or debris somewhere, it is the best mode to put your cleaner on. The reason is it shoots its power for suctioning by up to two times.
Besides, working with the ECOVACS DEEBOT N79S robot vacuum cleaner is extremely easy because voice app assistants like Alexa can help you to control and direct it. Therefore, you do not have to be present in the house all the time the vacuum is doing its work. With a runtime of 110 minutes, this cleaner can cover vast spaces before its power dies down. In this case, it will start auto-recharging, although it will not recommence cleaning.
PROS:
Virtual assistants can be used with it
Has 3 different cleaning modes
Maximum power mode
CONS:
Does not automatically recommence cleaning when its power dies down
9. Xiaomi Mi Robot Vacuum Cleaner – Hard Floors Robot Vacuum for Carpet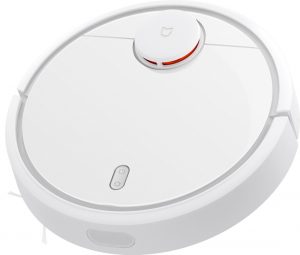 Xiaomi Mi robot vacuum cleaner is ideal for hard floors and low-thin carpets by planning its path and creating a map at the same time. Most importantly, this cleaner has an extremely powerful suction of 1800Pa, thereby ensuring that the messiest spots or rooms are thoroughly taken care of.
What impresses me about this Xiaomi robot vacuum is its battery which has a capacity of 5200mAh. This translates to a running time of 2 and a half hours when the standard mode is on. Also, you can manage and direct it straightforwardly with your Smartphone by basically downloading the MI Home App.
Although these impressive features may lean you toward purchasing this robot vacuum by Xiaomi, I should warn against it if your carpet is black. The reason is this vacuum recognizes dark-colored carpets and floors as cliffs. Thus, it will avoid cleaning them for safety reasons. But if your floors and carpets are bright enough, you can surely go for it.
PROS:
Can be controlled using your Smartphone
Very powerful suction
Has a long-lasting battery
CONS:
Unsuitable for thick carpets
10. Samsung POWERbot R7040 Robot Vacuum Cleaner – The Best Robot Vacuum for Thick Carpet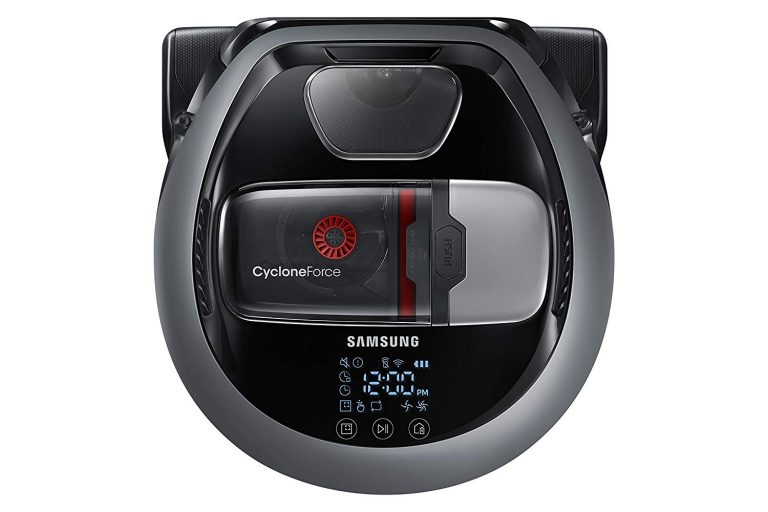 Whether you have a thick, normal, or thin carpet, this Samsung vacuum robot is the product you should settle for to cover all your cleaning needs. Compared to all other vacuum cleaners I have reviewed, this one has the strongest suction power – 3150Pa. It means that it delivers 20 times more powerful cleaning on all types of floors and carpets.
With this Samsung robot vacuum, you should not worry about the obstacles that may occur on its cleaning path. The product is equipped with an onboard camera and sensors to identify and avoid them. Furthermore, you don't have to worry about the mess in the corners or edges of your home, as this cleaner extends out the rubber blade to take care of that.
It is important to discuss the issue of WI-FI connectivity in this Samsung robot vacuum cleaner review. It is actually one of its unique features, which allows you to control the device using your Smartphone. Besides, it is compatible with voice assistants, making it even easier to manage it. In case its battery runs low as you are using this device, your cleaning will not stop. It recharges and automatically resumes the work until all the cleaning is done. This is why I vouch for this item as the best robot vacuum for thick carpets and any floors.
PROS:
Compatible with various voice assistants
Superior suction power
Automatic recharge and resume
CONS:
Lacks a point cleaning mode
Tips on How to Use the Best Robot Vacuum for Carpet and Pet Hair Effectively
This section provides a guide on how to derive maximum value from your robot vacuum cleaner.
How to Empty Eufy Robovac 11S Robot Vacuum?
The first step to empty your Eufy Robovac vacuum is to press the dust collector button. It will open after you press it. When this happens, take out both filters. It opens easily, and this will enable you to dump dust without releasing it into the air. Separate the cover of the filter by pulling the hooks.
Secondly, you need to clean the filter and dust collector before putting them back. You can do this using a cleaning brush or even a vacuum cleaner. Once done, put the filter cover and filters back together in the dust collector and close it.
How Does a Eufy Robot Vacuum Know When the Room is Clean?
One way is when the pre-set vacuuming time on the robot comes to an end. The robot will stop automatically. Another way is by mapping – the robot uses its sensors to build up a map of the cleaning space the first time you use it. Once it has been mapped, the device will follow that path, complete its scheduled cleaning time, and then stop.
What is the Best Eufy Robot Vacuum?
Besides the Robovac 11S, the latest designs like Robovac 30C and the Robovac 15C work well and have additional features that could provide a better service. Otherwise, the choice of the best Eufy robot vacuum should be based on your preferences and expectations.
How to Program a Roborock Robot Vacuum?
The first thing you need to have is the Mi Home application on your Smartphone. Next, link it to your virtual voice assistant like Alexa or Google Assistant. To get started, choose the 'enable skill' to link them and then select 'discover your robot vacuum cleaner'. Select the vacuum cleaner and then create a routine. Create an 'if' rule and a 'then' action when programming the cleaner.
Xiaomi Robot Vacuum – How to Schedule Cleanup?
Firstly, you need to ensure that your robot vacuum cleaner is connected to your Mi Home application. If your app cannot automatically add the robot vacuum, you may select the manual addition option instead. You should then connect the cleaner to your home WI-FI network. When connected, select the room for which you wish to schedule a cleanup. Select the clean mode you would like the robot to be on when cleaning.
From the Xiaomi robot vacuum review, I have provided, it is evident that this cleaner has long battery life. Thus, you can be sure that it completes the schedule before its battery will run out.
How to Use ILIFE Robot Vacuum?
The first thing to do is to turn the product on by pointing your remote control to the robot vacuum. To move it around your cleaning space, you can use the remote control or press the 'clean' button once and leave it to clean. When controlling it manually, press the directional buttons on your remote control to dictate where the vacuum should go.
Also, the remote control has buttons that you use to select a cleaning mode. For example, when you press the space cleaning mode button, the robot will move in a circular motion and cover only one spot. When you press the edge mode, the robot vacuum will follow the edges in your room and focus on them particularly.
As for the auto mode, every space in your room gets cleaned. You may also select other options like the timer button to set cleaning intervals for the cleaner. You can do this using the directional buttons on your remote. Remove the dustpan and empty the filter once your cleaning session is over.
How to Reset Pure Clean Robot Vacuum?
To reset this Pure Clean smart robot vacuum cleaner, turn it off manually. To do this, press the power switch.
How to Reset Samsung Robot Vacuum?
The Samsung robot vacuum cannot be reset by pressing any button on it. However, you can do this with the help of the Smart Home connections in the application. Therefore, you need to ensure that you have set up a Samsung connect home app. It is a network hub that connects your smart devices to it. From the home screen, select the add icon and choose add device.
To reset, select settings under this app and go to connected members. Choose your vacuum from the connected members and then click reset to disconnect all the Samsung accounts from your Smartphone or device. In the Samsung robot vacuum review, it is mentioned that the vacuum cleaner is compatible with WI-FI. Thus, you can turn WI-FI on it when adding it afresh to your Smart Home application.
Are You Ready to Choose the Best?
Many people looking for a smart cleaning option like a robot vacuum cleaner are often overwhelmed by the choice of devices on the market. Do not fret; if you are one of them — you are not alone. Whether you are thinking about going on YouTube to watch reviews or reading the articles online, do not hesitate to rely on the tips I have provided in this post. For example, before buying the Ecovacs Deebot, you can look through the Ecovacs Deebot N79S robot vacuum cleaner review that I have included in this post.
Although the best vacuum cleaners will cost you some amount of money, I still recommend you choose the one that fits your budget best. If you are looking for a top-notch robot vacuum cleaner with all the features and latest designs that you have ever dreamt of, then you might have to spend a little more. For example, the Samsung robot vacuum could be a bit more costly than some products of other brands due to its features.
Most importantly, ensure that you do not sacrifice the quality of the cleaner you choose to save a few coins. Always settle on the best considering the factors like suction power, cleaning modes, and compatibility with smart apps. Furthermore, bear in mind that some people also sell fake brands. This is why you should be careful and go through as many reviews as possible.
In case you are aiming to get a robot vacuum for carpet and hardwood of good quality, you may bookmark my website and refer to the reviews when you are ready to make your choice. If you have any questions, you can also address them to me by posting a comment. Do you have any experience with robot vacuum cleaners? Have you already settled on which one to buy from this list? Do you feel like I have left a specific one that you think should be on the top ten list?
Share your thoughts on the topic by posting a comment.