In most homes, stairs seem to be the biggest challenge when it comes to tidying. This is an area that tends to get a ridiculous amount of dirt (and pet hair, if you share your accommodation with a furry friend). It's also difficult to maneuver since there's hardly enough space to move about, and the steps are so steep and narrow. Indeed, cleaning the stairs is no piece of cake, especially when you don't have the right equipment to do the job for you. Most conventional vacuums are way too bulky for a task like this. Short cords and attachments that simply aren't meant for hard-to-access spots can ruin the venture, too.
Luckily, today's technology offers a wide range of specialized stair vacuums that might brighten up your cleaning routine. We've made up a list of the ten most outstanding models designed specifically for the stairs, so read below to find the one that fits you best.
Also Read: Best Robot Mops: Top 5 Vacuum Robot Mops to Purchase
Stair Vacuums to Invest In
1. Shark Rocket Ultra-Light (HV292): The Best Handheld Vacuum for Stairs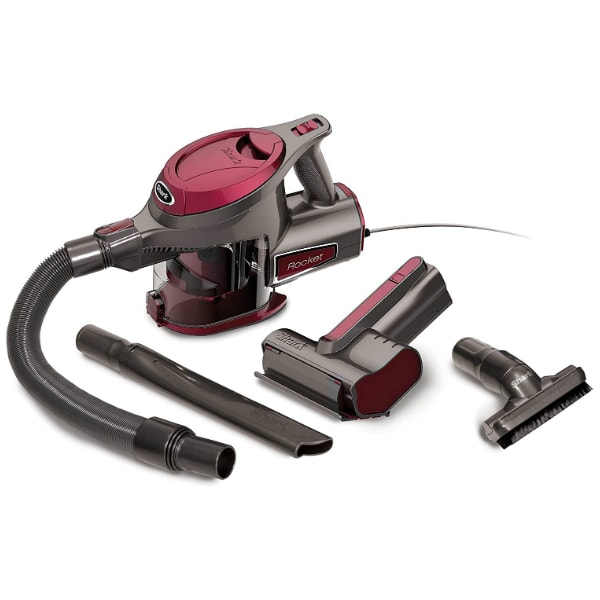 Shark is a brand of SharkNinja Operating LLC, a US-based company specializing in time-saving cleaning solutions and small household appliances in particular. The manufacturer offers highly functional tidying tools for everyday use.
With a weight of only 1.7 kg, this is a truly compact and lightweight model designed with a view for increased portability. Shark's Rocket combines modest weight with a powerful motor, making it the best hand vacuum for stairs, in our opinion. It's designed to be a versatile tool that you can operate without interruption.
HV292 is a corded model that comes with a fifteen-feet power cord, meaning you won't need to switch plugs all the time. The device has three accessory attachments to cover all possible scenarios, including a regular brush, a crevice nozzle for tighter spots, and a TruePet Mini Motorized Brush. The latter is designed specifically to pick up stubborn pet hair and acts as a powerful deep-cleaning tool. A stretch hose is included as an accessory. The set of attachments makes Rocket a truly versatile device that's fit for cleaning carpets as well as hard flooring. You can also use it on the upholstery — a fact that car owners will probably appreciate.
Finally, the model features a dust cup that empties at the press of a button, meaning you don't need a bag. With washable, reusable filters, the maintenance cost is thus next to zero.
PROS:
High suction power that doesn't fade over time
Compact and lightweight
Comes with a highly versatile set of attachments, including a deep-cleaning motorized brush for pet hair
Easy-to-empty cup, no bags needed
Reusable filters
CONS:
Not the most affordable solution
2. BISSELL ICONpet Cordless: The Best Vacuum for Stairs and Pet Hair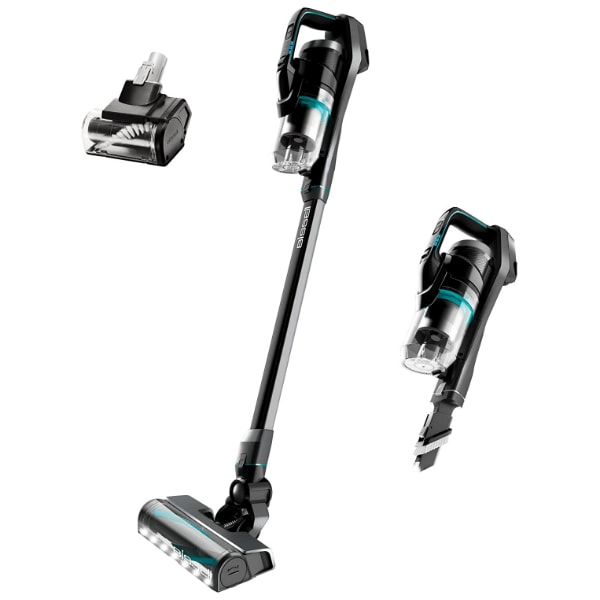 BISSELL is a business with a remarkably long history. It is a family-owned company that's been in the homecare market for over five generations, producing highly practical and versatile cleaning solutions.
ICONpet features a high-power digital motor with a maximum rotation speed of 420 mph that, combined with a 22V lithium-ion battery, ensures excellent performance on all kinds of surfaces, including carpets and upholstery.
This is a cordless model, which means increased convenience in stair cleaning due to long battery life. Although you might need to recharge the device if you're using it to tidy the whole house, it will definitely last through a thorough stair cleaning session. The battery takes four hours to charge fully. There are three cleaning modes to choose from depending on your priority. Max Cleaning is a powerful but battery-consuming program that's good for carpeted stairs, while Everyday Cleaning offers a balance of efficiency and energy saving. Finally, there's a quiet mode that enables the battery to last longer and is fairly effective on hard floors.
With its stick design that can be converted to a lightweight handheld or high-reach vacuum, ICONpet has the potential to become a full-house solution. One drawback is that the head of the handheld units feels a lot heavier than the rest, especially with the roller attachment on, making it somewhat difficult to balance.
The attachment kit includes a soft brush roll, a dedicated crevice tool, and a patented Tangle-Free Brush Roll, which is a specialized pet hair brush motorized to spin at a speed of up to 3200 rpm. This is, of course, a welcome novelty for those who have trouble picking up tangled fluff from their carpets. The crevice attachment features LED lighting, which is again convenient for pet owners as it enables you to see all the hair on the floor.
ICONpet has a sealed filtering system that keeps dust (and the allergens it contains) within the airtight housing. The dirt tank is easy to empty due to sliding technology, although you still need to do it by hand.
PROS:
Long battery life, no cord
Powerful motor
Three cleaning modes to balance power and energy saving
Comes with a highly effective motorized pet hair tool and a crevice attachment</li
Sealed filtering system
CONS:
A pricey solution
The handheld piece may seem difficult to maneuver with some attachments on
3. BISSELL Cleanview Rewind: The Best Vacuum for Stairs and Hardwood Floor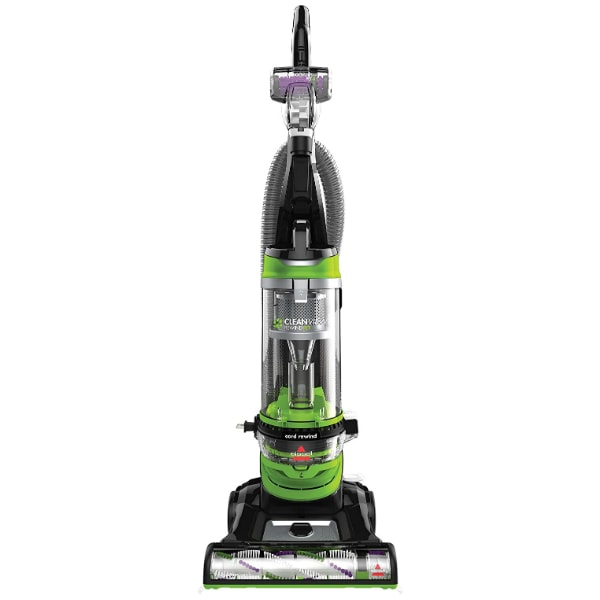 This is another powerful solution from BISSELL that's designed specifically for families with pets. The company uses part of the money raised by selling their appliances to support a pet foundation, which might be an advantage for someone willing to help a furry creature.
BISSELL Cleanview Rewind has an upright design that's not especially portable with a weight of about eight kilograms. However, it features a 27-foot-long power cord that quickly wraps back into the housing at the press of a button (hence Rewind in the model's name). This means you'll have no trouble looking for the nearest socket. The vacuum comes with a long flexible hose that makes cleaning in hard-to-reach spots less of a chore. Besides, its dimensions are quite modest for an upright model.
Cleanview Rewind was designed to combat pet hair while also reducing scatter on hard floor surfaces. It comes with a Triple Action Brush Roll that effectively lifts fluff from the floor, leaving it to the powerful motor to suck it up. More pet tools are included for truly all-around cleaning, such as a TurboEraser, a hair picker designed specifically for corners, and a crevice attachment.
This vacuum features a dirt tank that empties easily at the press of a button. It is a high-capacity container that doesn't need to be emptied often, which is a plus for messy areas.
PROS:
27' cord with time-saving rewind technology
Anti-scatter technology reduces mess on hard flooring
Highly versatile with traditional attachments as well as a number of pet hair and crevice tools
Large, easy-to-empty dust cup
CONS:
Might be too heavy to carry around
4. MOOSOO Cordless Vacuum (XL-618A): The Best Affordable Cordless Vacuum for Stairs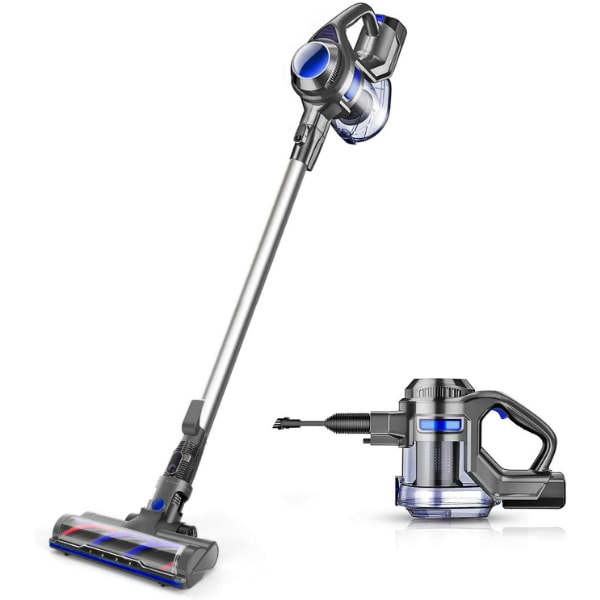 MOOSOO, based in China, is a new company in the field of household appliances that offers a broad range of highly affordable vacuum cleaners. XL-618A is part of their cordless line and has a portable, lightweight stick design.
The machine itself weighs as little as 1.5 kg if you don't count the battery. It features a convenient handle and a slender aluminum tube, topped with a dedicated attachment depending on your needs. Apart from a motorized, LED-enhanced floor brush, MOOSOO offers a two-in-one dusting tool that is also fit for crevices and narrow spaces.
XL-618A comes with a powerful 120W motor that performs well on hard flooring as well as carpets and upholstery. It features a high-efficiency particulate air, or HEPA, filtering system with washable filters that can be recycled, combined with cyclone filtration.
The 2200mAh battery ensures a running time of approximately 20 to 35 minutes, which is usually enough to finish the stairs. The charging time is 5 hours. There are two cleaning modes to make full use of the battery life depending on the situation.
As a bonus, the stick comes with a wall-mount bracket — a decent space-saving solution for those who don't have too much room.
PROS:
Cordless design with a long battery life
Good suction power
Versatile attachment set with a crevice tool
Extremely lightweight
Comes with a wall bracket
5. Dyson V8 Animal Cordless Stick Vacuum Cleaner: A Powerful Cordless Stair Vacuum for Pet Owners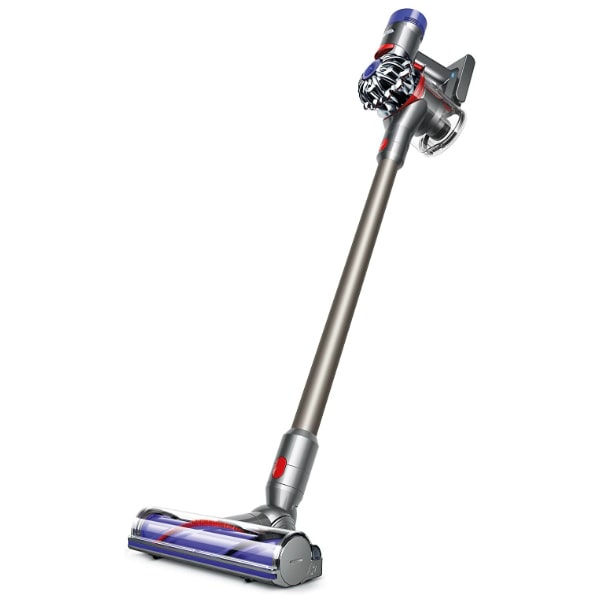 Dyson is a well-established British household appliance manufacturer whose approach to vacuum cleaners is centered on good suction power.
V8 Animal Cordless Vacuum Cleaner is a highly practical and versatile solution for pet owners that combines ease of maneuver with considerable suction power. The cord-free lightweight design makes it easy to carry around. Besides, you can transform the stick device into a handheld unit to easily access all the hard-to-reach corners on your stairs. The tube can be extended to clean higher areas such as bookshelves or the ceiling.
A single 2200mAh lithium metal battery ensures 30 minutes of non-fading suction power provided that you don't use the motorized brush that is supplied with the vacuum. There's also a maximum power mode for thorough deep cleaning sessions up to 6 minutes long. The powerful motor is paired with two tiers of cyclones for increased airflow and filtering. Whole machine filtration is another helpful feature that reduces allergens in the air the vacuum expels. The model features a dirt ejector that spares you the need to touch the dust cup's unhygienic content, which is another health bonus.
Dyson's V8 Animal Cordless Vacuum Cleaner is a versatile tool that is well fit for stair cleaning due to a set of four attachments that it comes with. These feature stiff bristle that dives deep into carpets to remove dirt in a more effective manner.
PROS:
Excellent suction power
4 attachments that do well on stairs and carpeted surfaces
Cord-free with good battery life
A lightweight transformer design can be used as a handheld
Effective filtering
6. Dyson V11 Animal Cordless Vacuum Cleaner: A Cordless Stair Vacuum with an Outstanding Suction Power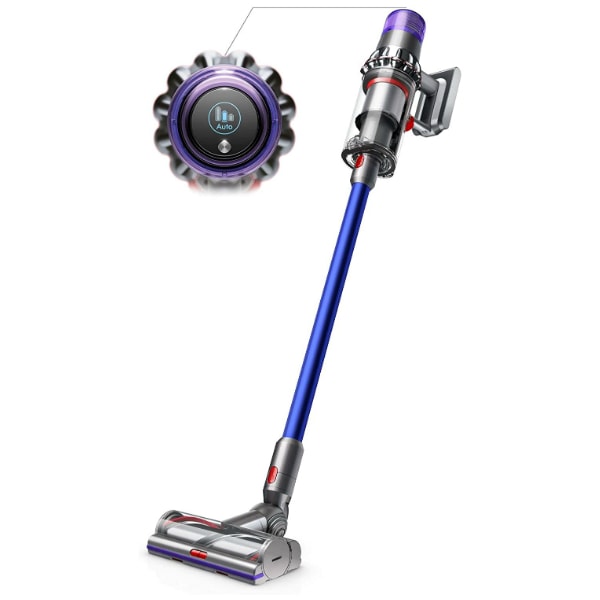 This is the smartest, sleekest, and most powerful of Dyson's stick vacuums. Just like the previous model, it can convert to a handheld that's very easy to use on stairs.
Dyson V11 Animal Cordless Vacuum Cleaner is a highly versatile tool that's fit for deep-cleaning heavily littered surfaces of varying textures, including carpets, hard flooring, and upholstery. Apart from the basic high torque option, it offers a set of dedicated attachments, from a motorized mini pet brush to stubborn dirt and crevice tools.
This is a truly intelligent device in that it optimizes suction power depending on the surface type using a dynamic load sensor, which brings about an impressive battery life of 60 minutes using a unique, lighter-than-usual lithium-ion battery. A boost mode is included for challenging cleaning tasks.
The machine combines highly effective filters with hygienic dust cup emptying technology. Finally, it is supplied with a convenient docking station for charging that also hosts all the attachments in a space-conscious manner.
PROS:
Outstanding suction power
Excellent battery life
Smart battery-saving auto mode
Healthy filtering and dirt tank emptying technologies
Versatile attachments designed to capture pet hair and dirt from tight corners
CONS:
Definitely a big-budget option
7. Shark Navigator Lift-Away Deluxe Upright Vacuum: The Best Upright Vacuum for Stairs Carpet
Another impressive cleaning aid offered by the US-based Shark, this vacuum cleaner is designed for excellent maneuverability ensured by a dynamic swivel steering technology. This makes it a handy solution for cramped spaces with lots of obstacles, such as the staircase.
The Shark Navigator combines an upright design that allows for a high-capacity dust cup with a slender profile and convenience of use. Its greatest advantage is that you can lift the portable part at any time, leaving the stick with the bigger brush to carry just the 3.4 kg canister with a flexible hose on it. This means you can clean your stairs without dragging the whole machine (which weighs well over 5 kg). Another option is to extend the tube for overhead cleaning.
The attachment set consists of a regular brush, an upholstery tool, and one for crevices. We find the second option especially helpful when it comes to stairs cleaning.
This vacuum has a cord as long as 25 feet. What I found inconvenient about it is the place at which the cord is attached to the body — at the bottom, just near the floor, so you might have trouble getting it out of the way.
The filtering system is sealed to keep any allergens trapped inside the housing. This device comes with a high-performance HEPA filter for extra safety.
PROS:
Good suction power
Great maneuverability due to dynamic swivel steering
Long 25' cord
Sealed filtering system
The large-capacity easy-to-empty dirt tank
CONS:
The cord might get in the way while cleaning
No pet hair attachment
8. Shark APEX Upright Vacuum with DuoClean for Carpet and HardFloor Cleaning (AZ1002): A Highly Versatile Stair Vacuum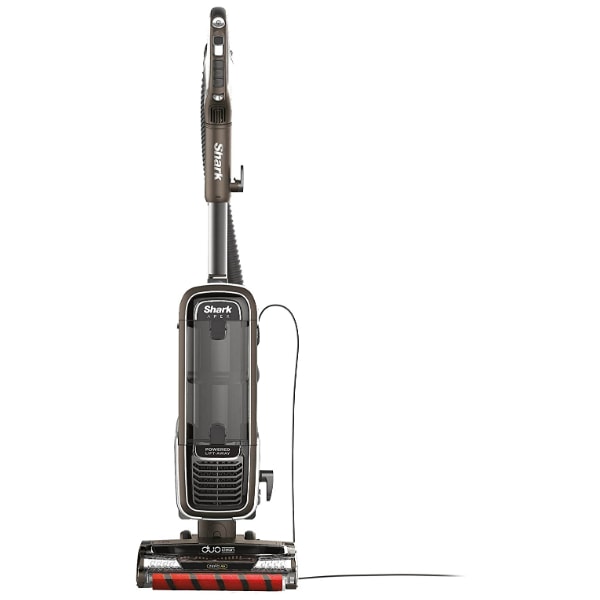 Shark designated this vacuum remarkably as its "ultimate cleaning experience." Indeed, this model combines a number of advanced solutions that may come in handy when tidying the stairs in particular.
This upright model has excellent suction power. Although not the most lightweight option, even in the upright category, reaching 7.7 kg in the assembled state, this vacuum features a detachable canister that makes it more usable in cramped spaces and overhead. We appreciate this as it makes above-floor maneuvering much easier. The cord is 30 feet long, which will definitely cover most applications, and the attachment place is located smartly.
AZ1002 was designed with maximum versatility in mind. It comes with dual brushrolls that remove dirt effectively from carpets while also giving a polished appearance to the hardwood floor, paired with a special brush for hair removal. The Zero-M technology automatically removes tangled hair from the brush, so there's no need to do it by hand. Besides, the set includes a 12-inch crevice tool that works well on stairs.
Shark APEX uses a sealed filtering system paired with a HEPA filter to prevent allergens from leaking into the air.
PROS:
Excellent suction power
30' long cord
Sealed filtering system
Detachable canister for stair cleaning and overhead reach
Versatile with practical and effective attachments
CONS:
Heavier than it should be when it comes to vacuuming the stairs
Rather pricey
9. Hikeren Stick Cordless Vacuum Cleaner: The Best Vacuum Cleaner for Stairs on a Budget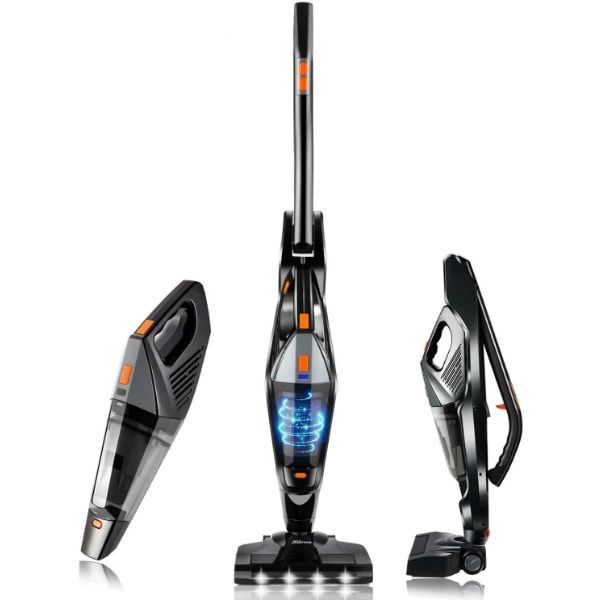 Hikeren is a Chinese brand that focuses primarily on handheld vacuum cleaners and sweepers.
The key advantage of this model is that it's highly affordable. At a cost of about one-third of more upscale brands, Hikeren Stick Cordless Vacuum Cleaner combines a convenient lightweight design with decent suction power. It has a 120W motor at its heart, powered by a 2500mAh lithium-ion battery. The manufacturer promises a running time of up to 40 min after 4 to 5 hours of charging. Two cleaning modes are available to save the battery when your task at hand is not particularly challenging.
This lightweight 2.3 kg stick model can be converted into a handheld; you can even charge it apart from the stick. The essential brush features LED lighting to help you find dirt on the floor.
Although a powerful cordless device for hard flooring, it's probably not the best vacuum for carpeted stairs. There's no special attachment for deep cleaning. In general, Hikeren Stick Cordless Vacuum Cleaner does well on hard surfaces and upholstery but has average performance when it comes to carpets.
PROS:
Good suction power
Very lightweight
Flexible swivel design
Good battery life
Highly affordable
CONS:
Not the best choice if you have carpeted stairs
Takes a long to charge
10. Black+Decker 20V Max Flex Handheld Vacuum with Pet Hair Brush: The Best Cordless Vacuum for Stairs if You Have a Pet and Don't Have Enough Space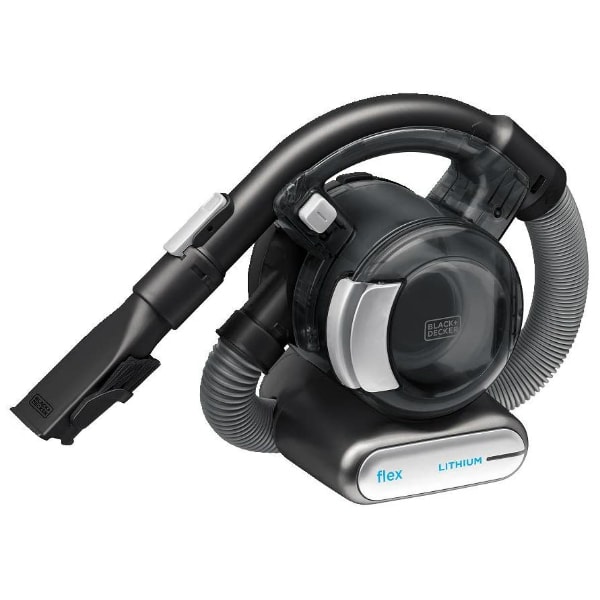 Black & Decker is a well-known power tool manufacturer based in the US that's been on the market for over 100 years. It produces a wide variety of household appliances and cleaning solutions, including affordable and space-saving vacuum cleaners.
This 20V Max Flex Handheld Vacuum combines compact design with impressive suction power high enough to lift stubborn hair. This vacuum comes with a pet brush to enhance this ability and a long crevice tool that works well in tight spaces. The tiny body is paired with a 4-feet extension hose for overhead cleaning and other hard-to-reach areas. Besides, it has a 600 ml dust cup, which is large enough for local operations such as stair cleaning. The machine comes with a quick charging station that doesn't take up much space.
The biggest advantage of this vacuum, however, is its weight of under 1.5 kg, making it a highly usable handheld vacuum for stairs and other applications that require extra portability. Cordless design and long battery life mean you don't have to recharge the device if you only do basic cleaning. However, the vacuum tends to lose some of its suction power as the battery weakens.
PROS:
Good suction power
Extremely lightweight
Long battery life
Reasonable price
Pet hair attachment and crevice nozzle included
CONS:
Suction power might fade if the battery isn't fully charged
What to Consider
The factors to consider when looking for the best stair vacuum are size, weight, suction performance, and usability. Ease of maneuver is one thing to keep in mind when it comes to cramped areas with nasty, hard-to-reach corners. Chances are that you don't want an extra workout carrying your vacuum cleaner, so pay attention to lightweight models. A handheld might be a good solution, but if you are looking for a full-house solution, an upright vacuum with a detachable handheld part might be a more attractive option.
Suction power is essential for staircase vacuum cleaners. This is especially true if you are a pet owner. The hair that our furry companions shed can be a challenge with a device that lacks power, making you return to the same spot, again and again, to finally pick up that piece of fluff.
A good vacuum for stairs should have a set of attachments that will suck up dirt and debris from all the hidden spots. Crevice nozzles are a must if you are looking for a stair-cleaning tool.
To be fit for the hard job, your device needs to either have a long power cord or work on a battery. For those inclined to the latter option, battery life is key. Will it last till you've finished the cleaning? You certainly don't want to change sockets or charge your tool in the middle of the process.
Do you believe there's something else to consider? Feel free to share your ideas about the best way to vacuum stairs!