From WiFi locks to cutting-edge speakers, smart home devices and systems skyrocket your home's IQ. They allow you to do things like turn the lights off in your bedroom while watching TV or lock your doors remotely. Smart home devices of today are all-encompassing and affordable. Smart home gadgets have been gaining more and more popularity for a long period of time. And they're not just for the rich anymore.
There's a great number of smart gizmos on the market these days. This abundance makes choosing the right device particularly challenging. By opting for products based on advertising puffery or brand name popularity, people often buy smart gadgets that are overpriced, poor quality, or simply ineffective for their purposes. RobotsNavigator.com will help you avoid these unfortunate scenarios.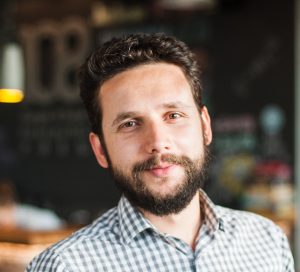 About Dwight Gibson
Hi, I'm Dwight Gibson, the founder, and author of this blog. I've been interested in various gadgets and gizmos since school. Even as a kid, I read a lot about the tech world and wrote a weekly Hi-tech column in my school's newspaper. As a university student, I continued writing on the Hi-tech topic for local magazines.
Three years ago, I started testing smart vacuum cleaners – I needed one for our home, so I wanted to choose the best device. I've bought an awesome robot vacuum which inspired me to explore the smart gadget market on a deeper level. Smart light bulbs, cameras, thermostats, smoke detectors – I have tested it all and know all about it.
To cut a long story short, today I'm familiar with smart home devices on an expert level. This blog was born out of this hobby of mine – and also because my wife Linda and friends have talked me into blogging. "Share your knowledge. It's a way to achieve immortality". That's my motto now – yes, I read Dalai Lama too 🙂
In this blog, I review robot vacuums, as well as other types of smart home devices, to help the reader's community upgrade their homes, and save their time and money. Furthermore, I elaborate on how to manage and maintain your smart home devices to boost their durability. I do not publish sponsored reviews because my reputation is important to me.
Therefore, at RobotsNavigator, you will find unbiased smart home gadget reviews that are not influenced by third parties or advertisers. Here, you will access product reviews you can trust. If you have any questions or suggestions regarding this website, please email me at [email protected].