Shopping for a vacuum cleaner is a hard task, no matter how simple it may seem. Even when you decide to select the top brands such as Dyson or Shark, you will find that they have various models of gadgets. These models may look confusing if you are not aware of the features that you want the most. In such a case, finding a Shark vacuum cleaner review may help you to identify the differences between various models of a brand.
Some of the features which you should consider include the number of attachments the gadget comes with, the ease of controlling the gadget, the weight, and the dimensions. Since finding out these differences by yourself may consume a lot of time, I have compiled a list of the best Shark navigators and rotators.
Also Read: Shark Ion Robot Vacuum Reviews – Comprehensive Guide
I will review each of the products independently. After the Shark navigator light reviews, you will find a verdict on the best navigator of the five products I have examined. This will be the same for the rotators. You can familiarize yourself with a verdict below the Shark rotator lift away reviews. With this information, you will be able to make a fast decision regarding the product to buy. However, since you may be confused between purchasing a navigator or a rotator, I will proceed with a comparison of the two best products.
The comparison will be hand-in-hand in terms of features like weight, usability, attachments that come with the product, and filtration capability. This kind of comparison is essential as it will point out the differences between the best navigator and the rotator. If you had any doubts about which product to select, the comparison would make things easier. By the time you read through the contrast of the final feature, you will know which gadget to welcome in your home.
Also Read: Best Industrial Vacuum Cleaners Review: 2022 Edition
Reviews and Comparison of the Best Shark Rotators and Navigators
This part discusses the features of the best rotators and navigators. I will highlight the features of each product and then compare them to find out which one is the best for your home.
Top 5 Best Shark Navigator
As stated above, I am going to compare Shark navigators with rotators. However, first, I will review Shark navigators and compare them. Therefore, read the following Shark navigator reviews to understand the features and differences between various models.
Also Read: Best Garage Vacuum Cleaners of 2022: Choose the One That Will Attend to All Your Small and Big Cleanup Needs
1. Shark Navigator Upright Vacuum NV352 – Shark Navigator Pro with Handheld Filter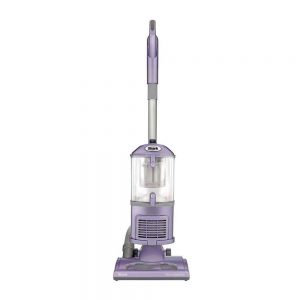 As you might guess, the Shark navigator professional is portable. It weighs only 12.5 pounds, making it one of the lightest cleaning gadgets. You can move the gadget to any point you want because it has a lift away. Instead of dragging it on a very rough surface, you can press the lift away button. Then you may clean every spot in the house with ease.
With a HEPA filter, this gadget has made cleaning to be a walk in the park. The filter can trap ninety-nine percent of the dirt on your carpet or hardwood floor. Therefore, if you have pets that shed fur, this gadget will be a lifesaver. Using the pet brush, it can collect the hairs that you may not notice with your naked eye. This will leave your room friendly to toddlers and adults.
The dust cup is capable of collecting 1.1 quarts. Thus, it can hold dirt until you finish cleaning the room without getting filled fast. It is also easy to empty as you need to press a button while pointing the gadget to a bin. The button commands the cleaner to empty its content.
Moving the navigator Shark vacuum around the room is easy. It is enhanced by the swivel steering. Besides, it is very easy to operate. Once you finish your work, you may disassemble and store the device until the next time you need to use it.
PROS:
Light
Affordable
Has a lift-away that helps in cleaning the normally inaccessible areas
2. Shark Navigator Lift-Away Deluxe NV360 – Blue Shark Navigator Professional Vacuum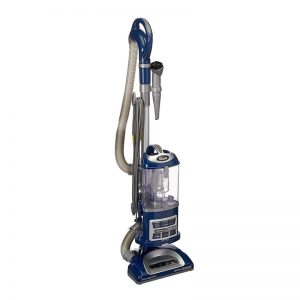 If you have a blue décor around your home, it means that you want gadgets that will rhyme with everything else in the house. Deluxe NV360 is a perfect fit for apartments with a tinge of blue as it also has this shade that is not too much nor little.
The model is similar to NV352, as they both weigh only twelve pounds. The tool is easy to push when cleaning floors and carpets. You can also lift it when there is a need, for example, while cleaning areas like the ceiling. Therefore, you will not break your bones by lifting the Shark professional navigator. With such a lightweight feature, it will also be easy to clean the whole room without omitting any areas because you can lift and point the vacuum to any place.
The lift-away combined with the high suction rate enables the gadget to clean up particles with almost a hundred percent efficiency. Thus, NV360 should become a best friend if your major interests include productivity and reliability.
The item also has a dust canister weighing 7.5 pounds. It contributes to the lightness and efficiency of the gadget as it just needs a press of a button to empty contents. It can hold at least 12 quarts of particles.
Additionally, the gadget has a brush that collects pet hair for dust. Once you start cleaning the floor, it will ensure that you stop at nothing until you leave the room, and all the furniture is clean.
PROS:
The device has a swivel steering that enables it to maneuver in a room easily
Compact
It comes with useful accessories such as dusting and pet brushes
CONS:
The model may overheat if used for more than twenty minutes non-stop
3. Shark Navigator Lift-Away Professional NV356E – Shark Vacuum Review for Effective Portable Cleaning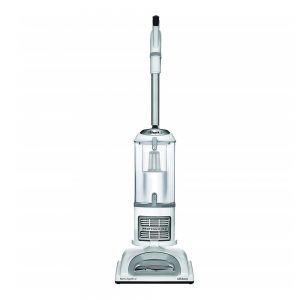 For anyone wanting a gadget that will clean both bare floors and carpets with minimum power and energy, NV365E fits this criterion perfectly. The vacuum has a brush roll that helps in switching between cleaning the carpet and the bare floor. If you have hardwood floors, you can also get the hard floor hero attachment which is usually sold separately.
If you have already read any other Shark navigator professional reviews, you should realize that the lift-away capability is very critical for a vacuum cleaner. NV365E does not disappoint in terms of this characteristic, and it resembles most of the other Shark navigators. Therefore, if you have numerous corners that are usually hard to clean, with the purchase of this navigator, that problem will become an issue of the past.
The only downside of the gadget is its weight – 13.7 pounds, which is slightly heavier than in other models like NV360. It also holds 2.2 quarts of particles, which is double that of the NV352 model.
PROS:
It cleans 11.4 inches path, which is large, hence saving time
It has a pet brush tool
Compact
It features a large dustbin
4. Shark Navigator Deluxe NV71 – Shark Navigator Review of XL-Capacity Device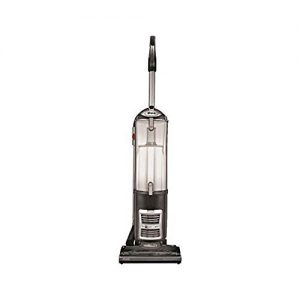 At times, it may be too expensive to get a new vacuum cleaner. And since you may be looking for a qualitative product even with limited finances, it can be hard to succeed unless you keep searching. Luckily, NV71 is a renewed gadget that has been in use but is still in excellent condition. The supplier has inspected and tested the product and has ensured that it is working like a new gadget.
It has an anti-allergen technology that ensures it captures all particles and traps them within the filter. Thus, if you are prone to allergies that arise from dust and other particles, you have nothing to fear when using NV71 due to its anti-allergen feature.
It has a 5.5-inch crevice tool. This is long enough to fit into hidden areas such as corners and vents. Therefore, it increases the cleaning efficiency of the gadget. It is the heaviest of all navigators with a 21.1 pounds weight.
PROS:
It is black, hence can rhyme with most décors
It has a long crevice tool that enhances the gadget in reaching hidden areas
Affordable
CONS:
The item is fragile mainly because of its heavyweight which makes it difficult to lift
5. Shark Navigator Vacuum Review of a Versatile Tool – Shark Navigator Powered Lift-Away Deluxe Vacuum NV583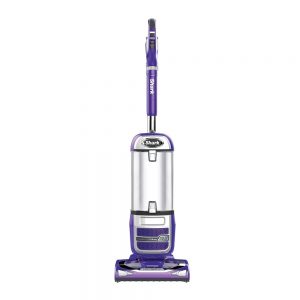 Who said cleaning your home has to be boring? I believe no one. Having an exciting cleaning gadget can make this process enjoyable. It may even elevate your moods on a day when all you woke up seeing was darkness. NV583 is a genuine beauty with a flash of purple color that enhances its look. Its warm colors will please your heart and leave you feeling better after cleaning the floors and furniture.
By clicking the lift away button, you can extend the cleaning range by far. Once the button detaches the gadget, you can lift and direct the cleaning pipe onto any surface, corner, or other hidden areas in the hallway.
The device is easy to control as it has a swivel steering that helps you to move the gadget from one point to another. The steering also enables you to clean the surfaces under the furniture without using a lot of force. It has soft and hard brush bristles for cleaning furniture and carpets. Also, it has a hard floor attachment for leaving these areas neat while remaining stress-free.
PROS:
Beautiful, hence being a great gift for mums and girls
It comes with a hard floor attachment
Compact
Easy to operate
CONS:
It weighs 15.4 pounds, which is quite heavy
The Verdict of Shark Navigator
Based on the above Shark navigator lift away reviews, the deluxe NV360 Shark navigator has proven to be the best because it has superior features as compared to the rest of the gadgets. For example, it can hold 12 quarts of dirt in the dustbin. No other navigator can collect such a huge amount of dust at a go.
Shark Rotator Comparison – Best Three Products
Having observed some of the best navigators on the market, it is now time to review top Shark rotators to be able to compare the best rotator with the greatest navigator. Therefore, I will highlight the features of the rotators that I have found to be the most appealing on the market.
1. Shark Rotator with Mini-Motorized Brush – Shark Rotator Powered Lift-Away TruePet NV752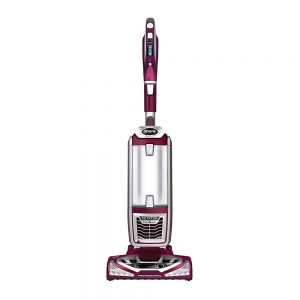 If you need a gadget that is easy to control, think about the model NV752. It has buttons at the position where your fingertips will lie, and you can easily operate the machine while working. You do not need to stop cleaning to switch the button from one mode to the other.
This cleaner also saves a lot of time and effort due to the inbuilt LED lights. These lights help you in lighting up dark areas such as under the furniture as you clean. The illumination helps in ensuring that you clean every corner efficiently. Thus, you will be satisfied with how you clean the room.
The gadget is also flexible as it has a swivel steering that helps it in moving from one direction to another. Therefore, unlike traditional vacuum cleaners that remain stiff and can move only in one direction, with this one, you have the freedom to steer the gadget in whichever direction you want.
The device weighs 16.7 pounds, which is light and portable. It also has a thirty feet cord that is long enough to stretch and clean ceilings and corners.
PROS:
Lightweight
It has a long cord that ensures you do not leave any areas with dirt
It has LED lights for illuminating dark areas while cleaning
CONS:
If you mishandle the gadget, you can break the main body
2. Shark Rotator Professional Lift-Away NV501 – Shark Rotator Professional Bagless Red Model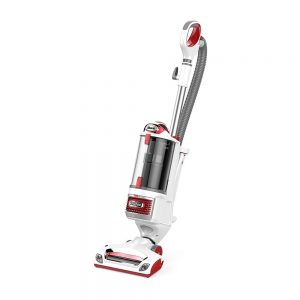 The red NV501 is another classic Shark rotator vacuum that is a good fit for a home with children and one with adults only. It is also a lift-away gadget. Hence, you are assured of cleaning every spot in the hall without leaving dirt on curves and sharp bends.
I love it because it is similar to Shark navigators as it has a pet brush. The premium brush increases efficiency when cleaning the room. If you have pets that drop hair in the house, the pet brush will pick up the hair easily. It can also collect other small particles that would be hard to clean by hand, especially from the furniture and the carpet.
When using this Shark rotator vacuum cleaner, you will also not need to worry about catching allergies from particles. It has a sealed anti-allergen that collects all the allergens and stores them so that they cannot spill out. Therefore, anyone can use the gadget without fear of getting sick.
Just like the model NV752, it has LED lights that help in lighting up the dark spots when cleaning. The lights ensure that you collect every dust particle without leaving any stone unturned.
The plus side of NV501 is that it has an extra-large cup that collects dust. The size ensures that you can clean the whole area without needing to empty the cup regularly. Once you start cleaning, you may empty it after you finish tidying up every floor, furniture, and carpet. The rotator weighs around fifteen pounds, which is easy to lift and push.
PROS:
It has LED lights that help in cleaning up the room
It features anti-allergen technology
Light
It has an extra-large dustbin
CONS:
The red color may not rhyme with some décor for individuals who are crazy about the looks of their houses
3. Shark Rotator Pro Lift-Away Vacuum – Shark Rotator Upright Corded NV683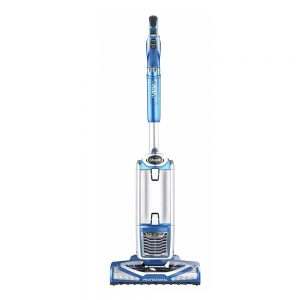 If you get the gadget NV683, then years later, you will look back and smile at yourself for having any doubt about purchasing it. It is flexible because of its lift-away capability. Therefore, you can clean the farthest corners on either side of the room by adjusting and moving it wherever you want.
It is a three-in-one Shark vacuum rotator as it has a lift-away and can clean either upright or with a canister caddy. Also, it is efficient for cleaning hard floors. The item is capable of doing this because it comes with a microfiber that can be cleaned, and it also has a hard floor attachment. These two characteristics make it efficient for cleaning floors that you previously found to be very hard when using regular vacuum cleaners.
The vacuum rotator has anti-allergen technology that enables it to clean up to 99.9% of the dirt in a room. Therefore, the accuracy in cleaning and collecting particles is unmatched. It weighs 13.2 pounds, which is light as compared to some Shark navigators.
PROS:
It has a lift-away capability, hence it is a 3-in-1 vacuum cleaner
Light
It has LED lights
It has a high-efficiency rate of collecting debris from floors and carpets
CONS:
Mishandling of the gadget may lead to the breakage of some parts
Shark Vacuum Model Verdict
The rotator NV501 is the most superior of the three rotators based on the Shark rotator vacuum reviews. It has all the features of the other rotators. Also, it is light and has anti-allergen that protects you from inhaling allergens when cleaning your home.
Shark Navigator vs Shark Rotator – Hand-in-Hand Comparison
The above reviews show that the Shark Navigator NV360 is the best, while the Shark Rotator NV501 is the winner in the rotator series. The next thing that you need to find out before finalizing your decision is how the two items compare. Therefore, this section will contain a detailed comparison of the best versions of the Shark navigator vs rotator.
Dimensions and Weight
When looking either for a rotator Shark vacuum or a navigator, you need to get a light gadget. Such a tool will be easy to lift and move around when you are cleaning the room. Below is the weight difference between the Shark navigator and the rotator.
Shark Navigator NV360:
Weight 12.5 pounds;
Dimensions 45.7×12.1×12.2 inches;
Cleaning width 11 inches.
Shark Rotator NV501:
Weight 15.5 pounds;
Dimensions 15×11.4×45.5 inches;
Cleaning width 12 inches.
Based on the above comparison, NV360 is the best in terms of weight as it weighs three pounds less than the Shark Rotator NV501. Again, NV360 beats the rotator in terms of dimensions, although the difference may be negligible. Although it has an inch less cleaning width compared to the rotator, the difference should not be a major concern as the item is portable. Hence, you can move it around to cover a larger cleaning width at a go.
Bin Capacity
If you are going to select a gadget for its bin capacity, you should choose the one that will hold as much trash as possible. So that you empty it only once after you finish cleaning the room.
Shark Navigator NV360:
Bin capacity of 3.3 dry quarts.
Shark Rotator NV501:
An extra-large (XL) bin that can hold 1.2 dry quarts of dirt.
It goes without saying that NV360 beats the Shark professional rotator NV501 in terms of the dirt that it can hold. Therefore, if you need to clean large rooms or halls without emptying the dustbin frequently, you should go for the Shark navigator.
Filtration Capability
As a homeowner, you need to be concerned about the filtration capability of your vacuum cleaner. You should get one that will filter odors and absorb allergens to protect you and your family from catching allergies because of dirt.
Shark Navigator NV360:
It has an approved HEPA anti-allergen;
It filters at least 99.9% of dust and other particles.
Shark Rotator NV501:
It has anti-allergen technology;
It filters 99.9% of the dirt.
The filtration capabilities of these two gadgets are the same based on the above Shark vacuum comparison. Therefore, none is superior to the other as both of them have sophisticated filtration technology.
Accessories
You would want a gadget that comes with tools to perform various tasks. The more accessories, the better for you, because you will not need to spend any other cash to purchase the tools separately.
Shark Navigator NV360:
HEPA filter;
Pet brush;
Dust brush;
Crevice tool;
25ft hose.
Shark Rotator NV501:
Cleaning head for any hard floors;
HEPA filter;
Premium pet power brush;
Dusting brush;
Crevice tool;
30ft hose.
Both of the gadgets have numerous accessories that perform similar functions. However, the Shark rotator is superior because it has a cleaning head that is used on hard floors. Its hose is also longer by five feet. Hence, it can reach distant areas as compared to the navigator. I would not trade anything for a rotator that will reach every dark corner in my room and leave it spotlessly clean.
Usability of the Gadget
Based on the above reviews of the Shark rotator vs navigator, the item you select should be easy to use. Since you want to be able to clean your home by yourself, you do not want a gadget that will always call for expert help before using it. It should be easy to use so that you may be able to clean your house with a minimum amount of time.
Shark Navigator NV360:
It has a swivel steering that enhances maneuverability;
It can also bend;
It has a lift away.
Shark Rotator NV501:
It has swivel steering that makes it highly portable;
It can lay flat and bend at least 90 degrees;
It has a lift away.
The two gadgets under review also match in terms of usability. They have swivel steering that enhances movement from one point to another. They also have lift away and can bend. Therefore, they can usually reach hard-to-reach areas.
Maintenance
Maintaining both gadgets is easy. First, you need to ensure that you handle them with maximum caution. Dropping them may lead to a breakage of parts, and this may be costly in the long run. Otherwise, the attachments of the two gadgets may need to be replaced after a year or two, depending on how regularly you use each one of them.
The Verdict of the Matching
When you compare Shark vacuums, it is clear that NV360 is superior to the rotator NV501 for anyone who does not need to clean hard floors. It has similar capabilities to the rotator. In addition, it has more advantageous features, such as being light and having a higher bin capacity. However, if your major need is to clean hard floors, NV501 has features that suit this need. Also, it has a longer cord for cleaning corners and high areas.
Summary of Both the Reviews and Comparison
Selecting a Shark rotator or navigator will not be a hassle anymore. I have reviewed five of the best navigators and three rotators that I have found to be the best of the brand. For example, the Shark rotator professional reviews indicate that NV501, NV683, and NV752 are the best models that you will find on the market. They all have a lift-away capability that makes it easy to clean any space.
The rotators also have swivel steering. However, they differ in terms of weight. The Shark rotator reviews point out that NV501 is the best among the three models. It is light and has all the capabilities that you could ask for in a vacuum cleaner.
On the other hand, there are five top Shark navigators on the market. They include the NV360, NV365E, NV352, NV583, and NV71. Whichever of these models you purchase, you will get value for your money. Their capabilities are unmatched, and you are guaranteed that a gadget will perform the job as it promises. This is unlike regular navigators that promise one thing and then deliver another.
The reviews of the five gadgets indicate that NV360 is the best among the five tools. It has a touch of blue color that is neither too much nor too little. Hence, it is a good fit for anyone with blue décor and also for a homeowner who does not mind introducing a tinge of blue. The navigator can clean upright as well as bend, and it also has a lift away. Operating it is simple as you need to press buttons that are located at the point of your fingertips when you are holding it.
Based on the verdicts of the best rotator and navigator, I then decided to compare the NV360 navigator with the model NV501. I believe that this comparison is critical, especially for someone who is confused about the gadget to buy. Some of the features I have compared include weight, dimension, and filtration.
The Shark rotator cordless reviews indicate that NV360 is better in terms of weight and dimensions. It weighs only 12.5 pounds while the rotator NV501 weighs more than fifteen pounds. It also has a HEPA filter and can collect 3.3 dry quarts of dirt. However, this gadget is for anyone who does not have hard floors.
If you are looking for a hard floor cleaning vacuum, NV501 will deliver the best results. It has a longer hose and a hard floor cleaner with microfiber. Have you used any of the above Shark rotators or navigators? How do you compare Shark rotator vacuums if you have used more than one? Which one do you love the most?