All pet owners face a problem when trying to monitor and clean up the hair that is shed by pets all over the floor. This is particularly so for cats and dogs. Mold, pollen, dust, mites, and other pet allergens are likely to be present where pets are found. What is more, pet hair is not easy to clean using the standard type of vacuum cleaners.
Thus, acquiring the best Roomba vacuum for pet hair is the best solution. In as much as purchasing a vacuum cleaner is of great advantage, it is crucial to weigh the options to make sure that you acquire the best Roomba for pet hair. However, this is not an easy task since there are several vacuum cleaners on the market, and they all have their advantages and disadvantages.
Being a pet owner, I will go through a few best iRobot Roomba for pet hair that I would consider getting as an upgrade to clean up my place. I have arranged the list from the one I would highly recommend to the one I would least recommend. I love pets, and my house is always incomplete without them. For years, I am a pet owner and use these products. Therefore, I will base the review on my own experience as well as my knowledge of the products.
Also Read: Roomba 960 vs 980 – Understanding Their Similarities and Differences
Select the Best Roomba for Pet Hair 2022: Consider These 8 Products
You need to choose a robot that is smart enough to find and vacuum the hair shed by your pet. Remember that the dust, mold, and pollen shed by this pet can act as allergens. You not only need a robot vacuum but a perfect and effective Roomba. Choose from the following products.
1. IRobot Roomba 980 Robot Vacuum – The Best Vacuum for Pet Hair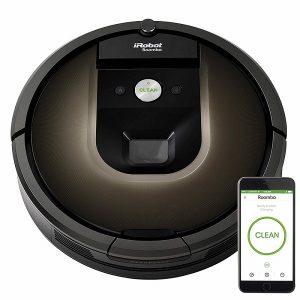 The iRobot Roomba 980 robotic vacuum cleaner has most of the features that one requires from a robot vacuum cleaner. For instance, iRobot Roomba 980 has Wi-Fi connectivity that enables it to be controlled by the use of a smartphone app or Amazon Alexa. It cleans all types of floors and carpets and can also clean large rooms. However, the iRobot Roomba 980 review highlights the fact that this device is more expensive than most vacuums, and its basic mapping features hinder it from learning its surroundings.
PROS:
Has Wi-Fi connectivity
Compatible with Amazon Alexa
Cleans all types of floors
Can clean large rooms
CONS:
Expensive
The mapping feature hinders effective cleaning
2. IRobot Roomba 960 – Another Viable Option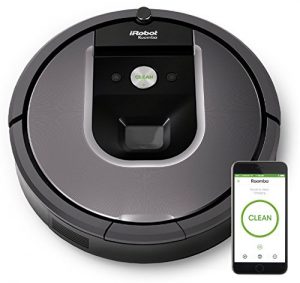 The iRobot Roomba 960 robotic vacuum cleaner qualifies as a very efficient cleaner. It cleans effectively on all types of floors and carpets, regardless of their size. According to the iRobot Roomba 960 review, it can easily be connected to Wi-Fi and is compatible with other smartphone apps and Amazon Alexa. Also, it cleans in three major stages that facilitate its effectiveness.
Moreover, iRobot Roomba 960 reviews from customers are mostly positive on Amazon. The negative aspects of this device are that it is quite pricey and could terminate the cleaning process prematurely, leaving the floor undone. These two aspects disqualify the iRobot Roomba 960 robot vacuum from being the best Roomba for pet hair.
PROS:
It cleans all floors
It has Wi-Fi connectivity
Compatible with smartphone apps
It cleans in 3 stages
CONS:
Expensive
Premature termination of cleaning
3. IRobot Roomba 891 – An Advanced Model of Roomba 890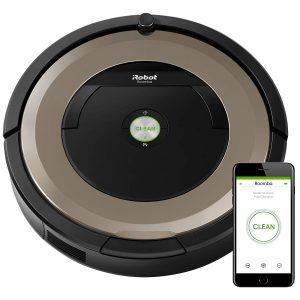 The iRobot Roomba 891 robot vacuum cleaner is the most advanced version of the Roomba 890. Hence, it is the most efficient for pet owners. According to the iRobot Roomba 891 review, it has several surface brushes that easily trap hair and other particles on any surface and do not get tangled. Also, it has highly efficient filters that trap even the smallest particles in conjunction with innovative sensors. It also can work under schedules. This means that you can set it in such a way that it ensures a regular cleaning interval. It is also compatible with both Amazon Alexa and Google Home assistant. In conclusion, it is reasonably priced and highly efficient.
PROS:
Fairly priced
Highly efficient
Compatible with both Amazon Alexa and Google Home
It can work under scheduling
CONS:
It is not the latest model
4. IRobot Roomba 890 – A Vacuum Cleaner with Dirt Bin Sensors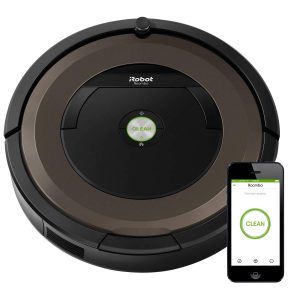 IRobot Roomba 890 robot vacuum is an average-priced Roomba that has certain unique features that make it suitable for use at home the cleaning dogs and cats hair.
IRobot Roomba 890 review reveals that it cleans up pet hair in three stages. It ensures that all particles are loose, and after that, it clears away the dirt particles on the floors.
Another characteristic it has is that it contains dirt-detecting censoring devices. They enable the robot to assess whether there is dirt that is evident on any surface and, hence, cleans it effectively.
In addition, in as much as it has a faulty dirt bin sensor, it is built in a way that it can detect when the bin is full. Other aspects of this device are its compatibility with Google Home and other relevant smartphone apps, and it also has Wi-Fi connectivity, hence, making it user-friendly. Finally, it recharges automatically and operates for 90 minutes after charging.
PROS:
It has dirt-detection sensors
Wi-Fi connectivity
Compatibility with Amazon Alexa and other smartphone apps
Automatically recharged
5. IRobot Roomba 690 – The Perfect Choice for Light Carpets and Small Rooms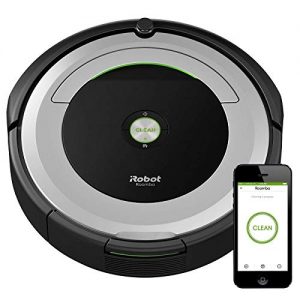 One of the most outstanding characteristics of the iRobot Roomba 690 robot vacuum is its cleaning system which takes place in three stages. This makes it possible to collect all forms of particles and pet hair on the floor. The iRobot Roomba 690 review indicates that it also has dirt-detection sensors that facilitate the cleaning process. In addition, it operates for 90 minutes without recharging.
However, the device could be a hindrance and, therefore, may not qualify to be the most outstanding Roomba for pet hair due to its inefficiency while cleaning heavy carpets. It requires the setting up of virtual wall barriers for it to ensure large rooms are cleaned.
PROS:
Three stages of the cleaning system
It has dirt-detecting sensors
It runs for 90 minutes
CONS:
It does not clean heavy carpets
6. IRobot Roomba 675 – Cleans All Floor Types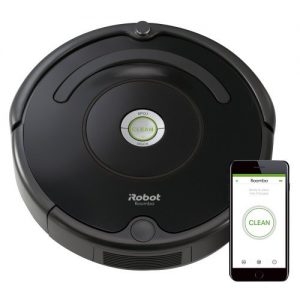 The iRobot Roomba 675 robot vacuum has various features that make it user-friendly for pet owners. For instance, it has dirt detection sensors, brush roll bristles, and filters that facilitate its cleaning regardless of the floor type. It is easy to use and also compatible with both Amazon Alexa and Google Home. I cannot do the iRobot Roomba 675 review without pointing out the fact that it also has Wi-Fi connectivity, which is an excellent feature for this device. On the flip side, it is not as efficient as other newer models. More precisely, it does not have an effective and reliable cleaning system. However, this Roomba is quite affordable.
PROS:
Affordable
Dirt detection sensors
Easy to use
Compatible with Amazon Alexa and Google Home
It cleans all floor types
CONS:
Not efficient
It does not have a reliable cleaning system
7. IRobot Roomba 671 – Perfect Choice for Cleaning Many Rooms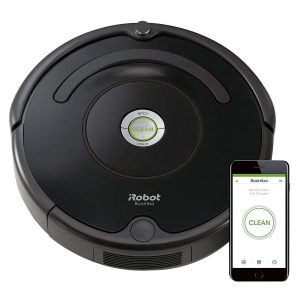 The iRobot Roomba 671 review analysis points out the fact that the iRobot Roomba 671 robot vacuum has many great features, for instance, Wi-Fi connectivity, an Alexa support system, and a voice control option. The device can also vacuum for up to 90 minutes and automatically returns to its dock, and hence this gives one enough time to clean many rooms.
However, it does not work on all types of carpets, therefore, cannot be entirely relied on. In as much as it does not have dirt-detecting sensors, it has a sufficient battery life and is quite easy to use compared to other models.
PROS:
Affordable
Wi-Fi connectivity
Alexa support
Voice control
Sufficient battery life
Easy to use
CONS:
It does not have dirt-detecting sensors
It does not clean all types of floors
8. IRobot Roomba 614 – The Most Affordable Option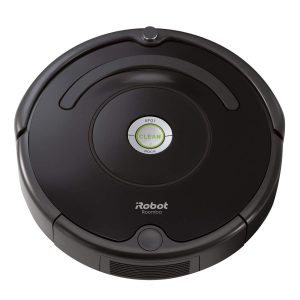 According to the iRobot Roomba 614 review, this device is a very affordable model that stands out because it gives you wall-to-wall coverage during cleaning. Its batteries tend to last long and, hence, do not require regular replacements.
It also cleans up all types of floors, for instance, carpets, laminate, tiles, or wooden floors effectively. However, iRobot Roomba 614 robot vacuum cleaner does not have a reliable air filtration system, and it does not capture all forms of particles that are on the floor.
In addition, it does not have a bin indicator that lets one know when the bin is full. This tends to be hectic in the case where there is a cleaning to be done. Finally, it does not have a scheduling option and, hence, does not offer the option of regular cleaning intervals.
PROS:
Affordable
Batteries last long
It cleans all types of floors
Wall-to-wall coverage during cleaning
CONS:
No air filtration system
It does not have a bin indicator
No scheduling option
The list above is based on the most recommendable product to the least. In as much as all perform the same function, the difference in technological advancements sets the Roomba 980 apart.
Also, it is more expensive than the other products, it has the best results, and it is the most reliable. That is why it is important to have a specified standard of what you want to be based on their performance, the price, and the quality of performance that you are looking to achieve.
Common Questions Regarding the Best Roomba for Pet Hair
There are more questions below that would guide you in selecting the best Roomba for pet hair. They bring up the relevant discussion that any pet owner should have before choosing the best product for them. If your question is not included, feel free to ask it below in the comment box.
Why Is Roomba Good for Dogs and Cats Hair?
Roomba is useful for the cleaning of pet hair because it is more thorough than any other robotic vacuum cleaner. This is made possible by its features, such as an advanced system of filtration. It eases the process of capturing any particles and any other pet allergens.
Also, your cleaning will be easy with Roomba because it does not entangle itself with hair, unlike using bristle brushes. The ability to connect to Wi-Fi is another characteristic that makes it efficient for pet hair. This feature enables Roomba to control the cleaning process using a smartphone app. What is more, they are compatible with Amazon Alexa and Google Home.
Roomba also has a dirt detection sensory system that ensures that the cleaning process takes place anytime, regardless of whether it is under anyone's control or not. This works hand in hand with the presence of brush roll bristles and filters that enhance cleaning on all floor types. Finally, Roomba has bin indicators that help one determine if the bin is full or not. In some cases, the vacuum cleaner empties itself, but in others, the owner can know when to leave the Roomba bin and continue cleaning.
What Is the Price of Roomba?
The price range of Roomba vacuum cleaners is dependent on their features. For instance, some robotic vacuum cleaners can clean all types of floors, whereas others are specifically designed for one type of floor. Due to these differences, Roomba prices may range from $333.70 to $949.00. The most expensive Roomba types utilize advanced technology, making them highly efficient during cleaning and, therefore, they have a reasonable price-quality ratio.
Are Robotic Vacuums Good for Pet Hair?
Yes, they are. This is because they have specialized features that enable them to quickly clean up pet hair, for example, advanced systems of filtration. Also, they also have powerful suction abilities that allow them to efficiently clean out any particles that come with the keeping of pets. Some robotic vacuums have smart mapping systems whereby they can clean effectively by recalling the floor planning of the room.
What Is the Roomba Pet Series?
It is a Roomba vacuum cleaner that is specifically designed to clean out dog and cat hair. It has features that facilitate cleaning, for instance, cleaning all types of floors and carpets, has dirt-detecting censoring systems, and has several surface brushes. Moreover, it is compatible with several apps and systems like Amazon Alexa, which makes it easy to control. It also has effective suction facilities that can clean out trapped hair and dirt particles on the floor. These Roombas utilize advanced technology and, hence, have incredible performance
What Is the Best Roomba for Pet Hair?
I think that one should pick the best Roomba vacuum cleaner depending on their needs and the amount of money they have set aside for a vacuum cleaner. However, the iRobot Roomba i7 vacuum cleaner stands out due to the many characteristics that make it most effective compared to other vacuum cleaners.
For instance, it is the latest model and has additional features that are technologically advanced, making it very efficient. Some of these features include a strong suctioning system, effectiveness in terms of performance, and highly efficient filters. It can recharge and restart operations, a feature that is unique to the Roomba i7. Finally, it has smart mapping traits, which enable it to recall the floor plan and, hence, does not require to be controlled.
What Is the Latest Roomba Model?
The latest Roomba model is the Roomba i7+ which has specialized features. It remembers the home's floor plan and is also able to empty itself when full. In as much as these are its outstanding features that are a technological addition, it has other aspects that make it more efficient. For instance, it can recharge and resume the cleaning process. It has dual multi-surface rubber brushes, and, finally, it has highly efficient filters. These features are an addition to the features that are present in the advanced robotic vacuum cleaners for pet hair. This Roomba is the best Roomba for pet hair in 2022 because of these two special features.
How Should You Choose The Best Roomba Vacuum Cleaner For Pet Hair?
When choosing a Roomba vacuum cleaner, it is important to consider the pros and cons that come with each robotic vacuum cleaner. It is also crucial to note that most vacuum cleaners have different prices depending on their features and the technological advancements that are made in each product.
For instance, the latest iRobot Roomba model is more expensive than other ones but has the smart mapping feature whereby it recalls the floor planning of the room is the cleaning and, therefore, does not require constant monitoring. In addition, advanced Roomba models have powerful filtration systems that ensure that even the smallest dust particles and hair are captured by the vacuum cleaner.
The reviews show that to achieve the best results, it is highly recommendable to purchase a Roomba vacuum cleaner for pets as they are specially designed to ensure that the floors are thoroughly cleaned. There are several Roomba vacuum cleaners on the market, and the differences between them vary due to the various techniques they utilize to carry out their roles.
For instance, the iRobot Roomba 671 is affordable and can operate continuously for 90 minutes, can be connected to Wi-Fi, and is compatible with advanced smartphone operations. However, it cannot be used on all floors. The Roomba i7, on the other hand, is highly effective, efficient, and can work on all types of floors. It is quite expensive, and, therefore, it is up to the buyer to weigh their options and go for the one that works best for them.
I would recommend acquiring the latest model of the Roomba vacuum cleaners since it ensures that there are no remnants of any pet allergens or particles that may cause diseases. In addition, it utilizes advanced technology that facilitates effective results during cleaning. In addition, one can also go for other robotic vacuum options that work as effectively as the IRobot Roomba vacuum cleaners for pet hair.
For instance, I would recommend the clean automatic robot vacuum. It is a robotic vacuum cleaner whose main feature is that it is small enough to go under all furniture during cleaning. Also, it is quite affordable and can efficiently clean several floor types, for instance, tiles and hardwood floors. In as much as it is not reliable when it comes to cleaning thick carpets, it is efficient enough to clean up pet hair on the floor. Other positive features include the fact that it is easily programmable, it runs continuously for 90 minutes, and it automatically recharges itself using the automatic dock. In as much as it is the best Roomba for pet hair, it is effective on tile, linoleum, and wooden floors.
Another Roomba vacuum cleaner that one would consider in the case when they want to save money but still keep their pets is the iRobot Roomba 640, whose main features include a cleaning system that is in operational stages. It has dual brushes that are effective in cleaning different types of surfaces. Once it is done with cleaning, it can automatically dock and recharge itself. The vacuum suction feature enables it to pick up pet hair and has a specialized edge-sweeping brush that removes extra particles from all wall edges. These vacuum cleaners are some of the additional options that one would consider in case they are not necessarily interested in advanced technology during cleaning.
The Best Roomba for Pet Hair – Make Your Choice
Finally, if you need a Roomba for pet hair, there are many types to choose from. However, you have to select the best Roomba available on the market. The products reviewed have distinct characteristics that make them unique and suitable for specific situations. But there are certain key features of a vacuum cleaner for pet hair that one should not ignore when making their choice.
For instance, Roomba with a powerful and advanced system of filtration should be considered as it can trap any forms of particles that may appear, hence, making cleaning easy. The ability of the vacuum cleaner to clean all floor types is also crucial. This ensures that it does not hinder one from getting effective cleaning due to the presence of a specific type of floor in their house.
A robotic vacuum cleaner with several surface brushes is key since it ensures that all hair and debris are trapped on any surface without getting tangled. The ability to connect to Wi-Fi enables the robotic vacuum cleaner to be controlled by the use of a smartphone application feature or Amazon Alexa and Google Home, which then makes cleaning easy. A dirt-detecting sensor system facilitates cleaning by identifying dirt where one cannot easily spot any dirt particles. This ensures that the floors are ever clean and free from hair and dust particles.
An iRobot Roomba with a scheduling option should also be considered. It enables the owner to schedule regular cleaning intervals, which is crucial in the case where one has pets in the house. Sufficient battery life is necessary to make sure that your vacuum cleaner has sufficient battery life to avoid instances where the battery runs out during the cleaning process. A dirt cup is required for a Roomba vacuum cleaner for pet hair since, for one, it does not need to be emptied regularly, and it also does not have to be interrupted during the cleaning process because it is full. This facilitates cleaning and makes it easy to monitor the vacuum cleaner.
As indicated above, the vacuum cleaner that meets most of these requirements in this product review is iRobot Roomba 980. However, it is important to note that there are other advanced types of Roombas on the market that have been included in this review. Do you want to know more about them? Which Roomba is best for pet hair? What features of such products do you appreciate the most?
There is a comment box below where you can leave your question or comment.