Cleaning can be very strenuous, especially if you have other chores to do around the house. Therefore, you should get a cleaner that will help you cope with the floor cleaning duties. Robot vacuums are the most suitable and have a unique design that can work on a variety of floors, laminate, and carpet floors included.
These products are quite pricey and, therefore, making the wrong choice will cost you both your money and time. Many people are making the switch from the usual vacuum cleaners to robotic ones mainly because they are convenient. In particular, they can mop and clean, and besides, they are easy to use.
Additionally, with the variety of models manufactured by different brands, it is not easy to make the right choice and purchase a robot vacuum suitable for your needs. That's why I did extensive research on this topic and created a list of the most suitable robot vacuums for your laminate floor to help you make an informed decision.
Also Read: Best Robot Mops: Top 5 Vacuum Robot Mops to Purchase
Best Six Robot Vacuums for Laminate Floors
Below is an appraisal of the best cleaners that will leave your laminate flow glowing. I have analyzed them deeply and listed their main features. Also, I have highlighted the pros and cons of each brand to enable you to make an easy comparison.
Also Read: Best Roomba for Pet Hair – Reviews and Recommendations
1. Eufy BoostIQ RoboVac 11S – Best Robot Vacuum for Laminate Floors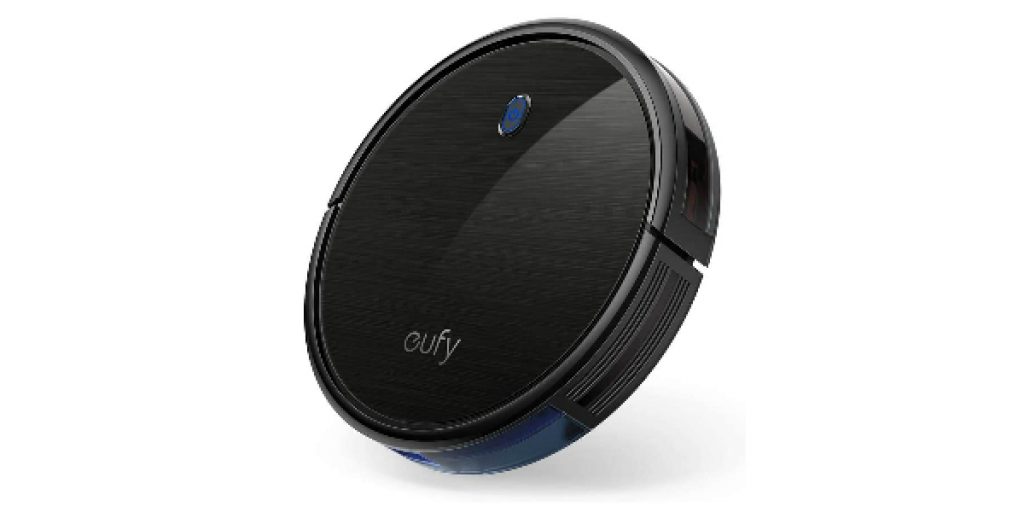 This device stands out regarding the cleaning of laminate floors. You can get your home cleaned for you by this tool without spending much money. Compared to other expensive vacuum cleaners, it plays its cleaning role perfectly with limited features.
Its main features include:
Flawless cleaning. The sensors in this cleaner guide it to the various rooms or to where the dirt is hiding. Also, the suctioning strength enables it to pick up both large and small particles from the surface.
Advanced technology. You will be impressed by its sensory capabilities, which enable it to detect various obstacles and stairs so that it does not knock over them and get damaged. Also, the scratch-proof glass covers the top to avoid damage.
Very effective remote control. It enables you to control it smoothly and schedule cleaning.
The battery produces long-lasting power that stays up to 90 minutes without dying down.
PROS:
Long-lasting battery
It can pick up both large and small particles
High sensory capabilities
CONS:
It requires high maintenance
2. ILIFE V5s Pro – Best Robot Cleaner for Laminate Floors for Your Money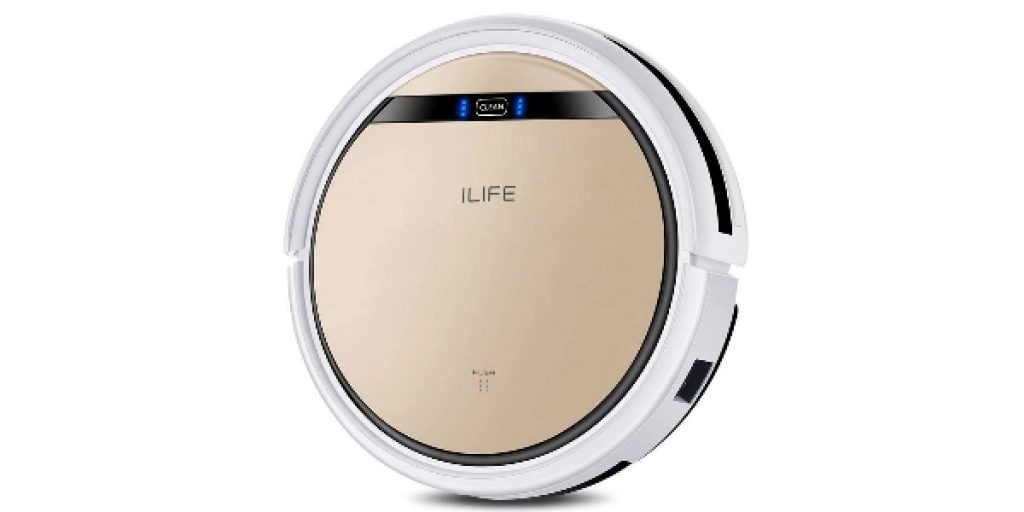 Sometimes, we feel lazy to clean, or we have busy schedules to keep up with. This cleaner takes away all your worries about having a dirty house. If you have guests coming over, your house is in shambles, and you cannot find time to clean up, then this vacuum cleaner will sort you out. It can sweep and mop your house. It is possible because it has a water tank that dampens the floor for moping to take place.
The main characteristics of this item include:
It can work as a dry vacuum cleaner if you switch the water tank to the dustbin. Once you switch over, it can do pre-cleaning by picking up the dirt around.
It recharges automatically. This cleaner can monitor its power levels; if it is low, it goes back to the dock to recharge itself.
The strong suction motor ensures cleaning is done flawlessly.
It is slim and light, and, therefore, storing it is not a problem.
The cleaner can clean the edges of rooms, under the beds, and any other place where dirt might hide.
There are various cleaning modes. For example, the deep cleaning mode is good for very dirty places, and auto clean is suitable for random cleaning.
PROS:
It recharges itself
Easy to set up and use
Little noise
Four cleaning modes
CONS:
Dustbin can't hold too much dirt
3. GOOVI 1600PA – Robot Vacuum for Laminate Floors with Good Maneuverability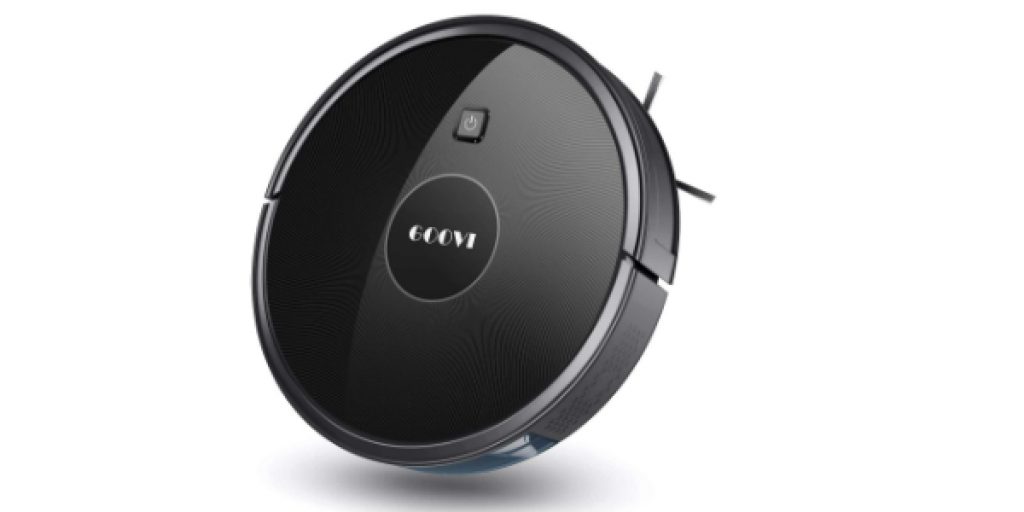 This cleaner is ideal for both hardwood and laminate floors. It has a powerful suction of 1600PA that enables it to pick up any form of dirt. Also, with the remote control, you can automatically carry out cleaning.
The main features of this cleaner include:
It returns to the charging dock to recharge when the battery runs low.
It cleans thoroughly. Due to its slim nature, it can glide swiftly under sofas and beds. It also cleans the edges of the rooms.
It has large wheels that guarantee worry-free vacuuming. The wheels also enable it to roll smoothly on the carpet and climb on the raised places.
It has brushes on four sides, which ensure proper cleaning is done, and it can also switch to different cleaning modes automatically. Additionally, you can set the time you want the vacuum cleaner to carry out cleaning. Hence, you can proceed to do other chores while your house is getting cleaned.
It has a very high battery capacity, which enables the cleaner to run for up to 90 minutes without going off. Therefore, if you want a cleaner for a big house, then this one makes a perfect option.
It comes with a full package of one extra filter aside from the one in the cleaner, two batteries, a remote control, a charging dock, and an adapter.
Check on Amazon
PROS:
High battery life
It recharges itself automatically
The suction is high
Sensors can identify obstacles
It moves effortlessly
4. Bagotte BG700 – Best Vacuum Cleaner for Scheduling Cleaning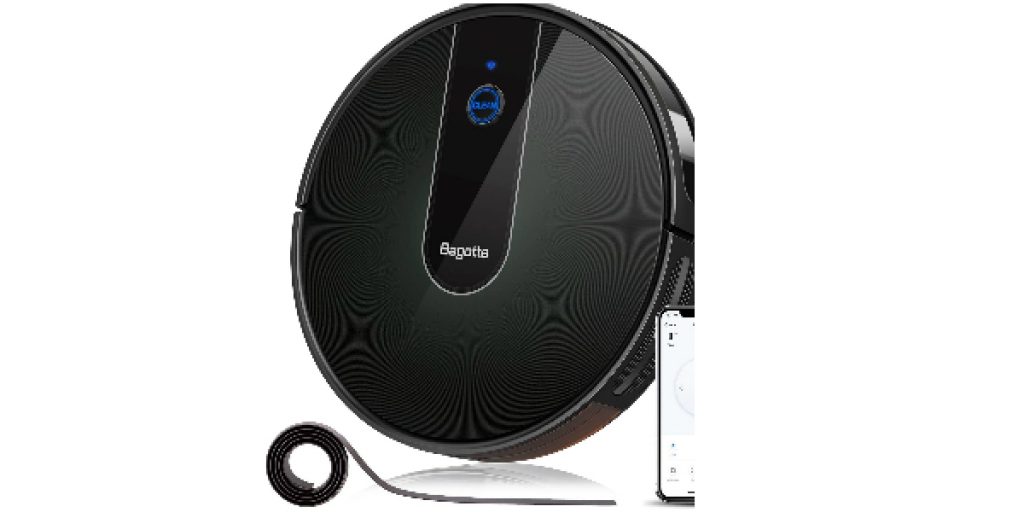 Bagotte Company manufactures amazing robot vacuums since it keeps up with trends and upgrades its products in line with the current advancements. The BG700 vacuum cleaner has smart features with app control and WiFi. The Bagotte app enables iPhone and android phone users to customize their cleaning at any time. Through the app, you can command the cleaner to do whatever you want. It is an indication that the company is at the top industry in technological advancements.
The key features of this item include:
There is only one button used to start and stop the vacuum cleaner. Therefore, there is no confusion about many operating buttons.
The voice control is very convenient. You can use Amazon Alexa or Google Assistant. These features enable you to speak commands so that you can sit down and relax as your house gets cleaned. Using voice control features, you can command this robot cleaner not to clean the areas you do not want to be touched.
You can schedule cleaning through the Bagotte app. It means that you can set the days you want cleaning to be done and the tasks that should be done. On the scheduled days, the robot vacuum will automatically perform the cleaning.
The 1600PA MAX features stronger suction, which, together with brushes on both sides of the cleaner, ensures perfect cleaning is done silently without any noise. The suction strength enables the device to clean carpets and laminate floors flawlessly.
It cleans both large and small dirt particles, such as coins and hair.
This cleaner can also mop the floor, but you need to purchase an additional water tank. Also, it can climb on door ledges to clean the tiny dirt particles present. If you do not have WiFi in your house, you can still operate the cleaner without the app. It is done by the remote control, which also sets up everything the cleaner needs to do.
The detection level of this robotic cleaner is very high. It avoids stairs and knocking over barriers in the house, and thus it does not get damaged easily. If you feel like purchasing Roomba for vinyl plank flooring is expensive, you can opt for the Bagotte vacuum cleaner since it also uses WiFi connectivity and voice control.
PROS:
It has a 6ml dustbin
Convenient voice control
It recharges itself
You can schedule your cleaning
CONS:
You have to purchase an additional water tank
5. ILIFE v8s Robot Vacuum – Best Affordable Cleaner for Laminate Floors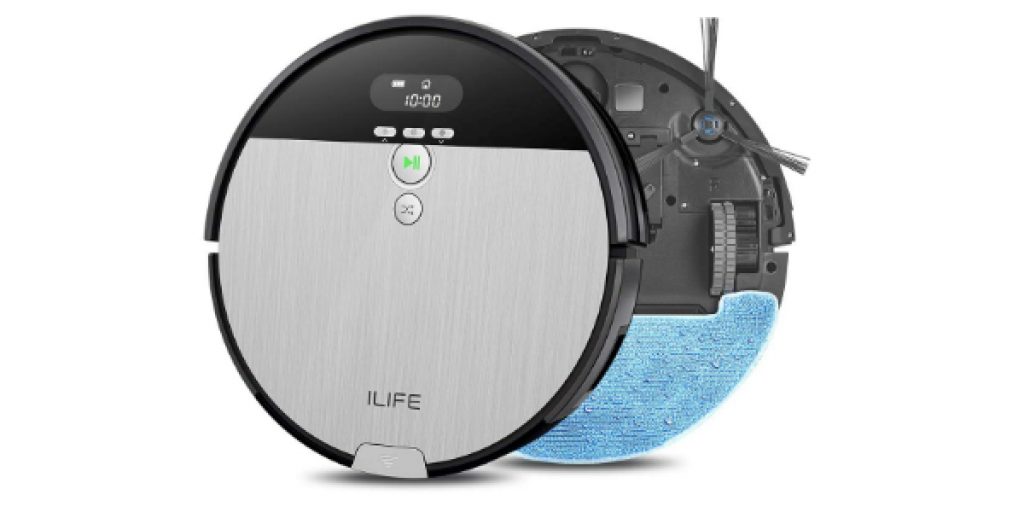 Cleaning has never been easier with this robot vacuum for laminate floors that can sweep and mop at the same time. It is possible because the device has built-in water storage that dampens the floor, enabling it to mop. The features of this cleaner are engineered to make it perform well and even go as far as cleaning invisible dirt such as hair.
The main features include:
The cleaner can sweep and mop at the same time. The water storage tank holds up to a maximum of 300ml of water, which is necessary for dampening the floor for the moping to take place. To enable moping mode, you need to switch from the dustbin to the water storage tank.
The dustbin has a capacity of 0.75 L. Hence you don't have to empty it too often as cleaning continues.
It has a very strong BLDC motor, which generates high and pure suctioning and ensures the cleaner does get tangled, which also makes maintaining it easy.
The battery life of this vacuum cleaner can last up to 90 minutes. This is longer compared to most vacuum cleaners in the market.
Does not produce loud noise during cleaning. If you have put your baby to sleep so that you can catch up on some house chores, you don't need him or her to be woken up by a noisy vacuum cleaner. When it comes to mopping, this cleaner moves even more silently.
If you are looking for a vacuum cleaner that will be efficient, then you need to opt for the ILIFE v8s. It is affordable and capable of performing more functions than most vacuum cleaners on the market. It impresses with its modern technology and can remove all types of stains, even the tough coffee stains stuck on your laminate floor.
Additionally, it can automatically switch cleaning modes, whereby on narrow paths, it makes a back-and-forth motion, and when it switches to border mode, it cleans the edges of the room. When it's done, it switches itself off.
PROS:
Affordable
It can mop and sweep
Automatically switches cleaning styles
No noise
It comes with a 1-year warranty
CONS:
You have to block it from cleaning certain areas manually
6. Noisz by ILIFE S5 Robot Vacuum – Best Cleaner with a Virtual Barrier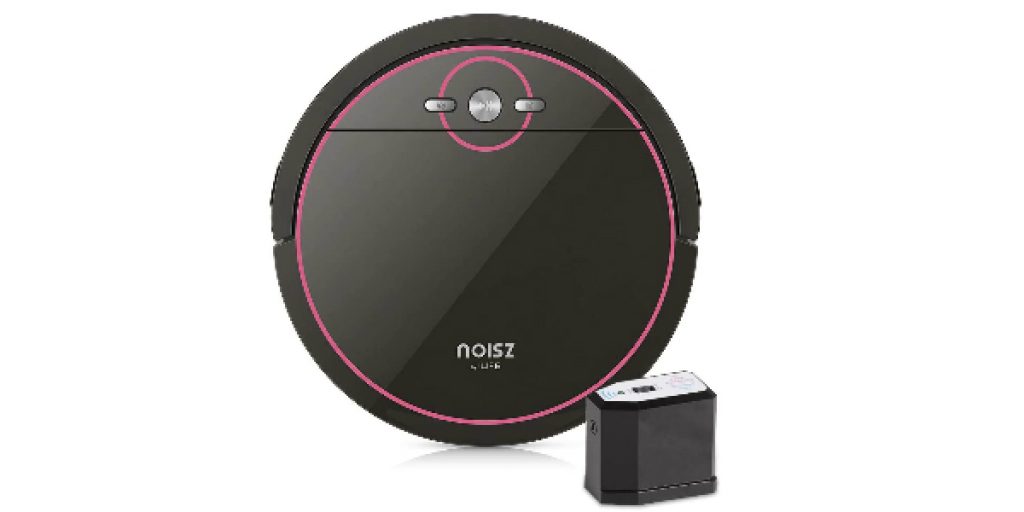 It is another wonderful robot vacuum. The tangle-free suction enables it to clean flawlessly and also ensures easier maintenance. The flawless cleaning is also enabled by clicking only one button, and the robotic cleaner will start working immediately.
The key characteristics of the device are:
It has a special design that enables it to pick up pet hair effortlessly even on hard floors.
You can create an automatic virtual barrier, which prevents it from going to places you do not want it to clean.
The cleaner is slim, which enables it to navigate smoothly and swiftly, even under the beds.
It can charge for up to 12 hours when new, but it retains the power for a long time.
The robot cleaner has smart sensors that ensure it does not fall off the stairs or knock itself on obstacles that may cause damage.
It has different cleaning modes and can switch to them automatically.
It cleans laminate, hardwood, tiles, and carpet floors very well and effortlessly.
The remote control is easy to use, and thus you can schedule and start your cleaning at any time.
Furthermore, its dustbin is easy to access since the lid is spring-hinged, and thus, it can be easily popped up to empty the dirt.
PROS:
It has a 1-year warranty
It can be used for picking pet hair
Tangle-free suction port
Virtual barrier
CONS:
The device does not perform the moping function
The Final Word
From the above analysis, it is clear choosing a robot vacuum cleaner is not an easy process, and you should take into account many aspects to make the right decision. You should think carefully and compare different options because these items are quite costly. Hence, you need to evaluate each option properly to ensure that you make the right pick.
If you want to get an effective vacuum cleaner and, at the same time, get value for your money, then you should first find out if it can meet your cleaning needs even before looking at its features. If you are interested in buying a robotic cleaner, but you have a different type of floor, then that should not worry you because some of the cleaners on this list can work on different types of floors.
Most of these cleaners can go back and recharge themselves at the dock. You should also consider this feature when looking for a suitable robotic cleaner since you might be caught up in doing some other duties that you may miss knowing that the battery is running low.
So, if you have finally decided to ease yourself from cleaning duties, you should go for the most effective robotic cleaner. My top selection is the Eufy BoostIQ RoboVac 11S. This tool offers flawless cleaning, high sensory levels, a very effective remote control, and a battery that has a long-running time.
What brand of robot vacuum have you used that you liked? Did it have any limiting characteristics? Leave a comment.