Best Industrial Vacuum Cleaners Review: 2020 Edition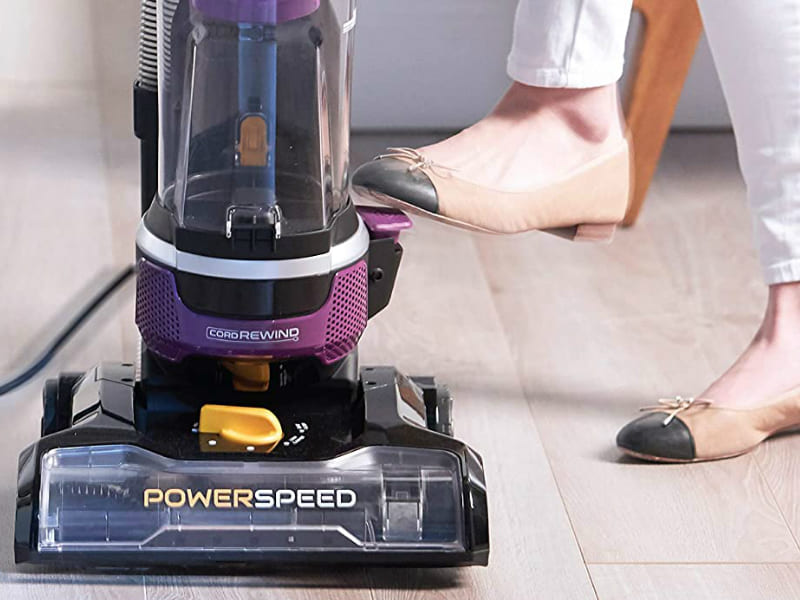 A heavy-duty commercial vacuum wears its name for a reason. These bad boys are obviously an excellent fit for cleaning and construction businesses. But who says they are reserved for seasoned veterans of the craft?
Despite a common misconception, pro vacuum cleaners are not reserved for industrial use only. Yes, they are more powerful and durable than your run in the mill cylinder model, but who said you wouldn't benefit from the extra juice in day-to-day use?
Top commercial vacuums are less prone to wear and tear or mechanical malfunctions, they boast increased dust bin capacity, and they can take in heavier pieces of rubbish – a feature you won't really appreciate until the time comes. But when an emergency comes, boy oh boy, you will be grateful to have something capable of accurately dealing with flood water from a leaking piper.
In simpler words, they are a perfect choice for tidiness enthusiasts who enjoy pushing the machine to its limits. Without further ado, let's take a look at why commercial vacuum cleaners suck, shall we?
Core Functions The Best Commercial Vacuum Cleaner Should Help With
We need to establish several ground rules before comparing vacuum cleaner models as we did in the best robot vacuum for carpet review. In our case, we'll need to explore what makes a vacuum cleaner professional before we can get to the best industrial vacuum options.
Application of Commercial Grade Vacuum Cleaners
Any vacuum cleaner is designed to, well, gather dust inside a container. That being said, an industrial-strength vacuum cleaner is capable of dealing with much larger threats such as scrap metal, paint powder, metal chips, and sawdust.Taking health and safety effects of dust into consideration, this factor is vital.
Most of these materials are only found on building sites and factories. That being said, if you've ever had to deal with floodwater, sawdust, or leaking coolant in a garage, a simple roomba probably is not your go-to option.
Questions You Need to Answer Before Choosing the Most Fitting Industrial Vacuum Cleaner
At its core, a vacuum cleaner is designed around one primary feature – suction. Worth mentioning that filtration is probably the most important aspect one needs to consider before making a purchasing decision.
Even more so, when it comes to machines, you plan to use them for work.
Think about it – what happens when the filter gets clogged? You lose suction, and you are forced to spend precious time to clean the device in order to keep doing your job.
A traditional vacuum won't be able to keep up with the dust and other tiny particles you'll be facing out in the field, but do you really feel there's a need for the additional juice?
Try answering these simple questions, and you'll know whether you need an industrial vacuum in the first place:
Do you have continuous access to a socket? And if so, how do you feel about larger energy bills?
How much material are you planning to collect?
How often will you be vacuum cleaning? Once every week or two? Twice? Every day?
What litter collection options do you need? How protected should the dust bag be? Will it hold any potentially dangerous materials?
Will you be collecting liquid with your vacuum?
Which types of nuzzles, brushes, hoses, and accessories do you need in everyday use?
Best Commercial Vacuum Cleaner Features and Characteristics
What makes a big man's vacuum tick?
Enhanced bag capacity: If you are looking for a commercial-grade solution, you are definitely looking for something capable of fitting a lot of dust. Surprisingly, some industrial vacuum models come without a bag system, so you'll need to keep an eye on this factor in the product's description.
Flexibility: You are probably looking for a commercial solution to make your life easier – clean once, and forget about the dirt for an extended period of time, right? In that case, pay attention to a vacuum's height adjustment settings and the general flexibility of the hose.
Hose: Speaking of the hose, its diameter should be large enough to fit larger chunks of litter.
Cleaning capacity: vacuuming a carpet is not the same as cleaning a hard floor. A canister vacuum won't excel with the latter without a specialized cleaning head.
Extended cords: The bigger the reach, the more you'll be able to clean in one go. It's as simple as that.
Now that we know what to look for, it's time to check our commercial vacuum reviews. Let's dive into the meat and potatoes of this article!
Top-Tier Commercial Vacuums
A commercial vacuum cleaner is a powerful machine designed with both its efficiency and the safety of the user in mind. I've tried to select some of the more affordable cleaners that strike a balance between commercial-level performance and the convenience of user-focused mainstream cleaner models.
Do note that none of the entries in this list are designed for use in hazardous conditions. They are not designed for cleaning poisons from polluted areas or anything like that. With that out of the way, the time has finally come to take an in-depth look at the crown jewels of today's article.
Shark Navigator Lift-Away Professional NV356E Industrial Vacuum Cleaner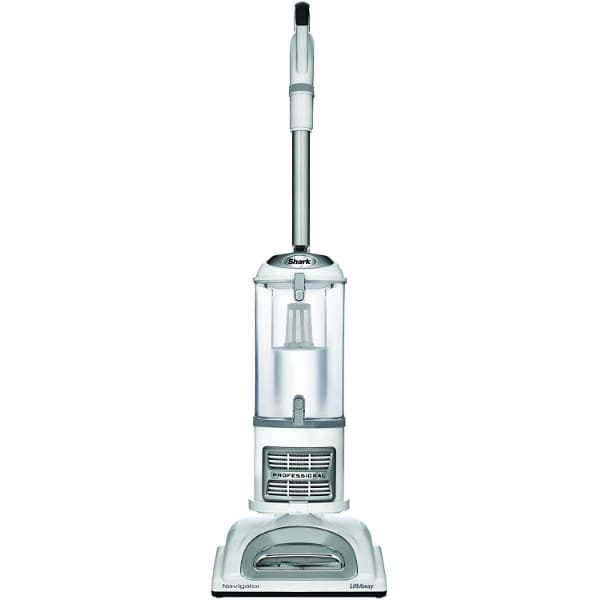 This model is a valid solution for those of you looking for a quiet commercial vacuum that doesn't cost an arm and a leg. The machine is also particularly lightweight and portable at as little as 19.7 pounds. Paired with a five-foot hose, the lift-away model excels at cleaning stairs and areas behind the curtains.
This bad boy is probably the best commercial bagless vacuum I've had the pleasure of working with over the past few years. The dust bin removes easily, and you can clean it with as little effort as turning the tap water on.
Features
The vacuum offers deep cleaning that's a nice fit for areas covered in carpets.
The XL dust cup boasts a 2.2 quarts capacity.
The dust cup comes with an anti-allergen seal that prevents dust and harmful particles from escaping into the air during extended cleaning sessions.
Specifications
Weight: 13.7 lbs.
Wattage: 1200
Amps: 10
Cord length: 25 feet
Dimensions: 14.96 x 11.4 x 45.5 inches

Shark Navigator Lift-Away Professional NV356E,White and Silver
A lightweight 2 in 1 Lift Away upright vacuum with a detachable canister for portable cleaning power. With the push of a button, Lift Away technology allows you to lift the canister away and easily clean in hard to reach areas.
---
PROS:
long hose and cable;
lightweight construction;
great suction perfect for people with pets and carpet owners;
anti-allergen seal.
CONS:
the hard floor attachment is not included;
the vacuum consumes more power if compared to other models of similar size.
---
Hoover Commercial Lightweight Backpack Vacuum for Quiet Operations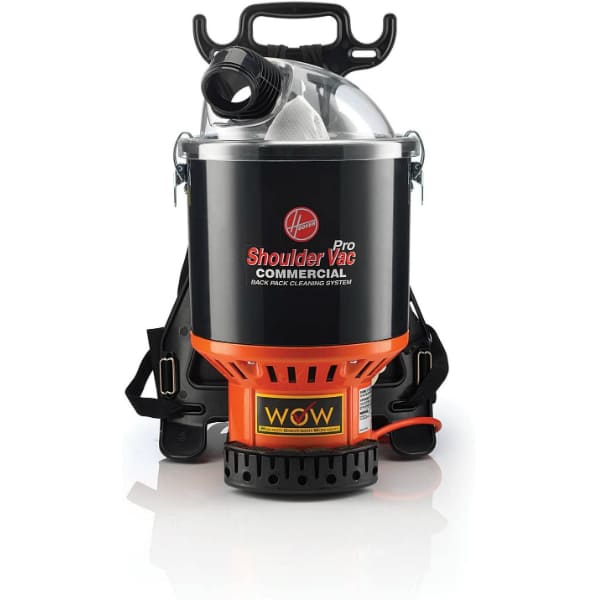 The Hoover Commercial Backpack vacuum is designed for prolonged cleaning sessions in heavy-duty environments. As the name implies, the solution is equipped with straps and back support that allow a backpack-like style of carrying the machine.
Hoover is known for building great and user-friendly industrial machines for nearly 100 years. This model follows their design philosophy to a T. The backpack vacuum is lightweight at only 9.2 pounds. The devices come with a convenient cleaning accessory pack holding additional functional hose heads.
The machine works quietly so it can be the best professional vacuum cleaner for those operating in environments that do not tolerate distractions.
Features
The Hypercone filter is great for supporting a consistent airflow without sacrificing sucking power.
The lock secures the hose making sure it stays plugged regardless of how mobile the user is.
The backpack straps use a chiropractor-designed harness effectively reducing back strain.
Specifications
Weight: 9.2 pounds
Amps: 8.5
Cord length: 48 feet
Dimensions: 13.25 x13.25 x 30 inches

Hoover Commercial Lightweight Backpack Vacuum, C2401,Black
You don't have to vacuum in pain or in any discomfort with the Hoover C2401 Shoulder Vac commercial backpack vacuum cleaner. This handy vacuum cleaner stores all of its collected dust and debris in a backpack canister, allowing you to clean without any obstructions
---
PROS:
great flexibility and carry capacity;
the best industrial vacuum cleaner for hard floors;
additional attachments;
very long hose;
simple, lightweight design.
CONS:
lacks flexibility;
does not perform well when it comes to carpets.
---
ProTeam Backpack Vacuums with HEPA Media Filtration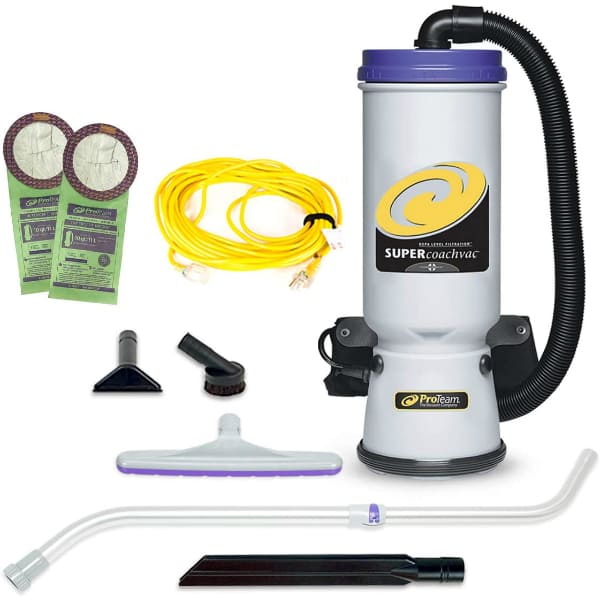 ProTeam backpack vacuums offer a selection of five tool kit options designed for carpet, stair, and hard floor cleaning. We are looking at a quiet commercial vacuum with a noise level of only 66 dB.
This fact may not seem particularly relevant at first glance, but if you are using the vacuum for work, would you enjoy listening to a cacophony of loud suction noises?
The four-level filtration trap, paired with a relatively powerful motor, makes the solution perfect for cleaning high square-footage areas covered with hard floors. The machine's head doesn't leave scratch marks, which is nice.
Features
Amazing capacity: The 10-quart filter makes the vacuum a no-brainer option for extremely large areas such as college campuses, industrial facilities, and schools.
The HEPA media filter paired with four-level filtration ensures the dust you've gathered stays inside the container throughout a prolonged cleaning session.
The standard Xover Floor Tool offers a great level of flexibility as it is designed to be a one size fits all solution for carpets and hard surfaces.
Specifications
Weight: 11 pounds
Voltage: 120V
Noise level: 66 dB
Cord length: 50 feet
Dimensions: 8.5 x 8.5 x 25 inches

ProTeam Backpack Vacuums, Super CoachVac Commercial Backpack Vacuum Cleaner with HEPA Media Filtration and Telescoping Wand Tool Kit, 10 Quart, Corded
The Super CoachVac commercial vacuum backpack is a productivity powerhouse designed to tackle the most demanding cleaning challenges.
---
PROS:
the model is highly powerful and performs great in open areas;
this model offers a wide selection of customization with a variety of hose heads;
the model is rather quiet;
four level air filtration with HEPA;
best for high-traffic areas such as streets and university campuses.
CONS:
The vacuum is not as comfortable to wear as some other backpack models featured in this review;
This is not the best industrial carpet vacuum.
---
Oreck Commercial XL2100RHS – Best Industrial Vacuum Cleaner for Hotels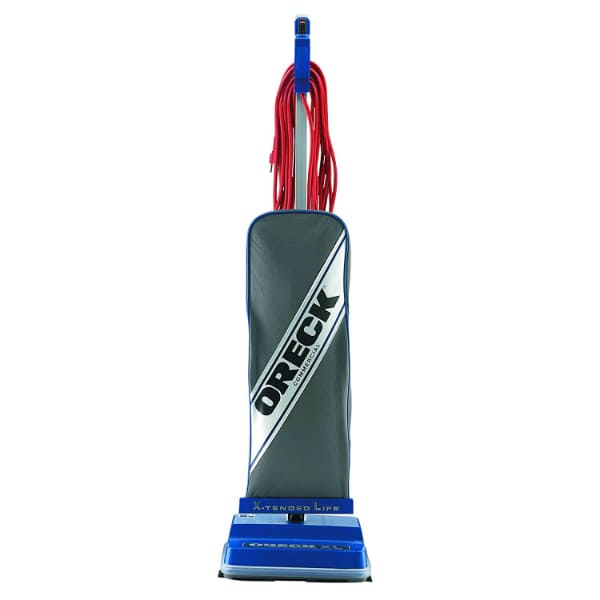 This is probably the best commercial upright vacuum that's currently presented on the market. The standard brush roll with double helix brushes is an excellent choice for areas that are a combination of carpets and hard surfaces. The vacuum adjusts to the difference in height automatically.
The 12'' cleaning path offers great surface coverage reducing the time you'll need to spend on cleaning. The built-in bumpers are designed to spare your furniture from accidental dents making Oreck the best vacuum for restaurant businesses filled with tables or hotels with varying floor coverage and lots of tight spaces.
The vacuum feels lighter than it actually is, even when the dust bag is full. The ergonomics are excellent for those of you who plan on using Oreck Commercial for day-to-day work.
Features
The ergonomic grip that is designed to help with longer cleaning sessions
The convenient mechanism for swapping the bag is in place. All it takes is to grab the cardboard on both sides and pull up.
Slick design with a retro vibe
A surprisingly powerful motor for such a small vacuum – the machine is capable of cleaning dry cereal from a carpet effortlessly
Specifications
Weight: 9 pounds
Height: 47 inches
Bag capacity: 630 cubic inches
Cord length: 35 ft.

Oreck Commercial XL2100RHS Commercial Upright Vacuum Cleaner XL,Blue
The Oreck XL Commercial Upright Vacuum is a commercial grade vacuum that offers all the power and performance you expect from an Oreck. This versatile upright makes it easy to keep your business clean.
---
PROS:
powerful and wieldy vacuum;
great design and dent-sparing bumpers;
large bag;
the bag is easily swappable;
automatically adjusts to floor coverage.
CONS:
the vacuum is quite heavy;
no extra attachments;
the belts are a pain in the neck to swap.
---
Sanitaire Tradition Wide Track – the Best Vacuum for Cleaning Business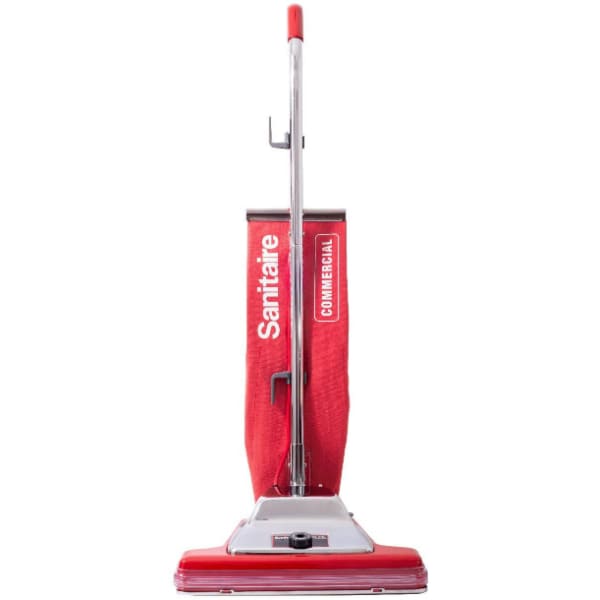 The Sanitaire Tradition Wide Track vacuum is a slick, stylish solution for cleaning businesses and tidiness enthusiasts. Boasting a whopping 2,000 hours commercial-grade cleaning motor and a 16-inch cleaning path, this crimson bad boy is designed for heavy-duty operations. More on the matter, the seven Amp motor is capable of producing 145 CFM.
That being said, the vacuum takes some getting used to. The machine may feel unwieldy until you are used to taming the power of the beast. Sure the learning curve isn't too steep, but I am a fan of having a blast with a device straight out of the box. The initial experience is, after all, what makes or breaks your enjoyment from the purchase.
Features
Convenient brush rolls that you can replace at home without any additional tools
The shakeout bag is capable of holding up to 18 quarts of debris and dirt
The model comes with a wide selection of brush rolls that are designed for vacuuming both hard surfaces and various carpets
Specifications
Weight: 21.6 pounds
Power: 840 W
Bag capacity: 18 qt
Cord length: 50 feet
Dimensions: 16.5 x 13.75 x 45 inches

Sanitaire Tradition Wide Track Upright Commercial Vacuum, SC899G
The TRADITION Wide Track upright vacuum with a 16
---
PROS:
extremely wide cleaning path;
one of the most powerful motors on the market;
a nice selection of brush roll options;
comfortable looped handle;
tool-free maintenance brush roll.
CONS:
this vacuum is quite heavy;
the vacuum is quite pricey.
---
Atrix – the Best Commercial Vacuum Cleaner for Multipurpose Use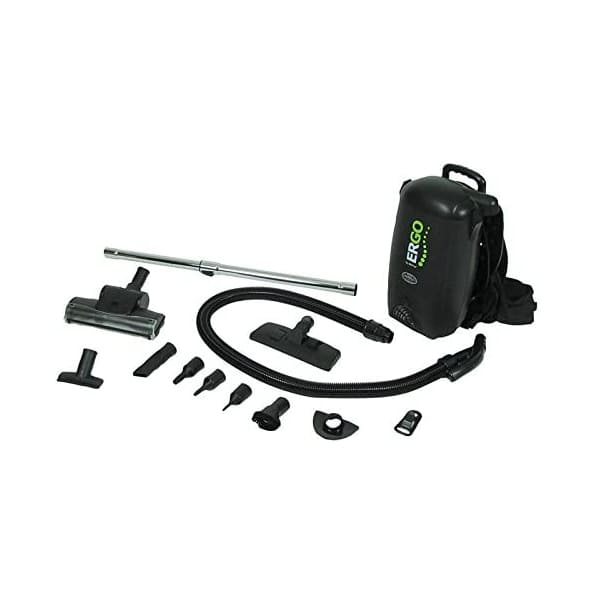 Atrix is a backpack vacuum designed with flexibility of applications in mind. The machine is shipped with attachments such as a six-inch hose, blower and furniture nuzzle, several brushes that clean various surfaces, a HEPA and a shakeout bag, an exhaust filter set, and much more.
The 8-quat HEPA filter eliminates the risks of letting dust or allergens out of the bag during long cleaning sessions, and the hose with a variety of muzzle extensions is great for keeping the corners and sealing neat and tidy.
The vacuum is a perfect fit for janitors and sanitary workers in schools, hospitals, and large-scale warehouse buildings. I have a friend who is running a cleaning business that takes care of build sites after the construction is over. His crew is quite happy with Atrix vacuums so I can only recommend them for hardcore industrial use.
Features
Atrix is designed with the user's back in mind. The ergo backpack is rather lightweight. It fits nicely on the back thanks to adjustable straps.
This vacuum is a powerhouse boasting a 106 CFM output.
The cleaner comes with a nice set of nuzzles and extensions, transforming it into a mobile multi-purpose cleaning hub.
Specifications
Weight: 10,3 lbs.
Power: 1400 W / 12 AMP / 120 VOLT
Bag capacity: 8-quart
Cord length:
Dimensions: 12 x 9 x 20 inches

Atrix - VACBP1 HEPA Backpack Vacuum Corded 8 Quart HEPA Bag 4 Level Filtration Attachments
The Atrix VACBP1 HEPA Backpack Vacuum is the ideal commercial or residential backpack vacuum cleaner.. Use this portable corded backpack vacuum at home, in the classroom, or at the office with ease.
---
PROS:
a large 8-quart HEPA filter;
a wide array of extensions for any job;
powerful 1400 W motor;
long hose;
ergonomic design.
CONS:
some attachments may come off very easily;
the vacuum is rather loud.
---
BISSELL BigGreen Commercial PowerForce Bagged Lightweight vacuum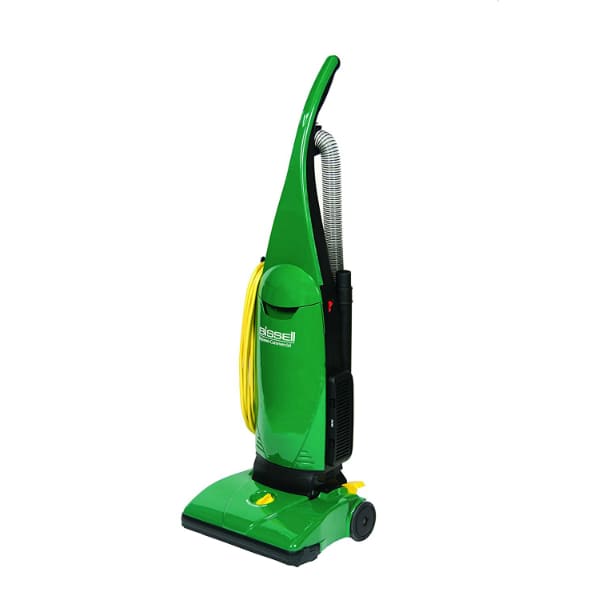 BISSEL BigGreen is a large yet considerably lightweight commercial vacuum. I really enjoy the convenience that comes with this device. Everything from the attachments store in the back of the machine to five position height adjustments screams about user-friendliness.
This vacuum cleaner boasts a powerful 10 Amp motor and three filtration stages topped by the trademark cyclonic cleaning system.
BigGreen comes with an extension wand that helps you get into that far corner behind the sofa.
I wouldn't call this device the best professional vacuum cleaner, but it is definitely in my personal top 5 household vacuum cleaners (right alongside Shark Pet vacuum cleaners) everyone should consider as I found that the brush excels at removing dirt and fur from even the fuzziest of carpets.
The vacuum is also quiet enough not to frighten your dogs.
Features
BigGreen has a decent 13-inch cleaning path, and the brush is small enough to fit under most furniture sets.
The five-position height adjustment is particularly handy in day-to-day use.
The vacuum comes with a service tool and a nice combo of dusting/upholstery brushes, cleaning attachments, and an extension wand.
Specifications
Weight: 12 lbs.
Cleaning path width: 13 inches
Power: 10 Amp
Cord length: 30 feet
Sound level: 67 dB
Dimensions: 12 x 13 x 41.25 inches

BISSELL BigGreen Commercial PowerForce Bagged Lightweight, Upright, Industrial, Vacuum Cleaner, BGU1451T
The Pro PowerForce Upright Vacuum is designed with the user in mind. From the powerful suction to the ready-to-use attachments, this bagged upright vacuum cleaner can clean a variety of surfaces that include bare floor, high carpet, and upholstered furniture.
---
PROS:
bigGreen is user-friendly;
it is wieldy and convenient;
the vacuum cleaner produces little noise;
it has a comparatively powerful motor.
CONS:
the cord is on the shorter side among other offerings;
this vacuum, while great for carpets, is not a great fit for hard flooring.
---
Eureka PowerSpeed Bagless Upright Vacuum Cleaner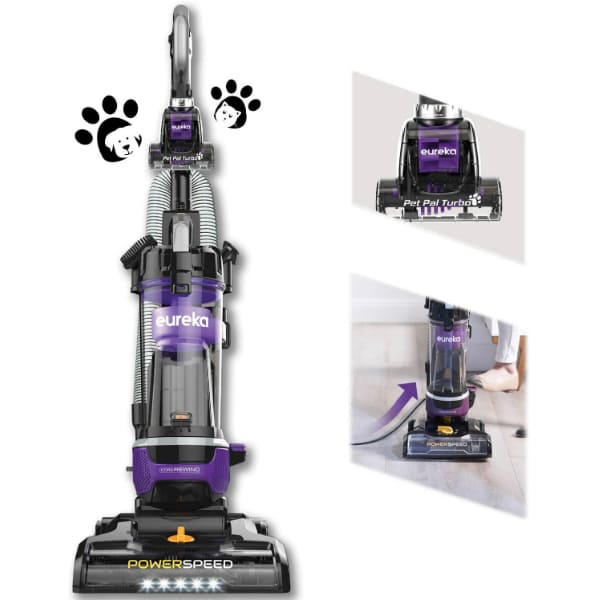 Eureka PowerSpeed Bagless is an excellent solution for those of you who prefer style but shop on a relatively tight budget. This bugless baby looks slick and is packed with quality of life improvement features, and yet the vacuum is one of the cheapest options on our list.
Just like with BigGreen, you can only call PowerSpeed a commercial vacuum cleaner with a stretch, but it is quite effective indoors.
I am a fan of the vacuum's design as I absolutely adore all things purple and I feel like the dimensions of this device are perfect for storing it neatly in a closet, which is nice for those of us who live in apartments and don't have too much storage space.
Features
PowerSpeed has neat LED highlights on the front panel of the brush. they allow you to see dirt and hair much better as even the tiniest particles will cast a shadow.
The vacuum has 5 cleaning modes for multi-surface coverage. You can switch between hard floor, tile, shag rug, and carpet modes with but a twist of a tumbler.
PowerSpeed has a mighty motor that guarantees great suction across multiple surface types.
The vacuum offers a variety of tiny, yet very convenient features such as a washable filter, pet brush, automatic cord rewind option, and a variety of accessories.
Specifications
Weight: 12.3 lbs.
Dust cup capacity: 3.8 L.
Cleaning path: 12.6 inches
Cord length: 25 feet
Power: 8 Amp
Dimensions: 13.78 x 13.4 x 44.5 inches

Eureka PowerSpeed Bagless Upright Vacuum Cleaner, w/Pet Tool and CordRewind, Blue, Purple
---
PROS:
great flexibility and utility;
multi-surface cleaning;
LED lights;
automatic cord rewind;
pet brush;
convenient, washable filter and duster cup;
pleasant price tag.
CONS:
jack of all trades, master of none;
relatively short cord.
---
Best Commercial Vacuum Cleaner Reviews Summary
As you can see, most commercially-oriented vacuum cleaners aren't just a nice fit for heavy-duty use. They are also powerful assistance in your domestic battle against those pesky dust balls and dry cereal crumbs (I wholeheartedly admit that breakfast in bed is my guilty pleasure).
You can see that the bagless options are nice to have at home as they don't require as much maintenance, and most of them are designed for carpet-covered floors riddled with pet fur.
The vacuums one can carry on their back are generally used for cleaning large open areas and spaces that are typically hard to reach,such as staircases, attics, basements, etc.
Vacuums with larger dust bags are typically designed for hotels and professional cleaning businesses as they boast impressive motors and bumpers designed to keep the furniture safe even after countless cleaning sessions.
What's your take on owning a commercial solution for personal use? Do you feel like you would benefit from the extra power offered by these bad boys or are you fine with a roomba running on a regime?
Share your thoughts in the comments section below, and don't forget to mention the vacuum cleaners I may have missed while writing this review.
I wish you a happy cleaning!