The garage is the place where we keep all our tools, spare parts, bicycles, and boxes with old stuff. No wonder the place quickly becomes untidy and eventually turns into a real mess. If the idea of spring cleaning gets you depressed, you will be glad to know there is an easier solution. A wall-mounted garage vacuum!
With a wide range of powerful and multi-functional wall-mount vacuum cleaners available on the market, finding the one unit that will serve your household and industrial cleaning needs best – is a no-brainer! In this post, I will tell you about some of the most robust and economical options available today. You will also learn which models are best-suited for different cleaning purposes and what pros and cons come with every machine. Read on to learn more!
Also Read: Best Stair Vacuums: Our Top Picks for 2023
Top-8 Best Vacuum Cleaners for Garage
1. VacuMaid GV50PRO: The Most Powerful Garage Vacuum for Cleaning Commercial and Residential Spaces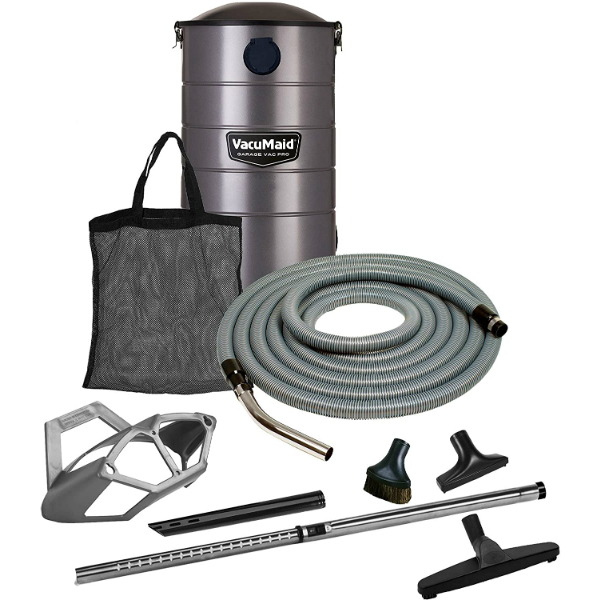 VacuMaid GV50PRO by Lindsay Manufacturing, Inc. is a top-selling model packed with many unique and beneficial features. This high-quality wall-mounted vacuum cleaner can be a perfect pick for a garage or a workshop of any size. You can easily place it somewhere on the wall where it will not get in your way and take it off only when it is time to make your working space spotless and shiny again.
Powerful and effortless suction. Even with such a long hose, the vacuum cleaner by VacuMaid sucks in all the fine dust, dry or wet, in no time. It takes in the dirt at the first attempt, so no extra movements are required to make the place squeaky clean again.
Impressive capacity. Its 7-gallon dirt capacity means you can keep using the cleaner for a longer time before you have to empty it.
50-foot long hose. A durable hose of over 15 meters should give you enough mobility to access even the farthest corners of your garage. The GV50PRO model is a nice fit for a multi-car garage and can be used to clean up the insides of the vehicles without having to move the cars closer to the vacuum.
A wide array of additional accessories. The unit comes equipped with many great tools to help you clean, store, and use the device more efficiently. Apart from the crush-proof 50-foot hose, there is a separate attachment for various surfaces, including a dusting brush, a crevice tool, and a nozzle for upholstery. The assortment also features a convenient hanger, a telescopic wand, and a caddy bag.
PROS:
Feature-packed model
A versatile unit suited for home and commercial use
Multi-functional: wet/dry cleaning, air purification
Tons of additional attachments
Sealed HEPA filters trap the finest dust
CONS:
High price
A little bit too hefty
2. Vacmaster VWM510: One of the Best Garage Vacuum Wall Mounted
Vacmaster's VWM510 model is one of the best garage vacuum cleaners you can find for its money. This shop vac is a savvy choice for anyone who is looking to buy a trustworthy and durable unit, which is compact and lightweight enough to mount anywhere on the wall. Apart from taking good care of your garage, the sturdy Vacmaster's VWM510 model will come in handy if you have to deal with a flooded basement, messy kitchen, or other spaces around your house.
Industrial-grade suction. The model's superb 5-peak HP motor with 2-stage functionality offers plenty of power to cope with any residential cleaning chore. This shop vac unit manages to do its job remarkably well without making much noise. It is a very relevant feature for anyone who likes to do some cleaning during the no-vacuuming time!
Adequate capacity. Even though it looks small, the 5-gallon capacity of this robust unit is sufficient to handle any big domestic cleaning task.
Strong and durable hose. The vacuum features a 21-feet hose (a standard 11-foot hose plus a 10-foot flex hose) and a 20-foot power cable, which is enough length to allow you to reach any corner of your workshop, garage, or house without the need to switch a wall plug every time you have to move further.
A whole host of extra components. There is a wide range of extras to make your cleaning routine more comfortable, including car and combo floor nozzles, extension vacuum wands, a crevice tool, and a rounded dust brush. All of the additional attachments can conveniently be stored right on board, as there is a proper storage space for each. Furthermore, the vacuum allows you to mount a tool bucket on either of its sides.
PROS:
Wet/dry vacuuming
A powerful 5 HP 2-stage motor with remote control
Compact and lightweight model
Washable cartridge filters
Inexpensive option
CONS:
Foam filters for wet vacuuming exhaust quickly
Residential use only
3. BISSELL Garage Pro Wall-Mounted Wet Dry Vacuum: A Powerful Wall-Mounted Car Vacuum with Dual Functionality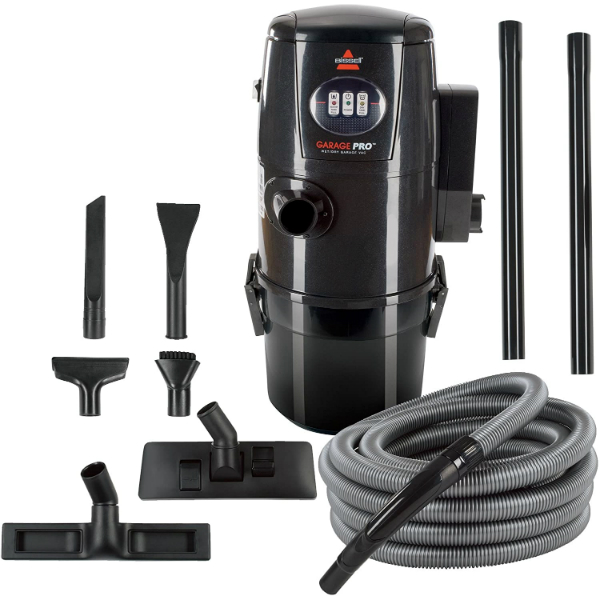 The Bissell Garage Pro is a versatile model designed to be handily mounted on the wall to save you a lot of floor space. It is an excellent solution for tidying up your garage, car interior, or workshop space. A wide array of additional devices makes sure that you get fuss-free access to the tiniest nooks and corners. The shop vac is robust enough to handle larger cleaning tasks and make quick work of water spills and solid messes of small-to-average size.
Helix suction system. The time-tested Helix cleaning system installed in this shop vac ensures its steady and top-notch scooping performance. The unit's 12 Amp motor can cope well with both wet and dry cleaning tasks, as well as allow the vac to be converted into a relatively powerful blower.
Ample tank capacity. The 4-gallon capacity of the vac's dirt tank with 2-stage filtration is adequate for working wet and dry debris without the need for frequent emptying.
Increased flexibility with the 32-foot-long hose. The vac's 32-foot hose allows getting to almost anywhere in your garage or workshop. If you are not looking for the mobility that typical carry-on shop vacuums have, this wall-mountable model will not disappoint you. Its 1.25'' hose is a unique design move that makes it possible to reach all the narrow places; however, such a small diameter makes the appliance prone to clogging up, so the choice is yours.
A set of multipurpose attachments. This model comes fitted with a kit for easy wall mounting, a hose holder, and a bag of 7 different accessories for taking care of a broad scope of surfaces and environments.
PROS:
Dual functionality: wet/dry cleaning, blower
A variety of hose accessories for special-purpose cleaning
Two-stage filtration system ensures deep cleaning
Works well on every type of floor
CONS:
The narrow hose clogs easily
The power cord length is only 5 feet
4. Wall Mount Shop Vac 3942300: A Lightweight Wall Mounted Vacuum Cleaner with the Best Power to Size Ratio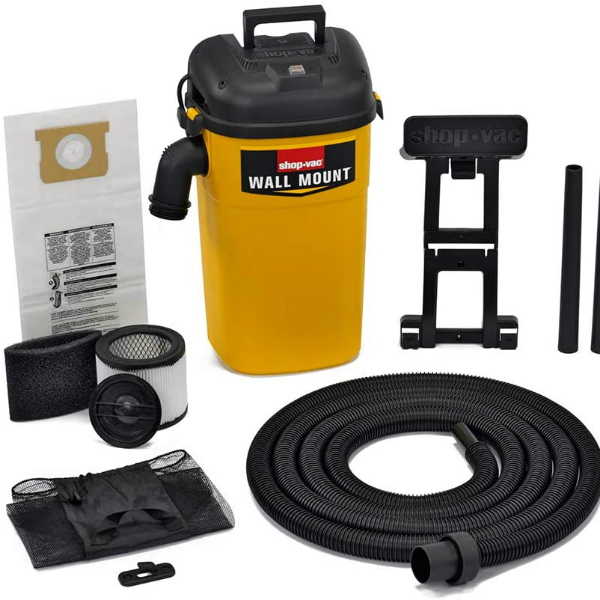 Shop-Vac 3942300 is a medium size model built of lightweight plastic, which makes it easy to install and safely keep the cleaner on the wall. The plastic used in this shop vac is tough and durable. So the unit is highly resistant to dents, wear, rust, and corrosion.
Excellent suction power. Shop-Vac 3942300's heart is a 4 HP motor that ensures supreme suction of both wet and dry messes. The vac's cartridge filter catches fine dirt and purifies the air. Its foam sleeve eradicates massive water spills in no time.
Impressive tank capacity. The dirt tank capacity of this model is 5 gallons, which means you will not have to interrupt your work to empty the tank too often. While a 5-gallon tank might not suffice for industrial cleaning purposes, it is more than enough to suit your every residential vacuum need.
Handy and flexible hose. The vacuum cleaner's hose stretches 18 feet, which grants you effortless access to the most remote and isolated spots. The diameter of only 1.25 inches allows using it to reach all the narrow places in your garage or kitchen.
Plenty of supplementary accessories. A broad selection of extra attachments that come with this model makes it possible to manage a multiplicity of domestic vacuuming chores quickly and painlessly. The vac's supply package includes extension wands, a nozzle with brush and scraper, a gulper nozzle, a crevice tool, a round brush, a foam sleeve for wet cleaning, and a bag for storing the tools within quick reach.
PROS:
A lightweight model with a top handle for enhanced portability
Rust-proof and dent-resistant
Mighty suction for dry and wet cleanups
Excellent power-to-size ratio
Versatile home-cleaning functionality
CONS:
Loud work
The narrow hose often gets clogged up
5. Craftsman CMXEVBE 17595: The Most Powerful Garage Vacuum for Home and Industrial Applications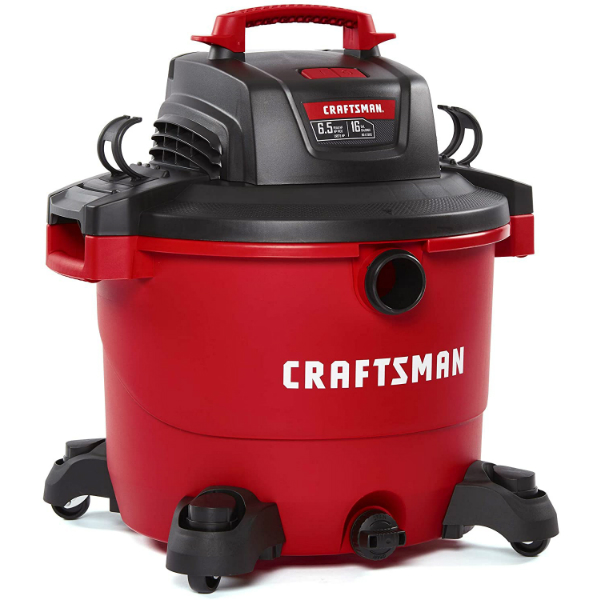 Craftsman's garage wet dry vacuum, model CMXEVBE 17595, is a reliable workhorse, well-suited for performing heavy-duty cleaning tasks in your garage, or on the worksite. Even though this particular unit costs a little above the average, its impressive and smooth performance and multipurpose functionality make Craftsman's CMXEVBE 17595 vacuum cleaner one of the best picks on the market.
Heavy-duty suction. The 6.5-peak motor promises extra power and enhanced endurance for complex projects in your garage. The rear blower port can be used to free your yard from fallen leaves and other debris, and the vac's huge in-built drain helps discard liquids in no time.
Increased tank capacity. The Craftsman CMXEVBE 17595 model features a sturdy 16-gallon tank, which is perfect for carrying out various arduous indoor and outdoor tasks. Such an extended dirt tank capacity means fewer emptying sessions for you.
Dual-Flex durable hose. The machine's 7-foot hose with a diameter of 2.5 inches employs the Dual-Flex technology, which allows the hose to bend 180 degrees at its both ends without deforming. The vacuum also boasts a lengthy 20-foot power cord, which is a must-have for all large models.
A variety of added accessories. The cleaning unit comes loaded with seven versatile accessories to allow you to perform a variety of cleaning chores in your garage, yard, and workshop. There are two different extension wands, utility, car, and wet nozzles, 'Qwik Lock Filter' system, and a dust-collecting bag – all can be conveniently stored on the vac's body.
PROS:
Stout 16-gallon plastic dirt tank
20-foot long power cord for greater reach
An assortment of 7 supplementary attachments and fixtures
Powerful 6.5 peak motor
2.5'' hose utilizes the novel Dual-Flex technology
CONS:
The hose is only 7-foot long
You will need to install its caster wheels and onboard tool storage base yourself
6. VacuMaid GV30: The Best Garage Vacuum System for Cleaning the Residential Property and Industrial Spaces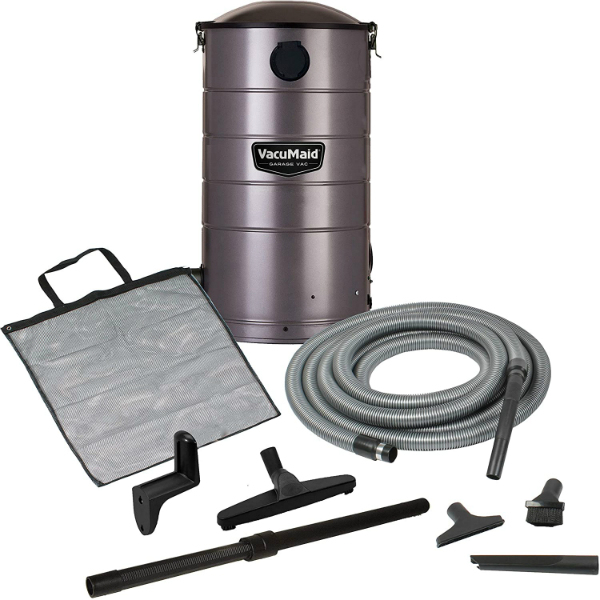 VacuMaid GV30 is another decent representative of the extended family of VacuMaid products. This wall-mounted vacuum for the garage is made of zinc-coated steel which makes the appliance resistant to rust and corrosion. The vacuum can serve multiple purposes: apart from picking up regular dry messes, it can be used to blow leaves and debris from your yard, air-dry the salon of your car, clean filters in your air conditioner, and more.
Powerful suction and extended motor life. The unit is driven by a vigorous 120-volt Ametek Lamb motor built to last around 1000 hours. That is at least 200 hours more than what other similar appliances can offer. The robust vacuum with increased lifting power can easily pick up fine dirt as well as bigger and heavier pieces.
A thick and capacious dirtbag. The 7-gallon capacity of the vac's dirtbag, together with sealed HEPA-style 5-layered filtration, makes this vacuum cleaner a top choice for many garage and workshop owners. The dirt-bags are easy to remove and replace with minimal mess involved.
A crush-proof 30-foot hose. The hose length of this garage vacuum model is 30 feet, which is enough to give you the opportunity to reach everywhere around your garage, basement, or workshop.
Nice choice of assorted attachments. The VacuMaid's GV30 model is provided with a rich set of multi-purpose cleaning tools and extras like a crevice nozzle, a floor nozzle, an upholstery tool, a dust brush, telescopic and curved wands, a hose hanger bracket, a mounting bracket, and a storage bag for the tools. All the accessories use either metal or strong plastic, which increases their service life.
PROS:
Versatile unit for residential and industrial use
Lightweight, high-capacity shop vac
Easy-to-replace HEPA-style bag, no filters to clean
Mounts on the wall quickly with no risk of tipping over
A 25% longer motor life than most of its rivals
CONS:
Costs more than most of its competitors
This is not a wet/dry model, so it can't be used for wet cleanups
7. Bissell MultiClean 2035M: A Reliable and Durable Garage Vacuum Perfect for Wet Cleanups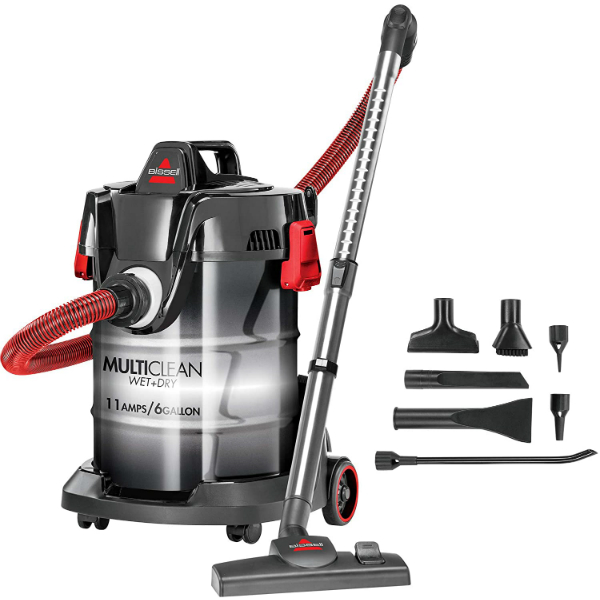 Like most of Bissel's vacuum cleaners, this model is designed for multi-floor use. It has the same superior wet/dry vacuuming capabilities on hard floors, rugs, and shorthaired floor covering. The vac is primarily intended for heavy exploitation in your garage, but it is just as suitable for other types of residential surfaces. Note that multiple garage vacuum reviews found online show that the vac copes with water spills much more efficiently than with dry cleanups.
Robust 11 Amp motor. The hefty 11 Amp motor gives a sufficient amount of power for using it as a wet/dry vacuum cleaner in your house or garage and as a blower for removing fallen leaves and other debris from your porch and yard.
Capacious dirt tank. The model is fitted with a 6-gallon dirt tank, which is very handy for everyday use and spacious enough to handle even major dry/wet cleanup jobs.
Premium 6.5-foot hose. The hose of the vac is only 6.5 feet; however, if you couple it with a 19-foot power cord, you will get enough reach to access any place without the need to move the vac around a lot.
A bunch of useful extensions and tools are included. Any cleaning task can be a breeze with this powerful shop vac, especially if you make proper use of the many exciting tools and accessories that come with it. Here you can find a dust brush, a crevice tool, a detailing/inflating nozzle, an upholstery brush, a precision blowing/suction tool, a precision wet suction tool, and more.
PROS:
Deep cleaning enabled by the two-stage filtration system
Easy to manipulate and store
Combines wet/dry cleaning with blower functionality
Plenty of additional extensions
CONS:
It is better suited for wet vacuuming
Slightly less powerful than other similar shop vacs
8. Shop-Vac Micro Wet/Dry Vac 2021000: The Best Garage Vacuum Wall-Mounted Unit for Minor Cleanups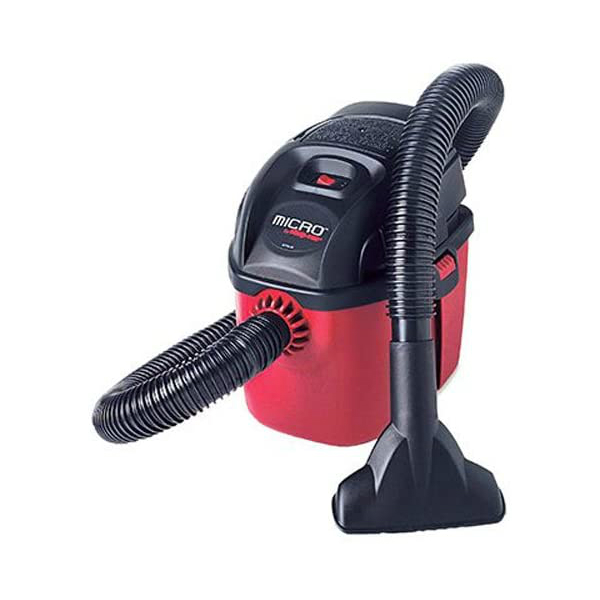 Shop-Vac's Micro Wet/Dry Vac, model 2021000, is a perfect little household assistant you need to keep handy at all times. The vac 2021000 boasts an appealing and modern design, rich functionality, and ease of transportation and storage – all coupled with a friendly price. This is a versatile and inexpensive solution for cleaning up your home, car, single garage, or even a small workshop. It makes short work of simple solid messes, dust, and insignificant water spills without requiring too much effort from the user.
Ample suction power. Despite its compact size, the machine can provide some excellent suction power of 1 HP, which is enough to cover your basic cleaning needs. Thanks to its wet/dry vacuuming function, this shop vac can easily handle smaller solid and liquid cleanups in your home, garage, or shop.
Sufficient capacity for basic vacuuming tasks. This micro vacuum can offer a tank capacity of one gallon, which is adequate space to let you do your minor home cleaning chores with ease and comfort.
Durable hose. The model is equipped with a 6-foot power cord and a 4-foot, 1.25'' diameter hose. A total of 10 feet should give you enough flexibility and reach for cleaning small spaces such as a single-family house, a little basement, or a garage for one car.
A plethora of included accessories. The vac is supplied with an impressive set of extras that you are sure to find very helpful in performing a variety of home cleanup tasks. The majority of these tools are made of durable plastic, which ensures their increased service life. There is a crevice tool, a gulper nozzle, kits, a wall-mountable bracket, a foam sleeve, and a tool bag.
PROS:
The compact size ensures easy transportation and storage
Wet/dry vacuuming function
Affordable price
Automatically switches off when the tank is filled to its maximum capacity
Made of sturdy, lightweight plastic
CONS:
The moving ability is limited by the vac's 6-foot power cord and a 4-foot hose
It is better suited for dealing with larger chunks than minute dirt
Keep a Cool Head When Picking the Best Shop Vacuum Cleaner
There is no arguing that a handy, compact, and powerful shop vac is an essential tool to have in your garage or workshop, no matter how big or small they are. The question is how to choose the very best garage vacuum that will come with all the needed functionality and will not cost you the earth.
Also Read: Best Robot Mops: Top 5 Vacuum Robot Mops to Purchase
All of the products above share the same crucial characteristics: they work hard, last long, endure frequent wet/dry cleaning sessions, and boast a wide choice of helpful extensions and accessories for various surfaces and textures. The price depends mainly on each particular model's power and storage capacity. So when choosing the right one, think about how hard you are going to exploit your shop vac.
Tell me about your own experience with any of the vacs described above! Did the model meet all of its declared capabilities and features? Did it fail to live up to your expectations? What other decent garage shop vacs do you know? Feel free to leave your comments below!