Most people are in a dilemma when it comes to selecting between Roomba`s versions, especially due to technological advancement. Each new model is fashioned to be better than the previous one. The advancements are accomplished by price increments.
Despite the improvement and price increase, they all perform the same function. These devices clean a house with ease. As I compare Roomba 890 vs 980, this review will help you to understand their differences and similarities. By the end of this comprehensive comparison, you will know if version 900, which is more expensive than model 800, is worth purchasing.
You will get to comprehend the new features available in the 800 series and the 900 series. These characteristics include the size of the cylinder, navigating maps, the ability to avoid obstacles, the power of a vacuum, and the durability of the battery. Make a point of reading through to the final word and be certain of gaining more than you expect.
Also Read: Roomba 890 vs 960 – Their Differences and Similarities
The Comparison Table for Understanding of Roomba 980 vs 890 Review
Scrutinize the following table to find out more about the distinct peculiarities of each item. Hopingly, these condensed characteristics will enable you to take a step closer to your final purchase.
| Features | Roomba 890 | Roomba 980 |
| --- | --- | --- |
| Battery life | 1800 mAh | 3300 mAh |
| Run time | 1 hour | 2 hour |
| Charging time | 2-3 hours | 2-3 hours |
| Dust bin size | 0.31 | 0.31 |
| Noise | 58 dB | 60 dB |
| Built-in camera | Yes | Yes |
| Color | Black, Brown, Gray, Silver | Black, Brown, Gray |
| Depth | 13.9" | 13.8" |
| Height | 3.6" | 3.6" |
| Width | 13.9" | 13.8" |
| Assistant Support | Amazon Alexa, Google Assistant | Amazon Alexa, Google Assistant |
| Features | Cordless | Bagless, Cordless |
| Surface Type | General Surfaces | General Surfaces |
Accessories: virtual barrier, HEPA aero force filter, charging power device, brushes, and navigation APP.VS2 virtual barriers, HEPA aero force filter, charging power device, brushes, and navigation mapping App.
iRobot Roomba 890: a Closer Look at the Device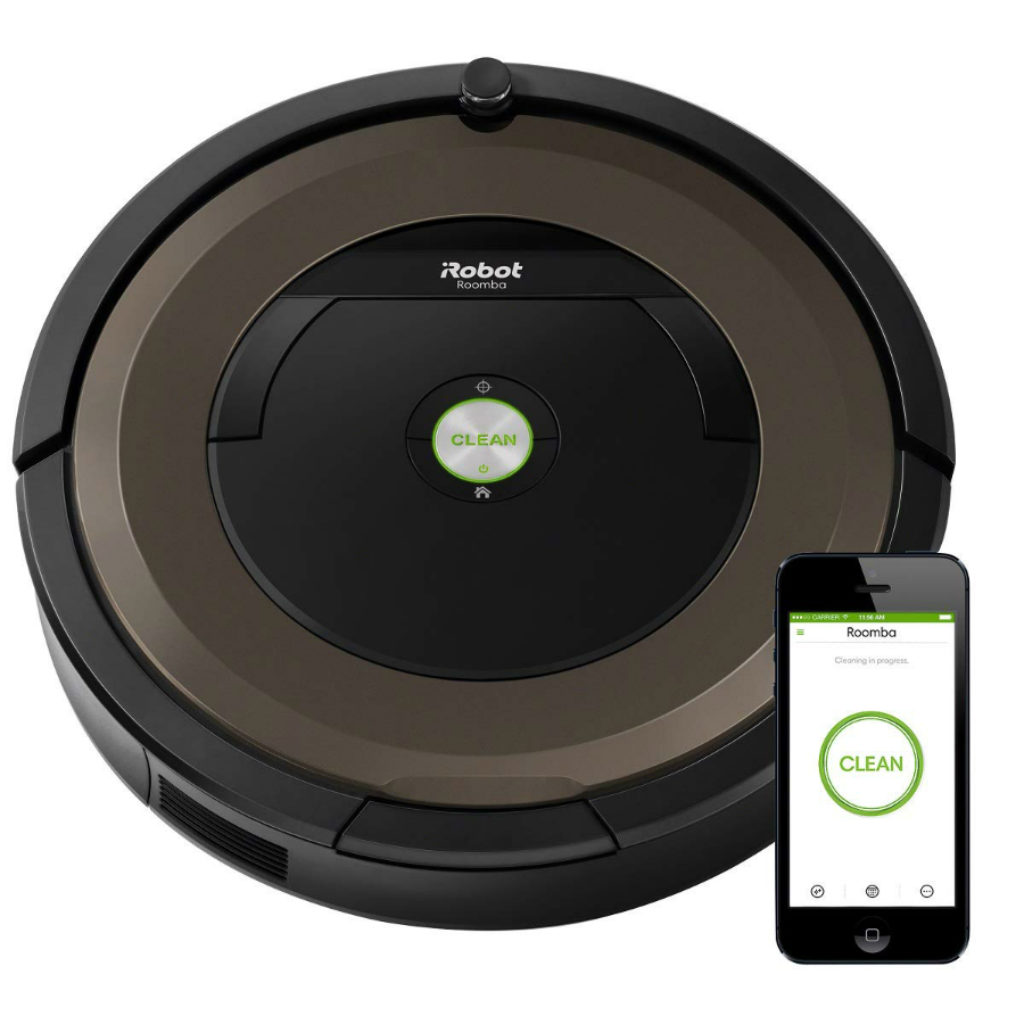 Roomba 890 is more reasonably priced than version 980, and it gives a better quality of vacuuming as compared to the old models by Roomba. The battery has a long-serving period of 60 minutes. The design of the item is original with dual automated brushes which assist in thorough cleaning.
It is most suitable for homes with pets. Cleaning a pet's hair manually is overwhelming, but with this device, the issues of a pet's hair on the floor will be minimized regularly. It does not come with a visual navigation camera like the 980 unit. The product also works for a shorter period and is suitable mostly for small areas.
iRobot Roomba 980: Key Points in Purchasing This Unit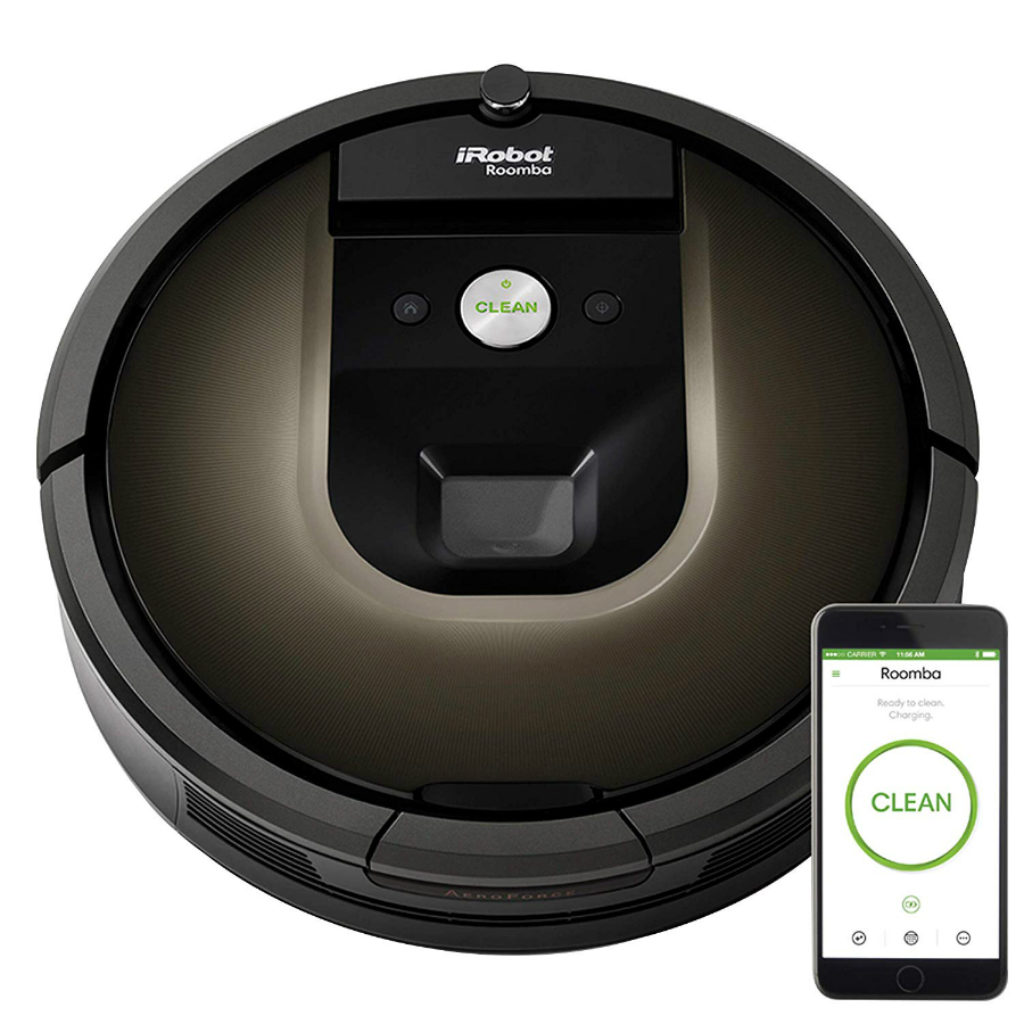 Roomba 980 is in the category of highly-priced items on the market. It is more advanced than the 800 series. Roomba 980 with the help of aero force power can clean the toughest areas. The device performs an efficient job. Hence you can deal with any other household activities that arise. Due to the Smart Navigation, Roomba 980 is potent enough to clean underneath the furniture in your home. The battery stays for 120 minutes and may need to be re-energized to ensure that cleaning is accomplished.
Roomba 980 uses the iRobot home app to clean and control easily, from anywhere. The powerful aero force cleaning system has an added boost feature – it spontaneously delivers up to 10* air force to clean the carpets and mats, where dirt or dust may be detected. Roomba works on all surface types with an efficient cleaning capacity.
The Main Differences Between Irobot Roomba 890 vs 980
iRobot company has evolved a lot of improved features of its products in comparison to 2002 when they launched their first series to date. Observing the series from 400 to 900, I have come to the conclusion that these models have better quality in regards to the size of the canister, the XLife battery, and now to the Wi-Fi app connectivity.
Due to technological advancement, the Roomba 890 and 980 have evolved in a significant way. Thanks to the fact that they are both made in the highly progressive technology era, it is very difficult to select between the two. The company argues that each series is the best once it releases it to the market. This has left the users wondering if their claims are baseless or genuine. Every user knows that the devices serve their objective perfectly as they focus on other indoor activities.
For this reason, I decided to offer my help to the users by describing the main differences between the two items. Hopingly, this will help them to decide which Roomba product to purchase.
Also Read: Irobot Roomba 675 vs 690: Which Should You Select?
1. Battery Life
The first major difference to note is the battery longevity. Of course, nobody would wish for a device with a low-life battery. This should be the first thing to consider while purchasing your Roomba. The products both use the XLife battery, but one of them lasts longer than the other. If you would like to compare 890 vs 980, the battery life of the first version is low. This is because Roomba 890 runs for a whole hour nonstop, and model 980 will last for at least 2 hours nonstop.
2. Cleaning Features
The reason to purchase these devices is the fact that they can clean your house easily and leave your hands free to do any other activity. Thorough cleaning is enabled with the help of special brushes and the navigation feature. They detect where dirt and debris are located.
Item 890 uses dual brushes, which are tangle-free, and they clean perfectly, especially around the pet area. Additionally, they use infrared technology via iAdapt 1.0. It helps the device maneuver around dirty places and cleans them impeccably. On the other hand, version 980 uses more advanced brush rolls that provide more thorough cleaning as compared to 890. This is enabled due to the infrared technology using iAdapt 2.0 to move in straight paths.
Also Read: Roomba 860 vs 890 – Understanding the Use of the Series
3. Drop Hazard Detection
The devices are quite expensive, and you would not wish them to drop and damage. That is why you should be keen on drop hazard detection. Both products are modified with in-built sensors that can detect and recognize stairs and edges. The sensors allow clear navigation and understand the household much better.
4. Size and Design
Lastly, you should consider the sizes and designs of the devices. The design includes accessories. It may also include setup and noise levels as well. Roomba 890 is 3.6h* 13.9w, while 980 is 3.6h*13.9w. Therefore, the inch difference and the skinny feature in item 980 allow it to clean unreachable surfaces. When we compare Roomba 980 vs 890, the noise in the latter is louder. It is easy to set up both devices; however, their cleaning buttons are positioned in different places.
The Roomba 890 comes with a spinning brush, a charger for the device, a HEPA filter, and one virtual barrier. The same applies to the Roomba 980, but it has one additional virtual barrier, so there are two in summary. Of course, the item with improved technology – Roomba 980 – is more expensive than Roomba 890.
Also Read: Roomba 960 vs 980 – Understanding Their Similarities and Differences
Examine the Main Similarities in Roomba 890 vs 980 Review
Comparing these two devices, you also need to understand their similarities to be able to make wise and genuine decisions. You may save some cash if you concentrate on the similarities more than on the differences.
1. Cleaning Capacity
There are a lot of common features between the two models, but I will focus only on the main ones. One of the most common characteristics is the fact that both products are clean in a way to allow you to focus more on other important household activities. This is due to the aid of smart advanced technology that can detect dirt. Likewise, they both feature a navigation mapping ability to move around your home. The devices are clean while moving where there are dirt and debris.
Also Read: Roomba 690 vs 890: Make the Right Choice for Your Needs
2. Brushes
They have a changeable brush roll, which is tangle-free. The brushes can be replaced by purchasing a new set from iRobot.
3. Battery
Roomba 890 and 980 use XLife chargeable batteries and fully charge for close to 2-3 hours. The charging lasts for 1-2 hours, respectively. The long-lasting battery is best suited for big areas. The batteries can be replaced from iRobot, but you can still opt for the generic type as they are compatible.
4. Filter
Inbuilt aero force performance is best for cleaning tough places. The products have a modified filter that collects 99% of allergens, pollen, and very minute particles. This aero-force filtration system ensures that air comes between the rubber rollers hence ensuring the vacuum suction is close to the floor. Both items are efficient in coping with this task, as they are highly powerful.
The devices can detect dirt with the help of the map and clean the desirable areas where there is a lot of dirt. The navigation map helps in the device's movement around the house. If you are worried that the device may drop and damage without you noticing it, you should know that both devices can detect drop hazards. It refers to stairs or edges that can cause harm to the cleaners.
Models 890 and 980 have similar accessories, and you do not have to purchase new ones in case they damage. These accessories include the virtual wall barrier, HEPA filters, spinning brushes, and a charging station.
Lastly, these two devices use advanced technology as they link up to Wi-Fi connectivity. These features have enabled the use of apps and other modified software that is designed to improve and make your life comfortable. It is very easy to handle these apps – you need to download them, install them on your smartphone, and sync the chosen app with your device. Moreover, the new advanced technology can now connect with Google assistance and Amazon Alexa on your mobile device.
From the statements above, you can see that Roomba 890 and 980 smart vacuum cleaners are similar. Now, you should be able to make up your mind, and this decision can save you money. I have stated only the main common features to help you settle on your preferable item.
Parts and Accessories for Both Roomba 890 and 980
These parts and accessories are mostly compatible, and hence you can easily use the 890 accessories for the 980 Roomba device. This is especially applicable to parts like charging stations and spinning brushes. Pay keen attention to the parts below and learn the occasions for their use.
1. Charging Station
Both devices 890 and 980 use the same charging station. It fully charges your item in 2-3 hours, and it will last up to the specified time for each product mentioned above. Make sure to charge your device fully when it runs low to elongate its durability.
2. Spinning Brushes
When cleaning manually, you might not be able to reach some tough corners and edges. This is solved with the help of the spinning brushes, which do better cleaning in those quire areas. They are tangle free as hairs do not get stuck in the brushes while cleaning. The brushes are pet-friendly as they clean the pet's hair.
3. HEPA Aeroforce Filter
With the force of this purification procedure, the Roomba vacuum can detect hidden dirt and trash. This aero force is the one that allows the Roomba 980 unit to clean thick carpets.
4. Virtual Barrier
This is also a very important accessory in a smart vacuum cleaner. It helps to direct the device to the right places with the help of infrared lights. One can select to clean in a straight way or a specific area around objects and surfaces.
Cleaning Performance for Both Roomba 890 and 980
When creating these smart vacuum devices, the iRobot company had an idea to enable them to clean in very tough places. The best item is the one that can reach all the wreckage and dirt around your home area. There is no way you spend too much on buying these units and then find they fail to perform effectively. Below are the answers to your possible queries about Roomba devices and how well they clean under different circumstances.
1. Edge Cleaning
Probably you are tired of bending underneath your furniture and cleaning that hidden wall edges. That can be overwhelming, and that is the reason you should get the best vacuum cleaner that will reach all the surfaces in your home. With the new technology, iRobot came up with this amazing feature allowing you to do more than just cleaning.
Once the devices are done cleaning the open surfaces, they alternate to the "edge clean" feature where they ensure that the walls and underneath of the furniture are spotless. The devices make sure your home is clean from corner to corner and even underneath the surfaces. The edge cleaning is automatically enabled, but you can alt the settings if you wish.
2. What About Pet Hair
Do you have a pet at home and are you tired of mopping the fur being shed from your cats and dogs? iRobot understands that nevertheless how much we love our pets, cleaning their hair can be a very hard and devastating task. Do you always struggle to try and minimize the hair, ending up using treatments to reduce the pets' hair shedding every time?
If your answer to this question is yes, then you need this brilliant smart vacuum cleaner by Roomba. Although the pets will keep on shedding fur, the robotic vacuum helps to reduce the amount, and it will not be so nagging anymore. These Roomba devices can minimize the hair from your animals regularly. Through the reduction, the pet area will be clean, and, consequently, you will have a relaxing sensation even when you expect guests to visit your house.
3. Can Roomba Clean Hardwood/Tile/Linoleum/Vinyl
If you are wondering if the Roomba vacuum can clean your hardwood/ tile/linoleum or vinyl carpeted floor, you don't need to worry anymore. These robotic cleaning smart devices are here to rescue you from the labor of cleaning manually.
When you fill the Roomba`s canister with water, and you have the knowledge of setting it up, then you will have nothing to worry about. The material of your floor doesn`t matter, whether it is hardwood, tile, linoleum, or vinyl – all will be spotlessly clean, and you will have more spare time to go and do other indoor activities.
More to that, the Roomba vacuum cleaner will cover a bigger area within the shortest period possible. Better yet, the device will reach the surfaces that you cannot cover yourself and help in maintaining a clean environment.
4. The Efficiency of Roomba`s Products in Cleaning Thick Carpets Made of Polypropylene Fiber
When both items 890 and 980 are put to the test for cleaning a thick carpet, Roomba 980 gets the medal. It will clean very dense carpets better as compared to the 890. This is because version 980 has more output from its motor, which helps it to clean the fabric with much ease. However, the power output might be not so friendly to the fabric and can damage it accidentally.
With the device 890, it will polish the work but not to perfection. It will not collect all the dirt and debris on the carpet. The Roomba 890 lack the g3 motor that forcefully picks up the dirt as compared to the 980. So, if you want a smart vacuum cleaner to clean your thick carpet made of polypropylene fiber, consider the Roomba 980.
5. Can These Devices Clean Thin Carpet / Nylon Fiber?
On the issue related to mopping a thin nylon carpet, the outcome is also very different. That is because the carpet is not so thick, and the dust does not penetrate so deep. Both Roomba 890 and 980 will take the medal when it comes to this case.
Cleaning up such carpets will not require too much power from the cleaning device to pick up the dirt. As I recommend customers to use Roomba 890 for cleaning carpets, I would wish those with thick carpets to rely on model 980 for much more effective cleanness.
Comparing the two products, item 890 is the best for effective cleaning purposes related to skinny carpets. Besides, it is quite cheap. 980 is more advance for this thin carpet, and it may harm the material.
Battery Life: More Details About the Most Important Thing
I would rather go for the lasting battery that will ensure a long period of cleaning as compared to the one that will last only an hour and then goes off. However, this is determined by the size of your home. The long-lasting battery will fasten the cleaning process hence saving you power output.
The other reason I would consider this kind of battery is if the area to be covered is big. A larger house takes a longer period to be cleaned, and if the battery goes low after every single hour, it will not only waste your time but also cost you money.
Roomba 890 Battery: Some Peculiarities of This Battery
What makes the device work is the battery, and without it, the device is useless. Just like the human's heart, without a battery, the Roomba 890 cannot run. Noteworthy, its battery does not last a lifetime, and with time, you will need to replace it. For that reason, you should have a replacement alternative.
One of the options is purchasing a new iRobot battery and continuing with the brand and its same usage. Secondly, you can opt for the generic one which will last you longer for fewer expenditures. These generic batteries are sourced from other brands, and they are also good, or even better than the iRobot one. The thing is their battery`s capacity has been enhanced to last you for a long.
Roomba 980 Battery: the Lifespan of The Device
When we discuss the Roomba 980 battery, it is specifically designed to be compatible only with iRobot devices. This battery lasts up to 120 minutes and takes 2-3 hours to be fully charged. Additionally, as in the case of the 890 battery, it will not serve you for a lifetime. You will have to replace it eventually.
However, there is only one option, and that is purchasing a battery from an identical brand. They are not compatible with generic batteries. These 980 batteries may be very expensive, but they will surely serve you for a long and will help to clean up a bigger surface area.
The Final Table
Now it is up to you to make a wise ruling regarding these two versions. I would opt to rely on the similarities other than on the discrepancies in making my decision. However, both are equally important in the decision-making process. This is because they both extend a similar cleaning technique. I would also opt for the Roomba 980 if I had a dense carpet. To collect all the essential information in one place, I suggest you look at the table below.
| Option | Roomba 890 | Roomba 980 |
| --- | --- | --- |
| Best for money | Yes | No |
| Best for small apartments | Yes | No |
| Best for large apartments | No | Yes |
| Best for thick carpets | No | Yes |
| Best for a carpeted floor | Yes | Yes |
| Best for hardwood, tile, or vinyl floors | Yes | Yes |
| Best for if you have pets and allergies | Yes | Yes |
| Best for traffic rooms | No | Yes |
| Best for hardwood | Yes | Yes |
FAQ About Roomba Devices
While purchasing your smart cleaning unit, there may appear a few questions that you get constantly puzzled about. Below, I have selected two common queries that I know are burning issues for every buyer.
How high does my furniture need to be off the ground?
It should be at least 3.6 inches high to enable the Roomba device to penetrate underneath and wash the garbage beneath your furniture.
Will these units work well on shag carpeting?
The answer to that is «no», the Roomba devices cannot clean shag carpeting. The truth is that these carpets are very dense, and they may end up burning the motor of your device.
Enjoy Cleaning Using the Roomba Unit of Your Choice
I hope you have benefited from this Roomba 890 vs. 980 review in one way or another. The key motivation I had on my mind was to aid you in the selection process while purchasing the Roomba unit. From the analysis, you can decide with ease if you either contemplate the core variations category or the similarities category.
You have familiarized yourself with both the comparison of Roomba 890 vs 980 and all their upgraded characteristics. The analysis has enlightened different issues, and you may now tell what to do once the battery burns or there is a need for any other accessory.
Are you still not sure of which Roomba unit to get for your house? If your answer is positive, then feel free to reach out for assistance. Below is a comment section where you can contact me and share your views with me, and I will be delighted to read them and give you feedback.