Robot Vacuum Cleaners for Hardwood Floors: Buying and Usage Guide
Robot Vacuum Cleaners for Hardwood Floors: 5 Amazing Models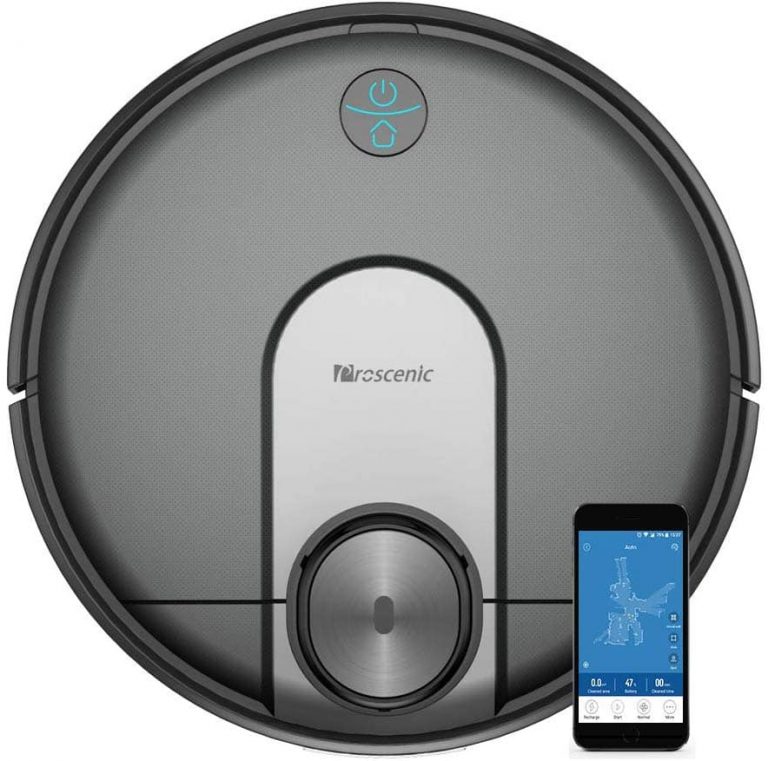 Hardwood floors are among the things that create an elegant decor of your home. It is hard not to get a compliment from your guests if you have fitted hard floors. They come with a specific class and authenticity that you can't help but admire. Based on the reputation of hardwood floors, it is not a surprise that they have become popular among most people, including interior designers. Such floors are also loved by many because they do not trap a lot of dirt and are pretty easy to clean. 
The main challenge with hardwood floors is the maintenance once they start catching dust particles and other dirt, such as pet hair. Unlike other floors that you can simply clean with a mob, hardwood floors require a different approach. Cleaning hardwood floors with water may end up in damaging them, while scrapping may destroy the superb finishing. 
The best way of maintaining such floors is by using vacuum cleaners. While vacuuming is a viable option, it has been one of the most hated household chores because of being tiring and requires a lot of time. Fortunately, the latest technologies have come to our rescue. The innovations led to the emergence of some of the best robot vacuum models to help you take care of your floors.  
The best thing about these robot cleaners is that they help to maintain your hardwood floors without damaging them. Moreover, such tools come with some other cool features, such as Wi-Fi connectivity, task scheduling, and inbuilt sensors for dirt detection and maneuverability. 
These are some of the features that help to increase the efficiency of vacuum cleaners and improve their ability to clean floors effectively. This article reviews some of the best robot vacuum for pet hair and hardwood floors to help you to learn more about these devices.
Reviews of 5 of the Most Efficient Vacuum Cleaners 
In this part, you will find detailed vacuum cleaner reviews. I will point out the ones that I have found to work the best. Also, such features as suction power, weight, and the pros and cons of each gadget are highlighted below.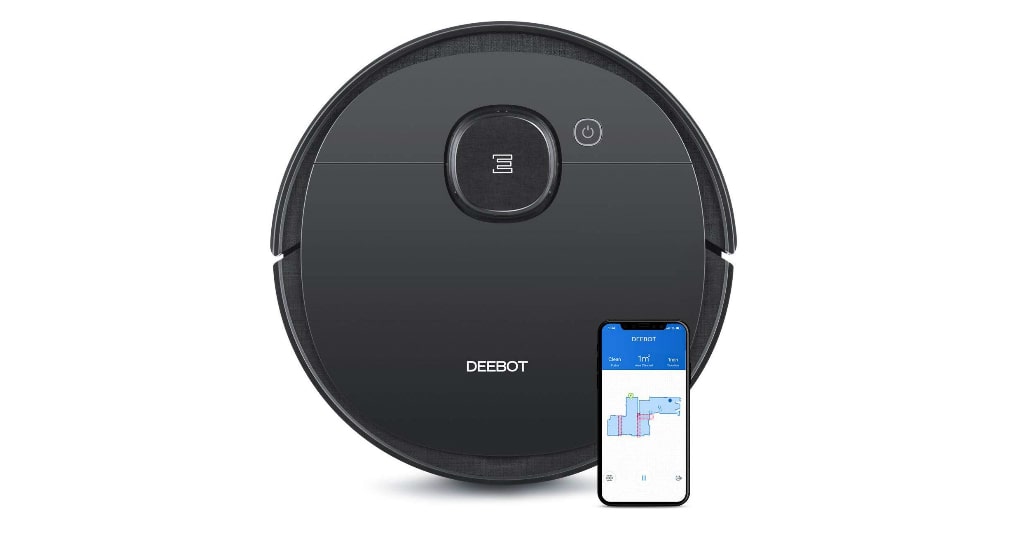 This Ecovacs device is the best cleaning gadget for individuals looking for a cleaner and mop at the same time. According to the manufacturer, being a mop and a vacuum cleaner,  this gadget can remove all bacteria from the floor. Therefore, with this tool, your home will be clean and germ-free at the same time.
The Ecovacs Robotics model has a 3.0 smart navigation system that makes it easy to move around the floors, following the set pattern. By using laser technology, the gadget can create the shortest routes for cleaning a room to save energy and use the least amount of time. Once you connect the device to the Alexa app, you to speak to the cleaner and control it while doing your other tasks comfortably.
This item has three cleaning levels, each having a different amount of suction power. Therefore, you have the freedom to choose the cleaning power you need. The tool is very compact and lightweight as it weighs 6.7 pounds, so it is easy to lift and move around when needed.
Positives:
It can mop and clean at the same time
It has smart sensors and navigation system that helps in controlling the cleaner's movements
Lightweight
Negatives:
Expensive, so you may need to save for it in advance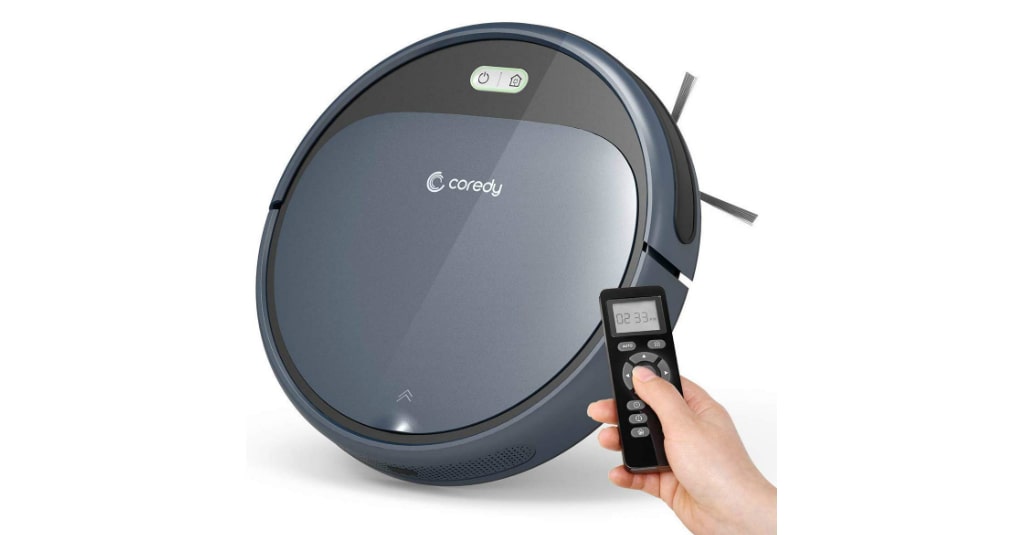 Have you just fitted hardwood floors in your house? I know about the obsession of trying to maintain them spotless and unscathed. That is why I want to introduce to you this Coredy vacuum cleaner. 
First, it is very flexible in controls, so you won't need to lift the gadget to turn it on or change the settings. For those who love the automatic stuff, you will surely love this device because of the convenient remote control functions. You can regulate how the cleaner should work from the comfort of your couch. Multitasking on household jobs has also been made possible with this robot cleaner. 
The model has two wheels at the front. With the wheels, it is also easy to maneuver from high areas to the low ones, such as a carpet. 
You will enjoy using this gadget because of its massive suction power. It produces 1400PA that allows the tool to suck the smallest dust particles from both the floor and the carpet. It can clean even pet hair.
Like any other smart gadget, this cleaner has an intelligent sensor that prevents it from dropping and colliding with other things on the floor. It is a plus for me because it would be very bothering if such a device did not have a sensor. It saves you from moving back and forth, helping the cleaner to find its way around the house.
It has a 2600mAh battery that allows it to last up to almost two hours of non-stop work. Also, the tool weighs only 7.85 pounds, which is not too light but not bothersome because you don't need to lift the gadget while it is working. The item is also compact with 12.8 by 12.8 by 2.7 inches dimensions. This Coredy robot vacuum cleaner review proves that you will get value for your money with this tool.
Positives:
It comes with an AC power adapter for charging
Remote control for easy cleaning
Compact
It has an anti-spill box that holds the particles together until you empty it
Negatives:
It takes a long time to charge
I love the Eufy Boostiq Robovac tool mainly because of the uniqueness of the gadget. It has Wi-Fi that gives you absolute flexibility and freedom of cleaning hardwood floors or soft carpets. The Wi-Fi works in connection with Google Voice, Eufy Home App, and Amazon Alexa. When you connect the device to these apps, you can clean your home remotely. 
The cleaner is quiet, so it won't disturb the peace at your home when at work. The tool can also run continuously for at least a hundred minutes. It is enough time to clean your home with the gadget. 
Eufy Boostiq Robovac cleaner has 1500PA suction power that allows it to do a thorough cleaning job. When you want to increase the suction strength of the gadget, it will change the mode within one and a half seconds after you hit the control button. Therefore, Eufy Boostiq Robovac 30C picks up cleaning speed quite fast. 
The gadget weighs only six pounds, which is lighter than Coredy cleaner. Also, this tool is ultra-slim, so it can fit in areas such as under the couch, bed, or other corners that you normally find hard to clean. 
Positives:
Lightweight
It has automatic sensors that make cleaning easy
You can operate it remotely without necessarily being at home once you set a cleaning schedule
Negatives:
If there are cables on the way, they may tangle the gadget even if it has sensors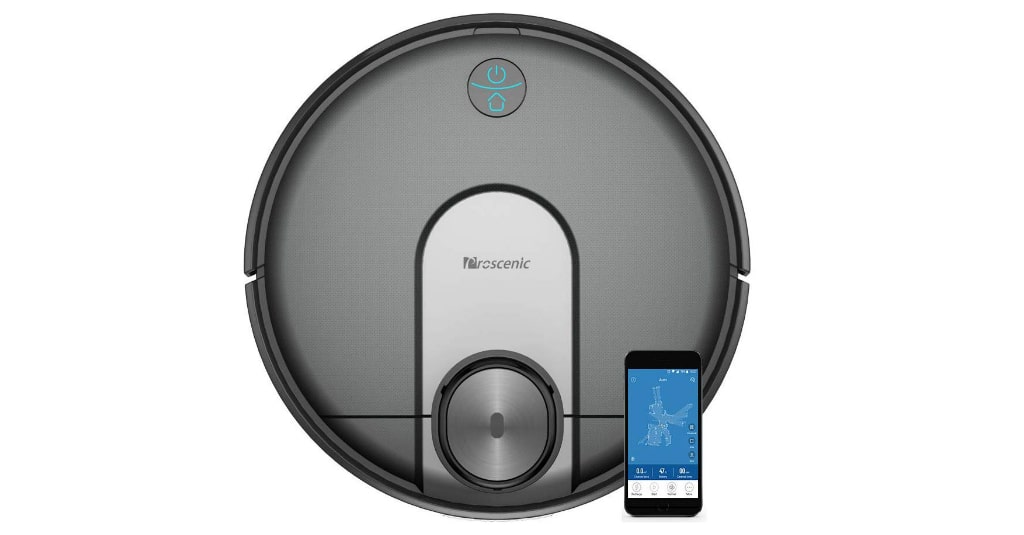 Proscenic vacuum cleaner is a great, yet a bit pricey option. The tool has laser sensors that work at a distance, and they can analyze the room you want to clean within a few seconds. The device then creates maps of how it will clean the dirt from the floor and carpet if you have one. 
This vacuum cleaner can be operated through the Alexa app to get programmed for most of the functions. These include setting the zones according to how they should be cleaned, switching from one mode to the other, and creating no-go zones that have either been cleaned spotlessly or that do not need to be cleaned completely. This digital aspect of the gadget makes it a good catch for the techno-savvy generations.
It is much more powerful than the Eufy as it has 2600PA suction power compared to 1500PA mentioned in the Eufy Boostiq Robovac 30C review. Such power is suitable for cleaning the stickiest particles on the floor. Proscenic model is unique in that it has a water tank that holds up to 500ml of water for cleaning the carpet and hardwood floors, leaving them as spotless as snow.
Positives:
It charges automatically, so there is no waiting time
It can work continuously for one and a half hour when the battery is full
It uses Wi-Fi, so you can control it remotely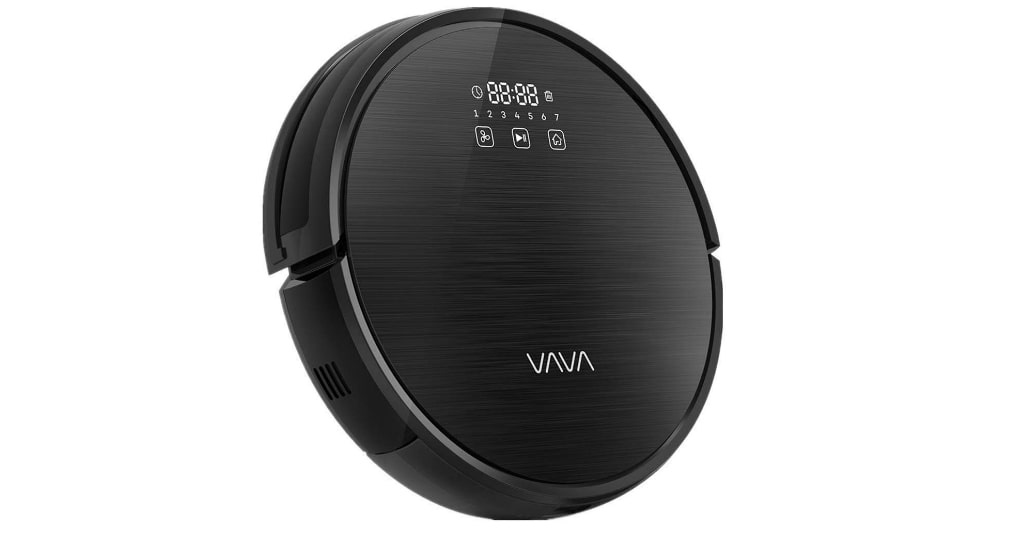 For individuals looking for a quiet robot vacuum for hardwood floors, Vava is a great option as it produces only forty decibels of sound. This sound is similar to that of a whisper. Thus, the tool is an excellent choice for cleaning a home with children because they can sleep while you are cleaning the house.
It has 1300PA suction power. Most robot vacuum reviews tell that it is strong enough to clean all the floors and carpets without leaving a single dust particle behind. This power is also enough for the gadget to run for over an hour without recharging.
The tool has a smart navigation system that directs the gadget, ensuring that it doesn't repeat the already cleaned parts. Therefore, you do not need to control the device as it can do this on its own. The tool cleans in a U-shape manner that allows it to clear particles from corners efficiently. 
This Vava vacuum cleaner is pretty heavy as it weighs 8.85 pounds, which is heavier than most other gadgets that I have reviewed here. However, I believe it won't cause a major concern because you don't have to lift the device for turning it on.
Positives:
Compact
It has smart navigation for sensing and planning cleaning directions
Fitted with drop sensors
It recharges automatically
Negatives:
Not efficient for cleaning heavily-tiled carpets
Tips on Using the Best Robot Vacuum Cleaner for Hardwood Floors
After reading the reviews above, I believe you have already decided on the best robot vacuum for hardwood floors and pet hair among the mentioned tools. However, some people may have a general concern about how to use robot vacuum cleaners, the installation process, and what features to look for when buying such a device. Therefore, the following section will address some of the commonly asked questions about the robot vacuum cleaners.
Remarks on Great Robot Cleaners for Use on Hardwood Floors
It is not a surprise that many people prefer hardwood floors for their places. The reason is quite simple as they make your house look elegant and stylish. The appearance of hardwood floors is authentic and makes your home feel like the place you want to be. 
Also, some people love such floors because they do not attract much dirt, thus, being easier to clean compared to other floor types. However, as mentioned in this article, maintaining hardwood floors may require some more effort on your part. Such floors are not surfaces. You can scrub or mob to clean as if these were carpets or ceramic tiles.
However, it is not something that should deter your dream of having a stylish floor for your beautiful home. This article aimed to inform you about the innovative solutions for maintaining hardwood floors spotless without damaging them. 
Moreover, I have gone ahead and reviewed some of the best robot vacuum for hardwood floors. I have ensured that my analysis was focused on the most high-quality and durable gadgets that can be operated conveniently and programmed according to your cleaning needs. In this regard, I have chosen to review some of the fairly priced and powerful gadgets. 
From the products reviewed in this article, it is evident that certain distinguishing features stand out among these models of vacuum cleaners. They include a higher suction power, increased running time, recharging system, improved self-protection, Wi-Fi connectivity, and a wider range of cleaning accessories. 
The models as Ecovacs Deebot Ozmo 950 come with added features. They include longer cleaning time, a smart navigation system, custom floor cleaning, task scheduling, increased versatility for cleaning different types of floors, and advanced voice controls. 
Based on these characteristics, I can profoundly say that such vacuum cleaning devices can clean your hardwood floors efficiently. A vacuum robot cleaner is also an excellent choice for those who are too busy to do the cleaning by themselves. With such a tool, all you have to do is simply schedule the robot vacuum cleaner to clean your hardwood floors when you are at work or doing other tasks. 
Also, here, I have included answers to some of the commonly asked questions about these innovative products. Based on the information and reviews you have read, which of these products made it to the top of your shopping list? What features of robot vacuum cleaners do you find the most important? Have you used any of these tools before? Share your thoughts with me in the comments.