Supposedly, cleaning is one of the most annoying things in this world. Nobody likes to spend hours trying to smarten up his or her home. Besides being time-consuming, it is also a very exhausting process. Fortunately, you can save time and energy with the help of new technologies. Such devices as an automatic washer, dishwashing machine, or robotic vacuum cleaner will allow you to forget about boring daily chores. We know how it can be difficult to cope with all the daily chores: preparing meals, doing laundry, and keeping our house clean and tidy.
However, things have changed since I bought a new Neato BotVac vacuum cleaner. Of course, at first, I had to get accustomed to this robot. But my life changed for the better when I learned how to use it. Right now, I can't imagine living without this amazing device. I sincerely believe that this is a must-have device for any housewife or a person who doesn't have enough time for time-consuming daily chores.
Also Read: Shark Navigator vs Rotator for Efficient Home Cleaning
That's why I would like to share my experience and thoughts about the robotic vacuum cleaners produced by this company. I sincerely hope that the information from my Neato BotVac review will be useful for you. I've chosen the best models produced by the brand and defined their pros and cons. Also, I've prepared the answers to the most popular questions related to vacuum cleaners.
Top-7 Best Buy Neato BotVac Vacuum Cleaners
Experts from Neato believe that robots can handle daily household chores even better than people do. And any vacuum cleaner produced by this company can easily convince you that it's possible to entrust housecleaning to new technologies. Nowadays, Neato is a leader in the development of smart cleaning robots. Its professionals always try to satisfy their client's needs and provide them with the best experience.
Founded in 2005, the company managed to earn the trust of thousands of buyers. Its experts always try to provide their clients with new solutions for handling daily household chores. Taking into account the customers' feedback, they regularly improve their products.
The company managed to create an amazing design for its robots and provided them with the newest technologies and software. The models even support the FB Neato chatbot. If you still have any doubts about this company being trustworthy or not, you can find tons of positive Neato BotVac reviews on the Internet. All of them are written by satisfied and thankful customers. Such popularity is great evidence of the company's reliability and professionalism.
Also, take into account that all models from the reviews have a lot of common features since they are produced by one company. They have even the same functioning principle. First of all, the device will scan the room with the help of patented laser technology. After this, the received data will be transferred to the robot's processor, and it will make a map of the area. That's how any model from the reviews can construct a path for the most effective and thorough cleaning.
It's also possible to create an account on the official website. There you'll be able to get reliable support in case you face any problems or questions. Also, there you'll find the latest news about software updates, discounts, or new model releases. You can use this website to buy not only the robots but different accessories for them. You'll find a variety of different brushes, filters, and batteries.
1. Neato BotVac D80 Review – Best Choice for Pet Lovers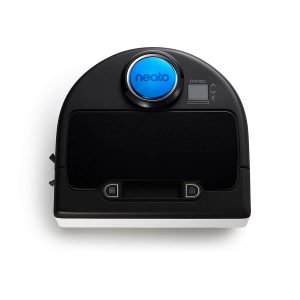 Many people adore cute puppies or kittens, and they can't imagine their life without their favorite pets. However, it may be difficult to clean up the mess made by fluffy friends. Fortunately, Neato BotVac 80 can cope with this task.
This awesome high-duty robotic vacuum cleaner is fitted with amazing features, an advanced navigation system, and ease of maintenance. According to the Neato BotVac 80 review written by one of the customers, this robot can easily cope with debris, dust, hair, and dirt. Besides, it guarantees quiet operation, so you will never be disturbed by its work.
At the top of the device, you can find a LIDAR sensor that is used to help the robot with navigation. There is also a control panel with 4 touch buttons. Besides, Neato BotVac D80 has a small LED screen equipped with tap lights. You can use it to control the device and schedule the cleaning sessions. In addition, it's possible to choose between two operating modes – local and full.
Neato BotVac D80 robot vacuum for pets and allergies is designed with patented LaserSmart technology. Due to this feature, it can detect different objects and map your room to clean it without breaking anything. Neato BotVac D80 will remove all dirt, dust, and crumbs due to the advanced SpinFlow Power Clean system. Furthermore, its wonderful D-shape design and CornerClever technology provide the robot with the ability to clean any corner of your room.
It's so easy to use this device. You have just turned on this smart home assistant, and it will take care of your house. The robot will move from one room to another. If it needs to recharge, it'll return to the charging base automatically. Plus, Neato BotVac 80 cleaner has an easy-to-empty dirt bin and an amazing Auto-Schedule display for setting up the cleaning time. However, take into account that this model is rather heavy as it weighs 9 pounds.
PROS:
An ideal choice for pet owners
It goes with two different brushes and high-performance filters
Amazing design
Affordable price
Two different cleaning modes
2. Neato BotVac D5 Review – Simplify Your Cleaning Process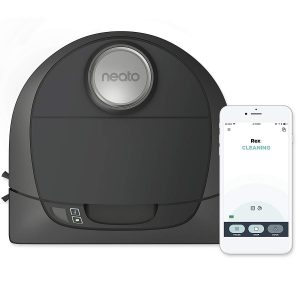 If you dream of a smart assistant that will help you with the daily chores, you definitely should check out the amazing Neato BotVac D5. It's possible to connect this vacuum cleaner to Alexa, your smartphone, or your smartwatch, so you'll be able to control it only with your voice.
Also, it can scan and map your home. After this, you'll get an opportunity to plan the cleaning of each room, and the robot will follow your orders. Due to lasers, this smart assistant can tidy up your home even in complete darkness.
Neato BotVac D5 Connected guarantees complete satisfaction with its work. It provides better performance than 70% of the similar models on the market. Due to additional side brushes, the robot can clean more dirt, dust, or hair. Moreover, its ultra-performance filter will remove any allergens, so it's a perfect choice if you want to protect your health. And the battery life is another great benefit of this device. It can work up to 90 minutes after it's fully charged.
Besides, the vacuum cleaner can automatically recharge if there is such a necessity. You should take into consideration that the robot's charge time is about 150 minutes. There is no doubt that Neato BotVac D5 is a perfect robotic vacuum cleaner for people who want to save time and get a sparkling floor.
PROS:
Long battery life
Excellent performance
Opportunity to connect the robot to Alexa, smartphone, or smartwatch
Combo brush for all types of surfaces
High-performance filter
CONS:
Too expensive
Long charging time
3. Neato BotVac D3 Review – Reliable Assistant for Your Home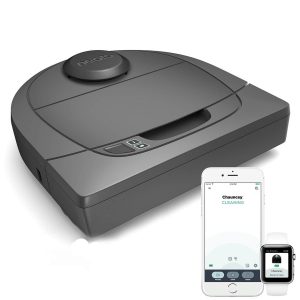 Neato BotVac D3 is a real treasure for a person who lives in a small flat or house. This vacuum cleaner has an awesome design that allows getting into any corner of your home. Plus, it is provided with effective LaserSmart technology. The robot uses it to map each room in your house or apartment and for navigation.
The device always cleans in straight lines instead of random patterns. Thus you can be sure that everything will be shining when Neato BotVac D3 Connected finishes the cleaning. And the opportunity to choose between Eco and Turbo modes is one more benefit of this smart cleaning companion.
In addition, you'll be able to download the special Neato app. It is intended for the scheduling of daily cleaning. What is more, you can even use your Apple Watch, Amazon Echo, or Google Home to control the robot. And take into consideration that the vacuum cleaner receives regular updates and gets new amazing features.
According to a Neato BotVac D3 Connected review written by one of the customers, this robot has only one drawback. Its battery life is only 60 minutes. However, this smart assistant can automatically recharge if it doesn't cope with the cleaning before the battery dead. Its charging time is only 100 minutes which contributes to the pros column.
PROS:
Provided with LaserSmart technology
Amazing design
Constantly receives software updates
Two different cleaning modes are available
Fast charging
4. Neato BotVac D7 Review – Premium Robotic Vacuum Cleaner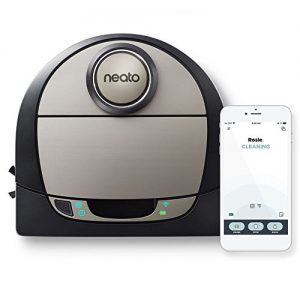 In case you are looking for a wonderful robotic vacuum cleaner, you definitely need to have a look at Neato BotVac D7. After purchasing this premium robot, you'll forget about the dirty floor.
First of all, the special D-shape design provides this vacuum cleaner with the opportunity to reach any corner and other hard-to-clean places of your home. And it will never bump into the walls or other things. The robot is provided with special lasers that are used to make an accurate map of your home. Due to this technology, Neato BotVac D7 Connected can work in complete darkness.
What is more, it's possible to connect your robot to Alexa or a smartphone. You'll be able to schedule the cleaning of certain areas with the help of a special app. In addition, you can define zones where the robot shouldn't go. If you live in a multi-store house, you can create a plan for each floor. This way, you will be sure this robotic vacuum cleaner won't cause any trouble while working.
The device is designed with a wonderful D7 filter made of HEPA material. It can capture up to 99% of harmful allergens. Undoubtedly, you'll forget about your allergy and sneezing with this amazing robotic vacuum cleaner. This model is one of the best in the Neato BotVac D series.
Besides, the robot has outstanding battery life. It can work for 120 minutes, so if you own a big apartment or house, this vacuum cleaner is just what you need. Moreover, it can recharge automatically. Be sure that you'll never regret if you choose this reliable device.
PROS:
Long battery life
Provided with HEPA D7 filter
It may be connected to Alexa or any smartphone
It may be controlled with your voice
Ideal for any surface
5. Neato BotVac D85 Review – Combination of Design and Performance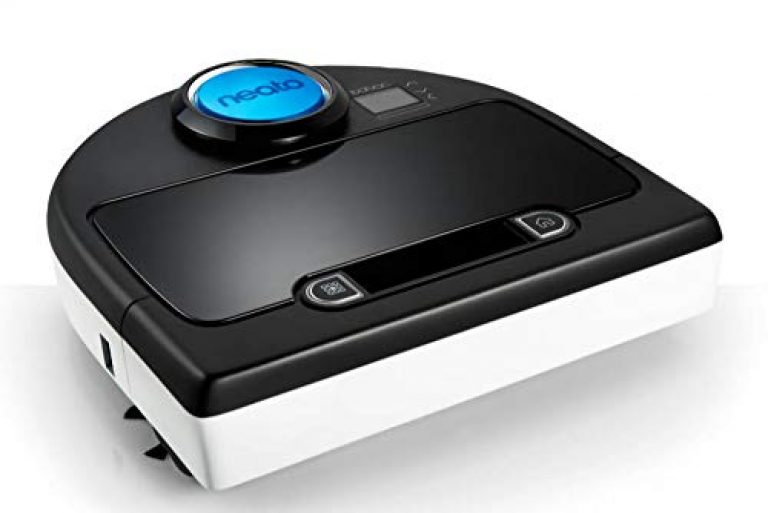 Probably, any housewife dreams of Neato BotVac D85, as it can greatly simplify her daily chores. Its brush can pick up pet hair or dirt from the floor. Furthermore, the robot guarantees quiet work and can clean any surface. It can overcome obstacles with a height of up to 20 millimeters. In case you don't want the robot to clean a certain place in your home, you can mark this spot with a special band. The vacuum cleaner won't enter the marked zone.
The product is provided with awesome Laser-guided technology. This feature is common in Neato BotVac Connected robot vacuum cleaners. The item uses this technology to scan and map each room in your home. It will methodologically clean your apartment or house after making a plan.
The robotic vacuum cleaner has a big dustbin. Its capacity is 0.7 liters. The great fact is that cleaning the dustbin doesn't take a lot of time and effort. Plus, the device is great for tidying the floor made of any material, whether it is wood, paving tile, or laminate.
Moreover, you can always download a special app to schedule the cleaning of your home. You can also control the robot with the help of a touch screen located on its top. Use it to turn the device on and off, and schedule the cleanings. Due to such a great feature, this smart assistant can clean your house even if you're far away.
What is more, the robotic vacuum cleaner can automatically go back to the charging base if it's necessary. Then the robot will return to the previous position. Usually, it needs 2 hours for the complete charge.
Such a variety of benefits makes this device an irreplaceable item for anyone who wants to save some time for more pleasant things than cleaning. Choose Neato BotVac 85 to establish new standards of cleanliness in your home. Besides, it's a great gift idea for housewives and people who adore robots and technology.
PROS:
Affordable price
It guarantees high-quality cleaning
Designed with Laser-guided and Botvision technologies
You can schedule your cleanings with a special app
Large dustbin capacity
6. Neato BotVac D4 Review – Professional Robotic Vacuum Cleaner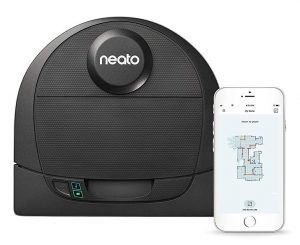 Are you looking for both an affordable and high-performance robotic vacuum cleaner? If your answer is "yes", you need to check out this model. It occupies pride of place in my Neato BotVac D series review.
The robot has a lot of benefits, and its large dustbin is among them. Its capacity is 0.7 liters and it's very easy to clean. By no means, you'll be amazed by the design of this great home assistant. Due to its unique shape, it can clean the corners where the worst dirt hides. Be sure that you'll be completely satisfied when this smart device finishes working. In addition, it perfectly copes with pet hair and allergens due to the D4 filter.
Probably, you know that sometimes robotic vacuum cleaners may bump into different objects. That's why they can break something. Usually, they move from one room to another and clean different areas randomly. It's really difficult to get the desired result after such a cleaning.
Fortunately, you won't face such problems if you choose this model. The robot uses special lasers that help him to detect different objects and navigate around your house. It guarantees top-quality performance even if the robotic vacuum cleaner works in total darkness. And if you don't want this robot to clean a certain area, you can download a special app where you may set virtual No-Go lines. After several minutes your smart assistant will know what areas to avoid.
What is more, you can use this app to schedule cleanings or check the robot's battery status. You can even choose between two different modes – Turbo and Eco. The first one is a great option if you need an extra deep clean. The second mode is the right choice if you want the robot to clean the whole house on a single charge.
The robotic vacuum cleaner can work for up to 75 minutes. It has a perfect battery life for cleaning apartments or small houses. When the device runs low on power, it'll automatically go to the charging base. The robot will continue the work after full recharging. Another great fact is that you can control this smart device with your voice.
PROS:
Reasonable price and high performance
Large dustbin capacity
Modern design
Possibility to choose between two different modes of cleaning
Opportunity to connect the device to Amazon Echo, Google Home, etc
CONS:
Bad choice for big houses
7. Neato BotVac D6 Review – Forget About Debris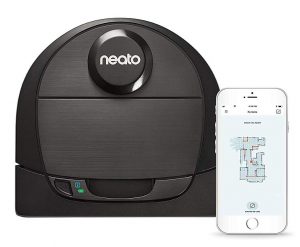 It may be tiring to clean all that pet hair, dirt, and dust hiding in every corner of your home. However, you can simplify your life and forget about this boring process with the help of this robotic vacuum cleaner under review.
The item is provided with a D6 filter that can remove all allergens from the floor. Besides, the robot has a spiral combo brush, side brush, and improved coral brush. Due to all these tools and the wonderful CornerClean design, this smart assistant will remove all dirt and dust from the corners and along the walls.
Also, this smart assistant can be connected to your Alexa, Amazon Echo, or smartphone via Wi-Fi, so it's possible to control it using your voice. You can even download a special Neato app to schedule cleanings. And bear in mind that the company always tries to improve its products, and that's why the robot regularly gets new features and software updates.
The model is equipped with lasers that help it to avoid various obstacles and create a map of your home. In addition, the robot guarantees perfect cleaning, even working in a dark room. And you always can set certain virtual borders for your smart assistant to be sure it won't remove something important on its way. This great technology ensures the device won't fall off the stairs.
The robot has 2 hours of battery life. This time is enough to clean even a big house. However, if the robotic vacuum cleaner runs low on power, it will return to its charging base and continue working after a full recharge. Its dustbin capacity is 0.7 liters, and you won't face any problems while cleaning it. With this smart device, it will be as easy to remove all the mess from your home as falling off a log.
PROS:
Awesome CornerClean design
It works for up to 120 minutes
Large and easy-to-clean dustbin
It can be connected to a smartphone or Alexa
Long battery life
How to Take off Brush Motor Neato BotVac D?
It's a great idea to clean the robot's brush motor if you want to protect it from damage. The problem is that being a pet owner, you may get troubles with the robot vacuum cleaner as its brush motor may collect a bunch of hair. And it's natural that it may stop working.
That's why I strongly recommend taking care of the robot's brush motor. Also, this attitude will help the device to provide top-quality cleaning. And if you don't know how to take off the brush motor, you can follow these simple steps:
Remove 4 screws that hold the battery covers.
Remove the battery.
Remove 2 screws that hold the vacuum-fan cover.
Remove the robot's bumper and remove 4 screws in it.
Remove the screws behind the wheels and take off the vacuum fan.
Remove the screw below the fan and 2 screws at the switch for the dustbin.
Remove the screws in front of the wheels and disassemble the top and bottom parts. Don't forget to be careful with the wires and laser cable.
Find the brush motor and remove the screw fixing it.
Take off the brush motor and remove the black cover.
Clean the motor of debris or hair.
There is nothing difficult. But if you're not sure you can handle this task, it's better to ask a professional for help.
How Much Area Can Neato BotVac Do Without Recharging?
Everything depends on your Neato BotVac model and its battery lifetime. For example, according to some Neato BotVac Connected reviews, Neato BotVac D3 is a great choice if you need to clean a small flat while Neato BotVac D6 is an ideal choice for big houses.
Which Neato Robotics BotVac Is Rated Best For?
Neato company regularly tries to improve its products, and that's why it's a no-brainer that the newer models are better than the old ones. At the same time, each model has its unique features and benefits. That is why it's impossible to tell exactly which one is the best.
If you want to choose the right robot vacuum cleaner, you need to take into consideration the size of your house or flat and other specific details. Only when you gather all the necessary information, you'll be able to purchase the robot that will satisfy all your needs.
How to Change Brush Ends on Neato BotVac D80?
In case you notice that your robot vacuum cleaner is making strange noises or doesn't function properly, it means it may have debris or hair caught in the brush. If it happens, you need to clean the brush or change its ends immediately. First of all, you need to remove it from the robot. You'll see a metal bearing at the end of the brush. I recommend removing it with your fingers. However, you can use a small screwdriver.
Remember that you should do everything gently if you don't want to damage the brush. When you manage to do it, replace the old bearing with a new one and place it back on the end of the brush. Don't forget to give it a slight press with your thumb to be certain it has solidly seated on the brush end. When you've coped with all these tasks, just put the brush back into the robot and enjoy the result.
How to Take Brush of Neato BotVac?
Never forget to clean the brush from time to time if you want to be satisfied with the robot's work and protect it from breakage. To handle this task, turn the device upside down and remove the side brush. Find the two clips at the back of the brush guard and gently push them. Take away the brush guard and remove the brush.
Now, all that you have to do is to clean the brush with a cleaning tool to remove any hair or debris. In addition, don't forget to check the end caps. When you make sure everything is clean, put the brush back.
Take into account that you can control your robotic vacuum cleaner using multiple devices. All you need to do is to create an account in the Neato app. Also, it's possible to give the account access to any of your family members. You can use the app to look through cleaning history, see the coverage map, and set No-Go lines.
And if you want to keep your robot running in tip-top shape, you'll need to do some routine things. For example, it's recommended to use Q-tips to clean the drop sensors at least once per month. In addition, don't forget to clean the main brush with the special haircutting tool every month.
Besides, change filters at least every two months if you don't want the device to lose its effectiveness in removing dust and allergens. Also, it may happen that you'd like to change the main brush and the battery after a long period of usage. You can always buy these details in the official Neato online shop.
FAQ for Owners of Neato BotVac Connected Robots
As you can see, choosing the best Neato BotVac robotic vacuum cleaner may turn into a real challenge. Even if you manage to do it, you may face different questions. That's why I've decided to prepare the answers to the most popular ones. I hope they will come in handy as well as my Neato BotVac comparison.
How to Update Neato BotVac Connected?
As you already know, the Neato company always tries to improve its products. That's why it regularly updates the software of its robotic vacuum cleaners. And if you want to update your device, you need to visit the company's official website. There you'll find a step-by-step guide that will help you to cope with this task.
Also, take into account that you'll need a USB 2.0 flash drive and a USB 2.0 upgrade cable. When you are ready for the update, choose the version of your robot's software and follow the instructions. In case you come to a standstill, you can always watch a video explaining each step. In addition, you can call customer service to get a professional consultation.
Where to Buy Neato BotVac Connected?
Be sure that you won't face any difficulties if you decide to buy a Neato BotVac robot vacuum cleaner. You can find different web shops that offer a variety of different models. However, take into account that the prices may differ, so it's better to check some websites before you make your final decision.
How to Reset Neato BotVac?
In case you need to reset the robot for putting it in pairing mode, just press the Start button for 10 seconds. The button is located near the display. After the robot automatically turns off, turn it on again by pressing the Start button. When you do it wait for 20-30 seconds before the device will play a tune, and its Info LED will start slowly blinking blue. It means that the robot will stay in pairing mode for the next 60 minutes.
How to Turn off Neato BotVac D7?
If you want to turn the device off, press and hold the Start button for 5 seconds. After this, the House Clean and Spot Clean LEDs will turn off, and the robot will play a tune. It means you've managed to turn it off.
Change Your Life with Neato Robots
As you can see, robotic vacuum cleaners can simplify your life. As for me, I can't imagine my life without these smart assistants. My Neato BotVac D80 robot vacuum cleaner saves my time and keeps the house clean. What is more, I've read some other Neato BotVac Connected reviews and I got to know that this company produces top-quality devices for a house. It's a real pleasure to use them. You surely won't be disappointed with the purchase.
Due to the awesome robots from my small Neato BotVac reviews, you won't need to clean the floor in your house manually anymore. Also, you will stay calm, knowing that the robot won't break anything or fall off the stairs due to the amazing lasers. You'll have enough time to cook something tasty for your family, complete other daily chores, or relax and have fun.
It'll be a wise idea to check up on the customers' reviews of the products before you make the final decision. Besides, you can find tons of different videos on the Internet. They also include useful tips that can help you take care of your robot.
Besides, I'll be grateful if you tell me and other readers about your attitude to robotic vacuum cleaners. Do you believe they can simplify your life? Do you know other companies that produce reliable cleaning assistants?
If you've already bought one of these robotic vacuum cleaners, please, share your experience below.
Tell me about your model, its benefits, and its drawbacks. Also, if you have your own Neato BotVac Connected review, don't forget to share it. I will be really glad to check it out and get acquainted with your personal experience.