Just like many homeowners, I have gone through a series of disappointments buying a couple of below-average robot mops one after the other. The struggle came to a halt when a friend recommended a robot mop vacuum cleaner, which I hesitantly purchased, not knowing that it would alter my home cleaning storyline. Ever since I have used many floor mop robot equipment and wouldn't think of better floor cleaning tools. It is for this reason that I decided to put up this review article on the best robot vacuum and mop models on the market.
With these best robot vacuum and mop combo 2023 reviews, it will be easier for you to decide on a vacuum robot mop to go for. The article features comprehensive robot vacuum and mop combo reviews of the five wet and dry high-performance robot mops I've used. For every tool reviewed, I have included the advantages, the downsides, and my verdict about the performance and dependability.
Also Read: Best USB Vacuum Cleaners That Are Just What Your Keyboard Doctor Ordered
Before we look at these cleaning tools, I want to highlight some of the things you should consider when buying a robot vacuum mop combo:
charging duration;
app connectivity;
cleaning mode intelligence;
navigational efficiency;
cleaning efficiency.
There are robot vacuum mops that take longer to charge than others because of the technologies used in their designs. For fast and efficient cleaning, you should consider getting a robot vacuum and mop combo that has a short charging span. Also, there are automated mops that support app connectivity, and these are much more convenient in terms of operability. Users can easily control such tools from the comfort of their seats.
I profoundly recommend purchasing a robot vacuum mop combo that automatically switches to the appropriate cleaning mode depending on the type of floor and humidity conditions. The other two vital factors to consider are navigational and cleaning efficiency. A good robot mop should be able to move from room to room and clean different surfaces. With that said, let's move on to the reviewed products.
Also Read: Best Industrial Vacuum Cleaners Review: 2022 Edition
Top 5 Best Robot Vacuum and Mops Combo for Your House
Below, you can find my selection of the five most useful, high-quality models for efficient cleaning. I have picked these items based on their performance, quality of materials used, and applicability.
1. iRobot Braava 380T Robot Mop – The Best Robot Vacuum and Mop Combo Overall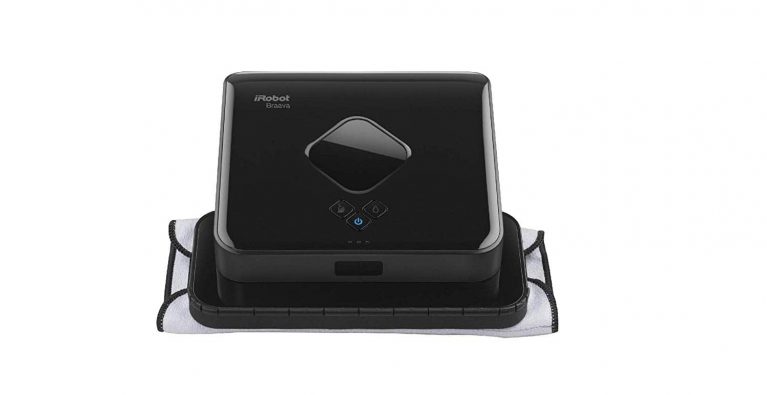 iRobot is a renowned brand when it comes to home cleaning tools. The Braava 380T is a versatile tool that can be used both as a dry and wet mop robot. It is one of my favorite and among the top-ranking tools in a number of iRobot mop reviews. Some of the distinctive functionalities of this robot mop include superior navigational intelligence, which allows it to go around obstacles and keep a record of surfaces already cleaned.
Also, the item's square-shaped base allows it to effortlessly reach and clean corners, as well as room edges. It is something that is a considerable challenge for circular robot mops. Another factor that makes it a tool in the league of the best mop and vacuum robot cleaners is its compatibility with diverse cleaning clothes. The iRobot Braava 380T robot mop is a very convenient tool when it comes to cleaning diverse floor types.
Additionally, this vacuum and mop robot is efficient in tidying up large rooms as it has a long run time. I would recommend this tool as the best robot mop vacuum for any homeowner.
PROS:
Impeccable efficiency in cleaning a variety of floor surfaces
Demonstrates superior navigational intelligence
Ideal for cleaning corners, thanks to its rectangular design
Works perfectly with diverse cleaning clothes
Its convenient design makes it suitable for cleaning even large offices and home space
2. iLife V5S Pro Vacuum Mop Cleaner – Best Robot Vacuum and Mop Combo for Hardwood Floors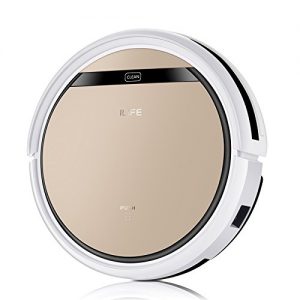 The iLife V5S Pro robot vacuum mop cleaner is, without a doubt, an incredibly reliable cleaning tool. It is arguably the best robot mop, thanks to an automatically activated max mode when the cleaner senses harsh stains and small particles on floors covered with mats.
I also consider it to be among the best robot vacuum mop combo because of its long run time. This cleaner can run up to two hours and twenty minutes without having to recharge.
Another amazing feature of this tool is itself-rescue functionality. In case the item is used on uneven surfaces, this tool wouldn't have any trouble with it, which is common to other cleaners that get stuck when cleaning uneven floors.
Also, this iLife V5S Pro robot mop is very efficient in cleaning a variety of floor surfaces, whether tiled or hardwood floors. Another peculiarity that made this tool worth being featured in these robot vacuum and mop cleaner reviews are its ability to get rid of stubborn blemishes.
The only downside I have noticed regarding this tool is its inefficiency when it comes to cleaning tight corners because of its round shape. However, I wouldn't hesitate to recommend it to all homeowners because of the great performance of this robot mop.
PROS:
Has a max mode designed for cleaning small dust particles such as animal fur
Has an extended run time of up to two hours and twenty minutes
Great for cleaning uneven surfaces as it has a self-rescue mechanism
Designed for efficient cleaning of different floor surfaces
Ideal for scrubbing tough blemishes
CONS:
Its circular design limits its efficiency in cleaning edges and corners
3. iRobot Braava Jet 240 – One of the Best Robot Vacuum Floor Mop Models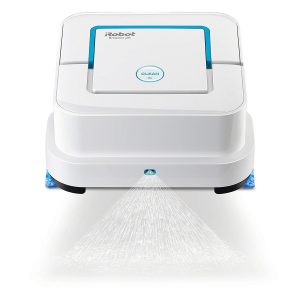 The iRobot Braava Jet 240 robot mop is a fantastic cleaning tool worth its price. In this iRobot Braava Jet 240 robot mop review, I want to emphasize the tool's virtual wall functionality. A user can easily program the item to clean specific areas, and it will know which areas are already cleaned.
This robot vacuum with mop also has multiple cleaning passes for efficient performance. Braava Jet 240 robot sweeper and mop is an unmatched quality tool when it comes to cleaning dirt and different floor types. Whether you have a wooden, tiled, or plastered floor, this cleaner is one that you can confidently go for.
Besides, this Braava robot mop has been designed with multiple cleaning modes that come in handy during different applications. If you want to sweep your floor or mop it, you can pick the appropriate cleaning mode as per your needs. Additionally, the shape of the item comes out as an advantage as it is easy for the Jet 240 tool to clean tight corners. Though it is retailed at a slightly expensive rate, I would recommend this iRobot Braava Jet 240 item as it is worth the price tag.
PROS:
Has a virtual wall functionality, which allows users to determine the surface to be cleaned
Has multiple cleaning passes for performance efficiency
Works greatly on different floor types
Has multiple cleaning modes for diverse applications depending on the dirt and moisture on the surface
Efficient for cleaning corners
4. Roborock E25 Robot Vacuum Cleaner – The Best Vacuum and Mop Robot with App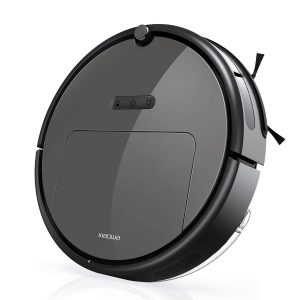 Roborock is a major brand in the home tools industry. The brand is celebrated for superior quality products. This item deservedly made it to this robot vacuum and mop reviews article, thanks to its first-rate performance. The E25 floor vacuum and mop robot can be controlled using an app, and this makes for enhanced usability and convenience. You can easily input settings using your phone without having to touch the mop.
I find this model the best vacuum mop robot with precise cleaning as it has a navigation planning functionality. This feature allows users to input commands on what areas should be cleaned. Before giving it a try, I read about this tool in several robot vacuum mop reviews, and I couldn't help but notice the great commendation it received.
With a fast-charging capability, this is efficient equipment. No wonder the Roborock E25 is one of the robot mop best selling cleaning tools on the market.
PROS:
Has a mobile app for easy and convenient use
Has navigation planning for cleaning specific surface areas
A powerful auto suction force for efficient cleaning of carpets
Can be connected to an Alexa gadget to support voice control
Charges faster than most models on the market and runs for an extended period of time
CONS:
May experience difficulties with proper cleaning of corners because of their circular shape
5. iRobot Braava Jet M6 6110 – Best Vacuum and Mop Combo Robot with Smart Navigation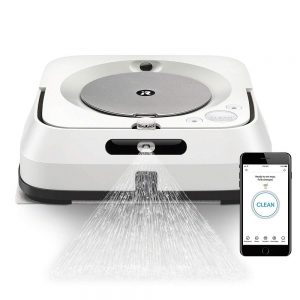 The iRobot Jet M6 (6110) is a tool you would never regret purchasing. This iRobot mop can also be controlled using an app. Moreover, one can integrate it with an Alexa device, and this would facilitate voice control.
The Jet M6 robot floor mop has a smart navigation capability that allows it to move around the house without difficulties. This robot mop and vacuum is ideal for cleaning expansive rooms and office spaces. Its outstanding functionalities were enough to give it a place in this top five robot mop review article. I would recommend this robot vacuum and mop combo to all homeowners.
PROS:
Can be controlled using a mobile application
Offers multiple cleaning modes for alternative cleaning options
A reliable cleaning tool when it comes to tidying up large offices and home spaces
Has a smart navigation functionality
How to Buy the Best Robot Vacuum Mop?
Buying the best robot mop and vacuum involves a number of functionalities you should check. To get the best buy robot mop tool, the first factor to consider is the charging duration. This is a vital consideration as a good vacuum mop should not take too long to charge.
Also, take a look at a robot mop that can be controlled using a mobile app. This enhances the convenience of the user as the tool can be operated from the comfort of your seat.
Robot mops with automatic cleaning mode adjustment are much better than those that would require manual changing by the user. A good item should also be able to learn your space layout and clean the intended places only.
This also means that
it should not get stuck while cleaning uneven surfaces and can be programmed to clean specific places only. 
The last but not least factor to think about is the
cleaning efficiency.
Some mops have multiple cleaning passes and advanced cleaning mechanisms for better cleaning results.
Answers to Wide-Spread Questions on Best 2-in-1 Robot Vacuum and Mop
Below, you can find useful information on picking the best robot mop and the specifics of the use of such a tool. So, it's time to select the right equipment for your home or office.
What is the Best Robot Vacuum and Mop?
There are some robot mop items available on the market that have demonstrated great reliability and high performance. Some of these mops include the Braava 380T, V5S Pro, Braava Jet 240, Braava Jet M6 (6110), and the Roborock E25 reviewed here. I profoundly recommend choosing one of these models, as each item has time-proven durability and efficiency.
How Does iRobot Mop Charge?
Most iRobot mop robot tools run for an average duration of two hours, after which they will need to be charged. Such devices usually have to charge ports on their bellies and need to be lifted in a vertical position to access the charging port.
The charging cable is inserted in the port and is positioned in a vertical position. Once the power source is switched on, the robot vacuum mop should be left in the vertical position until it is fully charged.
Which's Your Best Robot Mop for Home Floor Cleaning?
Following these robot floor mop reviews, you shouldn't have any trouble figuring out which cleaning tool to purchase. The vital things to keep in mind are the functional features that characterize the best robot vacuum mop tools on the market. Be sure to get a cleaner with sizable wheels, which will not be susceptible to getting stuck.
Also, though these features come at an extra expense, you can go for a robot mop that can be controlled using an app if you live in a big house or work in a large office space. It might be inconvenient and bothersome to look for the robot mop in a large area while you can easily use an app to control it even when out of sight.
If you're looking for a cleaner for use in a kitchen, a robot steam mop would be the most appropriate pick as it is designed for cleaning wet floors. Also, cleaning tools that automatically change their cleaning mode depending on the environmental conditions are much better than those, that the user would have to adjust manually.
You should also check that you get a cleaner that runs for a long time and takes the shortest time possible to charge. Some robot mops run for an hour, while others can operate for up to three hours without needing to recharge. Also, there are automated mops that have smart navigation functionalities, which enable them to move around easily and efficiently.
The reviewed robot mops are the top-ranking tools currently on the market, thanks to their impeccable performance. What are the characteristics you look for in a good robot mop? Which is your preferred item?
Share your thoughts with me in the comment section below.