What's a computer vacuum, and why do I need a USB vacuum cleaner, you may ask?
This may sound weird, but you probably don't want to type over mice feces at work, do you? Because that's exactly what is happening when the company you work for is closed for the night, the Royal Society of Chemistry states.
To put more oil into the fire, Which? magazine has discovered that a typical office keyboard is a cozy home to even more harmful bacteria than those on a toilet seat. How wicked is that?
Now, I bet you wonder – what is this USB desk vacuum magic I speak of?
If put simply, it is a tiny USB-powered device that's used to remove crumbs and dirt from your desk, computer, and other office equipment.
PC vacuums are relatively small. Most of them can easily fit into your pocket or laptop bag. Don't be fooled by their petite size, though. A decent device is powerful enough to gather dust, cigarette ash, hair, food crumbs, and dust without a hiccup.
Not only such a tool is hygienic, but it also boosts the lifespan of your keyboard, and – if you are using a laptop – makes sure that the machine doesn't overheat from overly dusty fans.
Also Read: Roomba 690 vs 890: Make the Right Choice for Your Needs
How to Pick the Best Computer Keyboard Vacuum?
A USB keyboard vacuum is a pretty small device. It is powered by your computer, so, obviously, you can't expect exceptional sucking power. Or can you?
Here's the thing: a USB port can provide as much as 5V of power or 500mA. This is enough to charge a smartphone over time, but the power is definitely too low to support a device with a vacuum motor. How do these tiny office workers' friends work?
For starters, a decent USB vacuum is made of plastic. This is a deliberate design choice ensuring that the elements are lightweight so, if you spot an advertisement boasting fancy metallic elements, know that they are just for show. Anything heavier than plastic will not have a practical purpose in a USB-powered vacuum cleaner.
Then there is the middle section of the device, which has to be split in order to provide steady airflow to the filter section. This design choice is used to achieve better suction with a smaller energy investment.
Also Read: Roomba 890 vs 960 – Their Differences and Similarities
The size of the device and the limitations in power a USB vacuum is allowed to consume dictates a restriction: your desktop cleaner will be limited to but a single function – sucking up dirt and crumbs. Any additional bells and whistles other than the power indicator will simply consume the energy a device could have otherwise used to serve its purpose.
What Can You Expect from a Desktop Vacuum Cleaner?
As I mentioned before, USB-powered vacuums are not multi-purpose devices. Most don't come with advanced accessories, but a decent model will include:
the device itself (obviously);
a USB cable. Most devices are charged from a computer, but there are also those that you can plug into a power socket or even your car's charger;
a mini-brush for dusting. Any other number of nuzzle attachments is a great addition but not a guarantee. Pay attention to the off-the-shelf stuff included in the package before making a purchasing decision;
an elastic key cleft attachment;
a warranty. Use it to refund the item in case it was shipped in bad shape or ended up being a poor vacuum;
a large percentage of devices will also include a manual, but I take it you are fairly capable of plugging a wire into your USB port. It's not rocket science.
Buyer's Guide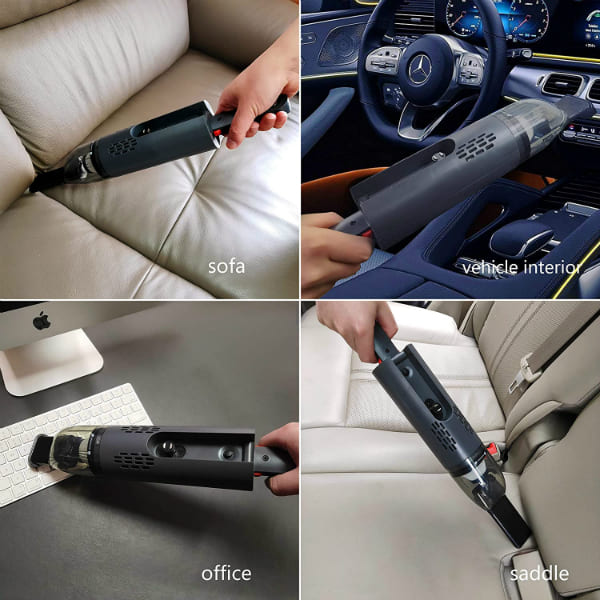 Now that we know what a USB vacuum is and how it works, let's decide on the most relevant factors a shopper is to consider prior to purchasing a new dusting device.
Suction power: This parameter is pretty straightforward. The higher the suction power, the more litter your gadget will clean. Given the size of the devices and their USB/battery-powered motors, you are not risking losing important keys in the belly of the beast.
Nozzles: Most USB-powered vacuums are lightweight and nimble enough to gather dust in tight places. That being said, additional nozzles bring in more versatility alongside additional cleaning options.
Multi-tasking talents: Speaking of versatility and nimbleness, a great USB vacuum should be capable of something greater than clearing out the age-old crumbs. You are a busy person after all, so why waste time charging several devices for your home, car, and office?
Also Read: Roomba 675 vs 690: Which Should You Select?
How Durable Is a Mini USB Vacuum Cleaner?
USB vacuums are made of plastic. It is not the most durable material out there. Most cheap models from AliExpress won't last longer than a month under use.
Here are the things you don't want to deal with when it comes to ordering a vacuum:
Cracks or dents in the casing. Cheap plastic will not get you far when it comes to a handheld device you'll be carrying around.
Issues with removable filters. What is the point of a vacuum cleaner if it is incapable of performing its primary function?
The general sense of cheapness – if the device feels wrong to hold, it is probably inefficient when it comes to sucking up dust
That being said, a more expensive model made from quality materials is actually quite resilient. It feels nice in your hand, and the plastic elements will not break unless you choose to apply extreme force for some reason.
These superior-quality models are what we'll be focusing on throughout the following section of this guide. Please note that having thoroughly tested somewhat around thirty USB vacuum cleaners – I've selected the top 7 items, based on personal experience and preferences.
Also Read: Roomba 890 vs 980: an Evaluation of the Models by Roomba
Ok, with the late disclaimer out of the way, let us proceed to the meat and potatoes of our mini-computer vacuum review.
Review Of Top-Tier USB Vacuum Models
Despite the limitations brought upon USB vacuums by their miniature design, you as a consumer, need to pay attention to suction because, at the end of the day, you are looking for a gizmo capable of cleaning your desktop area.
All of the vacuum models you'll find below were selected by prioritizing kPa or Pascal – the measurement equal to 1 newton of force per 1 square meter area.
Your run-in-the-mill household vacuum is capable of 20 kPa suction. Let's find out how these little guys hold up in comparison.
Also Read: Roomba 860 vs 890 – Understanding the Use of the Series
1. Computer Vacuums Cleaner Air Duster 2-in-1 Keyboard Cleaner Blower – an Electronics Vacuum Powerhouse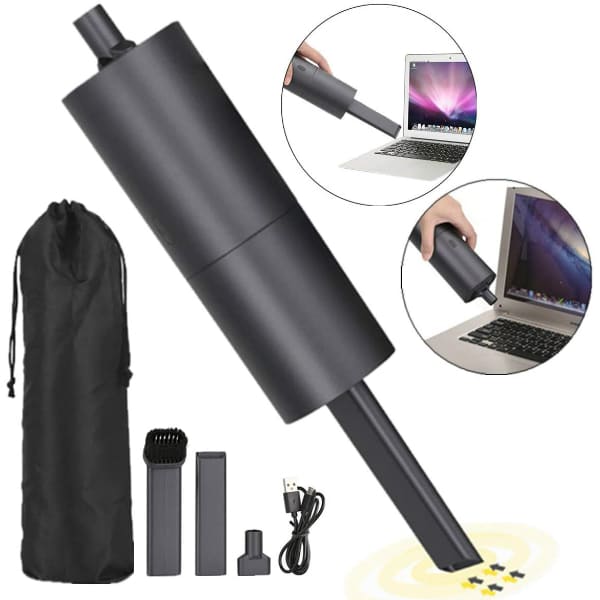 I've decided to kick this list off with a monstrous device – the 2-in-one Air Duster by Ehoyal. If USB vacuums were boxers, this bad boy would be the heavyweight champion rocking a 2200 mAh lithium-ion battery.
This is a relatively large device that isn't technically USB-powered. Instead, you charge it like a power bank for later use. A single charge offers up to an hour of cleaning, which is nice. Apart from cleaning up your PC, laptop, and keyboard, there's also the option of tidying up a car or some dusty corners on some shelves.
This vacuum is capable of both sucking and blowing. I know some people who use the secondary mode to clean their regular vacuum and Roomba filters or clean their windowsills. I find this feature particularly useful in the kitchen. Sure makes cleaning a mess in the drawers much simpler.
If the manufacturer's words are anything to go by, the battery should last you up to 1000 full cyclic charges. Honestly, I have not had the time to put this claim to the test.
One of the coolest perks of Air Duster is its removable dust filter. You can take it out and clean the remains of the dust under tap water.
This vacuum is shipped with 3 nuzzles, a USB charger, and a handy bag. You'll be using it a lot since the gadget is rather large in size.
Specs
16.5 x 12.9 x 5.9 inches
12.8 ounces
PROS:
The vacuum is quite powerful
The battery offers a fairly long cleaning time
The device has two modes: sucking and blowing
You can use the Air Duster as a USB vacuum cleaner for car or other purposes if you feel like it
CONS:
The vacuum is quite large. You wouldn't want to carry it around too often
It takes around four hours to charge the device fully
2. Odistar Desktop Vacuum cleaner – the Cute One
Odistar Desktop Vacuum Cleaner is my bae. The device kinda looks like one of the best robot vacuums, but this one is designed for on-desk use.
I literally fell in love with its design and the variety of color options. The little guy is powered by a 1600 mAh lithium-ion rechargeable battery, and its circular design allows for 360 degrees of desktop cleaning.
That being said, Odistar is more of a USB-powered mini desk vacuum than a specific keyboard/computer cleaner. It is powerful enough to deal with large chunks of food like chips crisps or even some leftover spaghetti. Don't ask me why I had those on my desk. Let's just say I did it for science and leave it at that.
All in all, I have to agree with the manufacturer's claims of 1000Pa of suction power.
Odistar's battery allows it to work for more than an hour, but the instruction manual suggests that working time should not exceed 10 minutes per use. I've tried using it for a longer period of time and never saw a difference, though.
The device is perfect for kids. It can fit in their bag easily and it looks nice on the child's desk so if you are worried about hygiene in public schools, the Odistar is a must-buy.
On the downside, this mini vacuum can fail at cleaning debris from cracks and tight corners. Also, note that getting the top off in order to slide in the batteries is somewhat tricky.
Specs
1600 mAh battery
9000 rpm suction
3.1 x 3.1 x 2.85 inches
7.2 ounces
PROS:
This device's design is adorable
Great suction
Charges quickly
Comes in a variety of colors
User-friendly
CONS:
Excellent at cleaning up one's desk, but not as good with keyboards
Non-removable battery
3. Handheld Vacuum, Cordless Handle Vacuum Cleaner with USB Charging Cable – a USB Powered Mini Desk Vacuum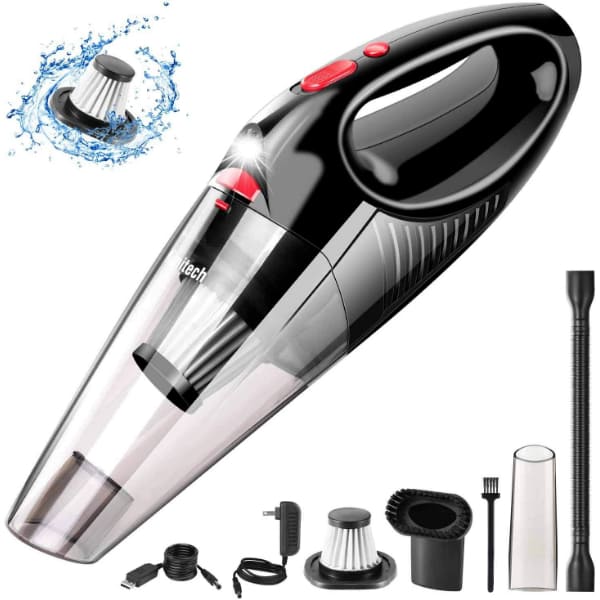 This handheld cordless vacuum by Kimitech is a tidiness enthusiast's dream come true. With a 120W battery, it is powerful enough to support 7000 Pa and a water-washable steel filter.
Sure, I am going on a limb here, calling this duster a USB vacuum, but it can be charged from a computer, so technically, I am not wrong. Though I still recommend charging it from a 220V socket. This way you make the charging process much faster.
The device comes with a dust brush, a crevice nozzle, and an extension hose, making it a perfect fit for wirelessly tidying up an entire room and not just one's workstation. The impressive 35-40 minute runtime and car charger support make this bad boy the most flexible vacuum on our list. The materials used in making the cordless vacuum make this computer vacuum cleaner anti-static.
I must notice that, despite its massive size, the vacuum is light and wieldy. I've had a much more pleasant experience when using it than with many smaller handheld models.
As for the downsides, the filter can be a pain in the neck to clean if it is filled with tiny crumbs and dust balls.
Specs
14.6 x 5.2 x 5 inches
2.55 pounds
2200mAh battery
7 kPa suction
PROS:
This is a flexible, multi-purpose device
It is great for cleaning keyboards, curtains, and car seats alike
The device comes with a variety of convenient attachments and a removable filter
CONS:
This vacuum is quite large
Not the best option for a quick keyboard/PC cleanup
4. Brigii Mini Vacuum Cleaner, Small Handheld Vacuum Cordless USB Rechargeable – One of the Top Computer Cleaners I've Ever Seen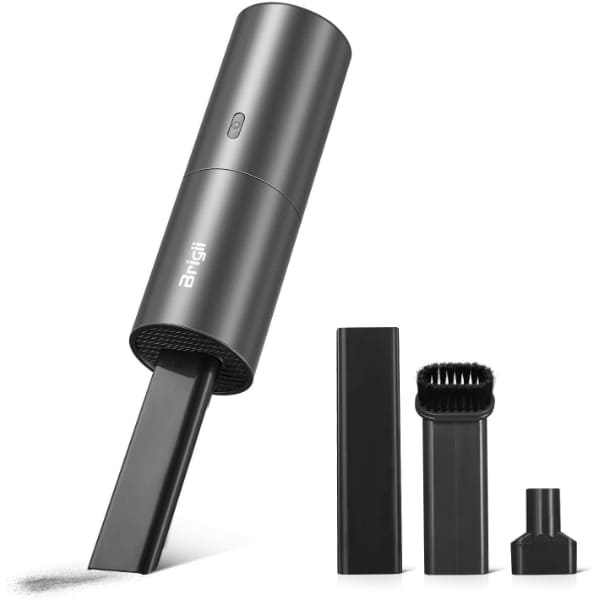 The Brigii Mini Vacuum is painstakingly similar to the Air Duster, but somehow, I love it more. Its super-slim keyboard nuzzle is just the perfect size to fit between keys and inside the pesky couch folds – I used to have so much trouble cleaning before I got myself this device!
Despite its size, the device is fairly light and wieldy. The 200 mAh battery should run for approximately 500 full charge cycles, and it is potent enough to power 2 KPa suction.
The battery life is not that long, though. I wasn't able to vacuum with the device for longer than 20 minutes, which, in all fairness, is more than enough time to clean up a desk. Perhaps I've been spoiled by previous vacuums?
The device is designed for hard surfaces so consider using something else if you've made a mess on a fuzzy carpet. But hey, carpet cleaning is a challenge for any mini vacuum due to the design limitations so I guess you can't blame the device for not doing something it wasn't supposed to be doing in the first place.
All in all, I'd consider the Brigii Mini Vacuum to be the best computer dust cleaner among the devices that were tested prior to writing this review.
Specs
356 grams
2000 mAh battery
35W power
2 kPa suction
2.5 x 25. x 7.3 inches
PROS:
The device is great at getting into tight spaces
It has a removable filter
It's also great for cleaning up clothing and pet beds
Offers both suction and blowing features
CONS:
Comparatively low run time
5. Hukey Handheld Vacuum – the Lightweight Champion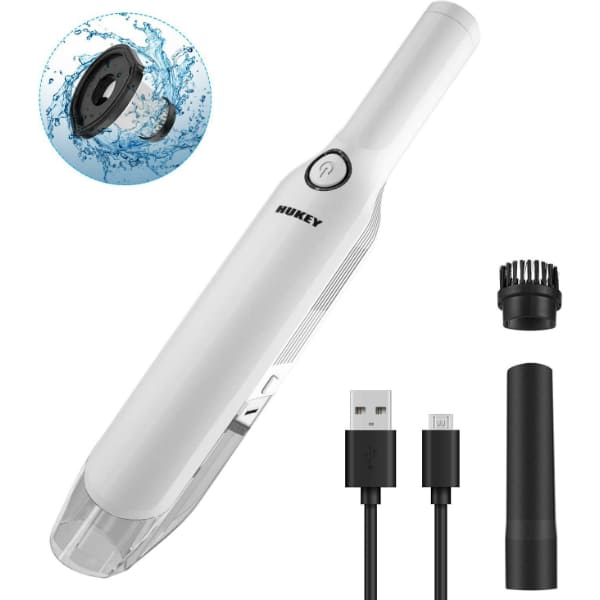 Hukey Handheld Vacuum is a slick, yet powerful mini vacuum cleaner for electronics. The device has two-speed modes and can offer up to 7kPpa. In simpler words, I wouldn't suggest sticking your finger inside when it is working.
This gadget is powered by three rechargeable lithium-ion batteries and offers 30 minutes of cleaning in 4ka and 20 minutes in 7kPa modes, respectively. This is by far the most powerful of my small-is USB vacuums.
This vacuum did the best job at cleaning my car and it even mustered to gather the crumbs from my carpet. I sincerely did not expect this level of performance from a device as small and slick as the Hukey Handheld Vacuum.
Surprisingly enough, Huckey's sucking capabilities aren't what sold me the device. I fell in love with the machine's removable filter and additional accessories that simplify all kinds of cleaning.
Yes, you'll need to replace the 2pack HEPA filters every couple of months or so, but they are the best at keeping the dust where it belongs – inside the vacuum.
The device is quite small and fits perfectly in the glove compartment. I wouldn't enjoy keeping Hukey in my car though. Personal suggestion: keep this bad boy near your bed if you are a fan of midnight snacks under a warm, cozy blanket.
Specs
14.8 x 2.5 x 2.5 inches
1.3 pounds
120W power
7ka / 4kPa modes
PROS:
Slick design
Powerful suction
HEPA filter
Functional accessories
CONS:
Relatively short working time
Filters can be a nuisance to clean
6. Westminster, Inc. World's Smallest Blower – Real, Working, Tiny, USB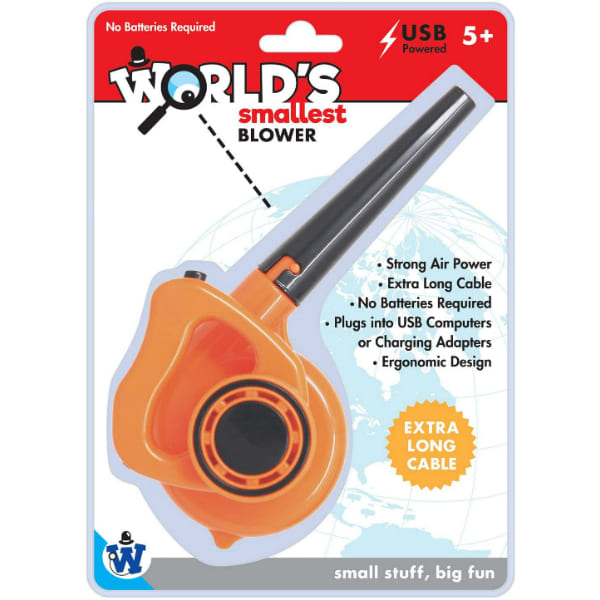 Sure this isn't technically a vacuum cleaner, but come on, guys. It's all about being the world's smallest blower!
How awesome is that?
The blower is an excellent gift for small children who would like to crank up the action in their games with simulated hurricanes and/or other heavy weather conditions. My friend's son fell in love with the blower at first glance.
I can't say as much about the kid's action figures though.
Truth be told, we've had as much fun playing with the dad. I guess great toys are fun regardless of age. To top things off, I was quite surprised at how powerful this little item turned out to be.
Now that I've given credit where credit is due, I must note that the World's Smallest Blower does not have a suction mode so it is probably not one's go-to choice from a practical point of view. Then again, who cares about practicality when you can have tons of fun for under twenty bucks?
Specs
2 x 6 x 3.25 inches
3.98 ounces
PROS:
The world`s smallest blower
Neat miniature design
An amazing toy for children
7. KITHELP Cordless Car Vacuum Hand-held Vacuum Cleaners USB Charging – Mini USB Vacuum for Car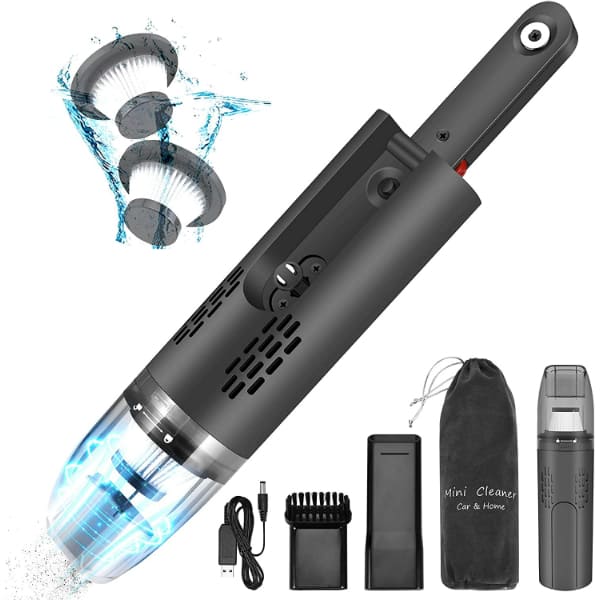 The KITHELP Cordless Car Vacuum is technically designed for car cleaning, but it is surprisingly efficient at cleaning keyboards and flat desk surfaces. If that's not enough, the 5000Pa powerhouse excels at cleaning pet hair, which, to me, is a top priority. The lightweight materials used in the design of KITHELP make the anti-static vacuum cleaner portable, and 20-30 minutes of run time allow the user to clean up a lot of space.
This mini USB vacuum for car comes with two handy nuzzles. One is an OK duster, and the other is an excellent brush that doesn't leave pet hair a fighting chance!
KITHELP rocks a 2500mAh battery and an impressive 180 ml dust box. This vacuum is also proud of its removable HEPA filters and 18 months of 24×7 customer support service. The latter isn't as much of a technical feature, but I still find it impressive as hell.
There's one grain of salt in the barrel of honey, though. KITHELP is rather heavy.
Best used in combination with Shark pet vacuum cleaners.
Specs
10.6 x 2.8 x 2.8 inches
450 grams
2500mAh battery
4 – 7 hrs charging time
5000 Pa
PROS:
The device is great at cleaning fur
It is powerful enough to clean a large area within 20 minutes of runtime
Washable filters
Great for pet owners
CONS:
It takes a while for the device to charge
KITHELP is heavy
Fighting More than Dust
If you were to ask a person who repairs computers for a living, you'd know that dust is the #1 laptop killer. It is not only unhygienic, but it also blocks significant computer bits such as the coolers from moving at the right speed.
I sincerely hope that the selection of USB vacuum cleaners above will help your machine in avoiding the blue screen of death due to overheating, or other mechanical malfunctions. I also hope you now know how to keep your working space, kitchen, bed, and care in mint condition with as little as ten to fifteen minutes of effort.
Some of the more well-rounded utility options have earned a spot allowing you to pick the perfect tool for the job. I hope that my quality over size approach was to your liking.
How do you feel about these larger USB vacuums? Which one would you use? Do you want me to write another piece focusing on tiny, non-rechargeable, yet handy USB-powered vacuum cleaners?
Don't be shy. Our little community will benefit from an opinion from the outside. Share your thoughts in the comments section below!